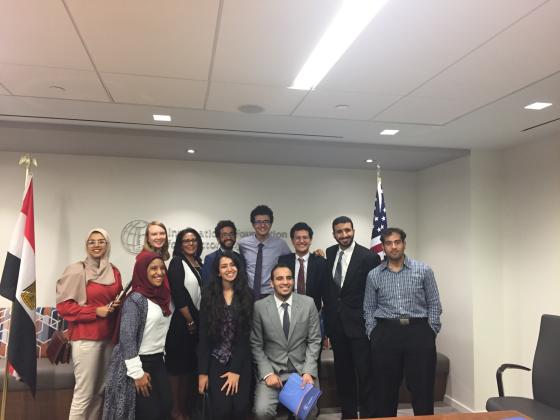 Egyptian Students Visit IFES as Part of ACYPL Exchange Program
On September 7, 2017, the International Foundation for Electoral Systems (IFES) hosted a delegation of eight Egyptian college students to discuss IFES' projects in Egypt and the Middle East and North Africa (MENA) region. Visiting the United States as part of the American Council of Young Political Leaders' (ACYPL) "Model American Congress" exchange program, the delegation took part in a question and answer session with IFES President and CEO Bill Sweeney, IFES MENA Regional Director Zeinab Abdelkarim, and IFES Egypt program staff. The "Model American Congress" exchange program seeks to provide foreign students with a greater understanding of the U.S. Congress, as well as democratic governance and elections.
As part of their exchange program, the students spent two weeks in the United States attending meetings and roundtable events on U.S. politics and government, as well as serving as short-term interns in congressional staff offices. At IFES, the students learned more about electoral assistance, including electoral integrity and transparency, as well as broader development trends in Egypt and the MENA region.