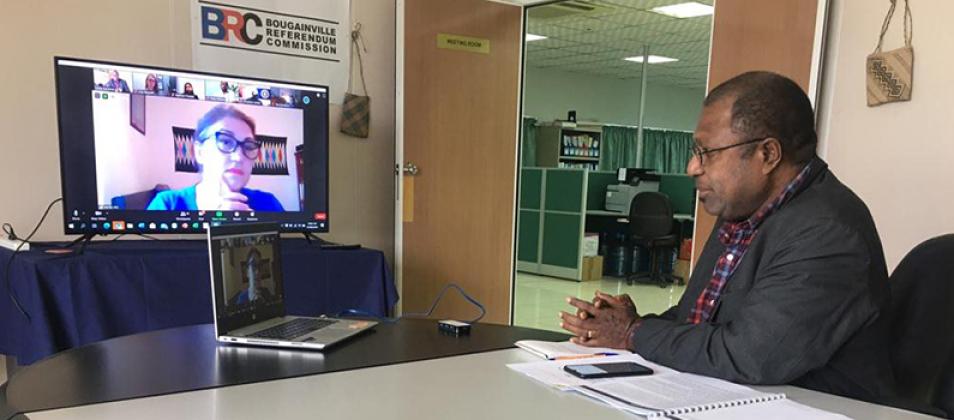 Election Considerations in the Pacific During an Infodemic
While there have been many challenges to arise from the COVID-19 pandemic, the influx of accurate and inaccurate information has created a global "infodemic." Misinformation, disinformation and hate speech have made it difficult to find trustworthy sources. This creates particular challenges for election management bodies (EMBs) adapting election processes to mitigate health risks for both voters and poll workers. As they work to conduct elections safely during the pandemic, their efforts may be undermined if the information space around elections is inadequately defended. 
In partnership with the Fijian Elections Office, the International Foundation for Electoral Systems (IFES) is co-hosting a webinar series to inform EMBs, civil society organizations (CSOs) and other stakeholders in the Pacific region on best practices for conducting elections during the public health crisis. Moving forward with an election can lead to possible risk of infection for voters and poll workers, low voter turnout and credibility issues. This series aims to provide local stakeholders with information to mitigate the potential risks involved when conducting an election during the COVID-19 pandemic. The first two webinars covered Safeguarding Health and Elections and Legal Considerations When Delaying or Adapting Elections.
For the third webinar, Global Social Media and Disinformation Specialist Lisa Reppell and Regional Director for Asia-Pacific Vasu Mohan presented IFES' third paper in its COVID-19 briefing series, Preserving Electoral Integrity During an Infodemic, co-authored with Regional Director for Europe and Eurasia Beata Martin-Rozumilowicz. Panelists highlighted how viral misinformation, disinformation and hate speech by domestic and foreign actors can impact COVID-19 information, electoral integrity and trust in democracy. While many tactics predate COVID-19, domestic and foreign actors can now leverage the pandemic to sow confusion, increase polarization and push anti-democratic narratives to further personal or geopolitical agendas.
Due to the inability to gather in person, many campaigns have shifted online, where there are few legal or regulatory frameworks in place to oversee the use of social media in elections and monitor campaign finance. While countries work to establish these frameworks, civil society and journalists can assist the public in identifying malign or malicious actors. Social media platforms are expanding their transparency tools to more regions, which will provide more data on content's origin and track spending.
Proactive EMB messaging is needed to ensure voters understand what to expect around polling locations, mail-in ballots and eliminate voter suppression. This includes crisis communication planning, which should be able to address and counter problematic narratives swiftly, coordinate with other government agencies and work with social media platforms to report and remove problematic information.
Mohan addressed China's role during the pandemic and how it evolved. Initially, China engaged in disinformation campaigns about the origins and scale of COVID-19's spread, creating confusion and discord. Then, as China began curtailing the spread, it connected this to its authoritarian government and painted democratic nations struggling to curtail the pandemic as weaker and less effective in addressing crises.
Mohan went on to highlight IFES' initiatives in Bangladesh, India, Nepal and Sri Lanka. These programs work closely with CSOs, such as youth and health organizations, to identify, analysis and counter messages that challenge information integrity. By building capacity, IFES helps CSOs be able to identify the information's origin and formulate a targeted counter response to address issues key to maintaining electoral integrity.
Fijian Election Office Public Relations and Engagement Coordinator Neelam Prasad provided more context around COVID-19 and elections. As society tries to understand the erosion of information integrity, it is important to examine the known and unknown. When the pandemic struck, little was known about the virus. This allowed rumors and unverified sources to fill the information void, and social media became a primary source of information for citizens. Prasad shared that Facebook informed the BBC News that it had removed hundreds of thousands of COVID-19 misinformation. In March and April alone, Facebook put warning labels on 19 million posts related to COVID-19 globally, preventing 95 percent of viewers from accessing misinformation.
"We have to come to terms with the fact that with technological advancements and the surge in the use of handheld devices, social media platforms will continue to be a primary source of information for millions of people."

– Fijian Election Office Public Relations and Engagement Coordinator Neelam Prasad
Online citizen journalism thrives in Fiji, where mainstream media is working hard to combat misinformation, disinformation and hate speech by dedicating a daily segment to COVID-19. All information shared is easy to understand and comes from verified sources like the World Health Organization, a model that can be transferred to elections. By using EMBs as verified sources, the mainstream media can relay information on electoral process changes and public health measures to voters and poll workers.
Following the presentations, participants discussed the infodemic's impact in the Pacific region. Papua New Guinea Electoral Commissioner Patilias Gamato shared how Papua New Guinea was adapting local elections in rural versus urban environments to ensure voters and poll works remain safe. Another area of concern for participants was preserving freedom of speech while addressing misinformation. Reppell suggested that freedom of speech was different from freedom of reach. Social media platforms are working on algorithms and infrastructure to ensure accurate content can be widely disseminated and inaccurate information cannot. Another area of concern is the platforms' language capabilities. Posts written in widely spoken languages are much more likely to be flagged by transparency tools, whereas misinformation, disinformation or hate speech in local dialects can slip through monitoring systems.
The fourth webinar, "Looming Barriers to Political Access," will discuss how individuals who are marginalized because of their gender, disability, age, displacement, ethnicity or other identifiers face new and magnified challenges in a public health crisis. Barriers to political participation can have lasting ramifications, silencing diverse voices and stifling equality of opportunity.
The webinar series is made possible through the support of the United States Agency for International Development, Australian Department of Foreign Affairs and Trade and New Zealand Ministry of Foreign Affairs and Trade.
Published on July 20, 2020.