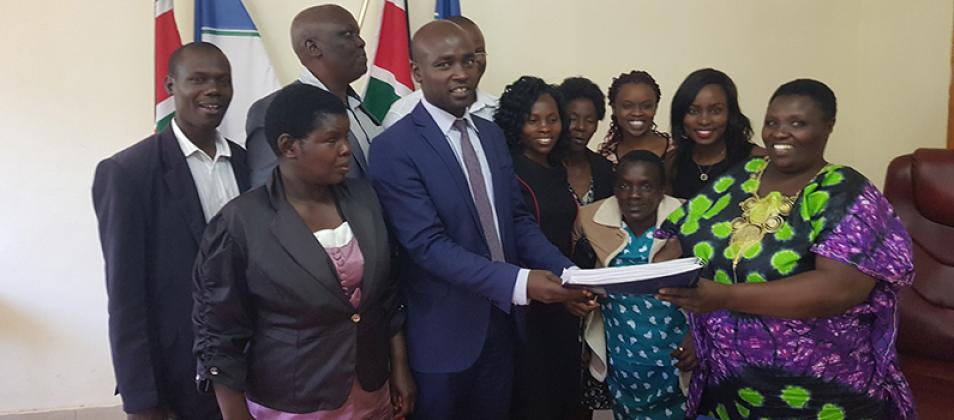 Empowering Kenyan Women with Disabilities as Policy Advocates
The International Foundation for Electoral Systems (IFES) supports inclusion efforts around the globe to empower traditionally marginalized populations to advance their policy preferences in politics. To support this goal in Kenya, IFES' Global Affairs Canada Kenya Electoral System Support project collaborated with Women Challenged to Challenge (WCC), an umbrella disabled people's organization, to develop a policy platform document that will support women with disabilities' advocacy efforts. Women with disabilities face multiple forms of discrimination and often must overcome barriers in accessing decision-making processes as a result of their identities as women and persons with disabilities, two marginalized populations. These multiple social identities compound the difficulties for women with disabilities to fully engage in political, social and civic processes. This Power to Persuade policy platform document outlines clear steps for engaging with government officials and local political structures so that Kenyans with disabilities can advocate for policies important to them.
A PDF copy of the policy document can be found here and the audio version below, and read more about this project here.

Hear directly from WCC Director Jane Kihungi on the impact of IFES' Power to Persuade policy document in encouraging persons with disabilities to engage with local governments to create positive change in their communities.
"Society has been more disabling than the impairment itself." – Jane Kihungi
"Growing up I wanted to be a nurse or teacher and raise a beautiful family, but society often reminded me such aspirations belonged to people who looked different from me. I suffered a polio attack that left my right limb and hand paralyzed, affecting my mobility at the tender age of five. My parents considered school as an option but later took me after my younger brother. Pity and empathetic stares became my companion from that age.
Accessing education was my first hurdle but I somehow managed to study through to college and attained a diploma in community development. The next hurdle was finding employment, as the majority of the employers were reluctant to employ a disabled person when hundreds of other able-bodied candidates were competing for the same position.
Drawing from my experiences and those of other persons with disabilities, a few like-minded women and I formed the Women Challenged to Challenge organization to advocate for issues of women living with disability. Our highlights so far include a research project on gender-based violence that we did in 2014 in eight counties. The findings revealed women and girls with disabilities were missing in all development and leadership spheres and much more in political participation. In 2017 we educated women with disabilities from 47 counties about election laws and empowered them to participate in electoral processes.
In the same year, we were selected by IFES under the "Power to Persuade" (P2P) project to empower women with disabilities to influence policy through a number of avenues, one of which was to create a policy platform outlining top priorities in need of government support. Through funding from Global Affairs Canada, we gathered 40 women disability rights advocates from across the country, who identified top priority issues affecting women with disabilities in Kenya. They drafted a policy document to be used to engage with policymakers both at the national and county levels to ensure disability is mainstreamed. The document was validated by national and county government officials and representatives from the Technical Working Group in November 2017 to be circulated to county and national governments. A resolution was also passed and signed during the meeting to have it as a working document for representatives of persons with disabilities in both county and national government.
In 2018 we mapped out counties to engage to identify their priority areas for persons living with disabilities under the P2P project. Through technical support from IFES we started with Bomet County, which was a success. The meeting was attended by County Assembly officials who, together with representatives from disabled people's organizations within the county, identified gaps [in policy regarding persons with disabilities] that the government should support. The policy platform document was also presented to the deputy governor of Bomet County, who committed to engage with county leaders to ensure inclusion of persons with disabilities. Currently, there are ongoing discussions with National Assembly representatives to ensure the inclusion of persons with disabilities is a priority and use the platforms to disseminate the policy platform document. I'm grateful to IFES for the opportunity to keep standing up for the voiceless living with disabilities."