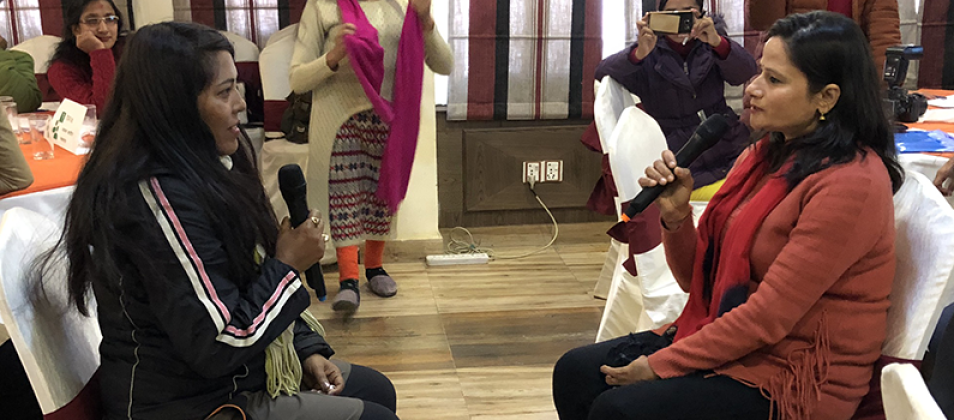 Empowering Women Advocates with Disabilities and Journalists to Create Inclusive, Accessible Media
In January 2020, the International Foundation for Electoral Systems (IFES) and the Nepal Disabled Women Association (NDWA) collaborated to train women advocates with disabilities and journalists on rights-based reporting techniques for elections and democratic processes. As part of IFES' Media Empowering Disability Inclusion and Access (MEDIA) methodology, 12 advocates and 10 journalists from Nepal learned about person-first language, inclusive media reporting and inclusive electoral and political processes. IFES Inclusion Specialist Rebecca Aaberg, NDWA General Secretary Meena Paudel and NDWA President Nirmala Dhital co-led the interactive two-day training.
On the first day of training, women advocates with disabilities discussed the role of the media, how elections and political processes are or are not disability-inclusive and how to identify trustworthy news sources. Participants also had the opportunity to demonstrate their skills and increase their confidence in mock press conferences and interviews.
On the second day, journalists joined the advocates and engaged in discussions on models of disability, legal frameworks and person-first language using IFES' MEDIA Guidelines. Advocates worked on media mapping of Nepal, where they identified different media outlets across the region and shared examples where they have access. Advocates and journalists drafted arguments for convincing editors to publish articles on disability-inclusive elections. Finally, participants conducted mock interviews to showcase good practices for interviewing persons with different types of disabilities and real interviews between the advocates and journalists to learn about NDWA and IFES' advocacy work.
"To make the newsroom more inclusive, we need people with disabilities there as well. They are better able to explain how to make news inclusive." – Journalist, Nepal
The successful training helped participants to deepen their understanding of how to ensure access to persons with disabilities across various media outlets. It was a unique opportunity for women advocates with disabilities and journalists to collaborate and empower each other to create inclusive and accessible media. IFES' MEDIA trainings build valuable skills and encourage best practices for inclusive media so that people with disabilities can be represented in media on an equal basis as others. 
Learn more about NDWA and IFES' advocacy work.