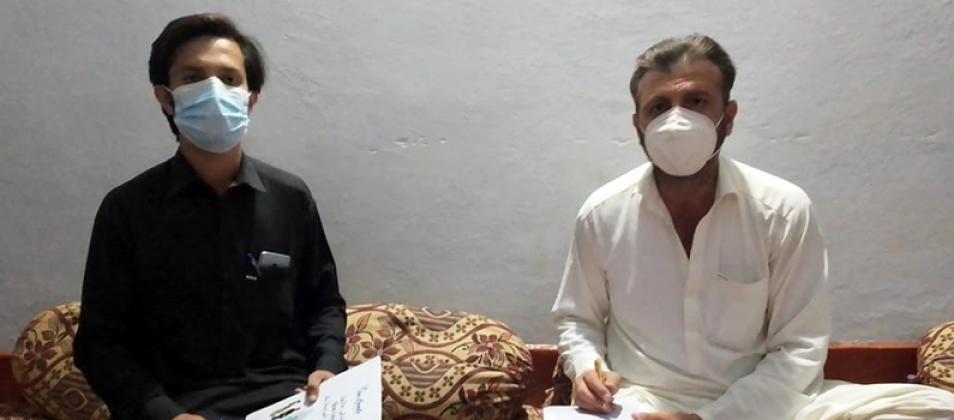 Engaging Male Allies to Advance Women's Voter Registration in Khyber
"Promoting women's leadership is not a favor to them. It's a real step towards representative democracy." – Faizan, "Male Allies" alumnus
A 2018 study on men's perceptions of gender equality conducted in Pakistan found that male respondents report exercising sole decision-making authority in their households, and nearly half believed that women's participation in politics and leadership detracts from their responsibilities as family caregivers. These and other findings underscore the importance of engaging male allies to help reimagine the role that men play in women's democratic participation, shifting to advocate for women's public engagement. As one step in this broader process, the International Foundation for Electoral Systems (IFES) and its local partner, Pak Women, are implementing a "She Leads Pakistan" leadership program that equips women with the skills needed to promote women's voter registration in their communities, and simultaneously engages men to partner with women community leaders to advance a more inclusive democratic process.
Reflecting on the "Male Allies" program, Faizan – an 18-year-old participant from a village in Khyber district – shared that it was his first time attending a training on the importance of women's leadership and political and electoral participation. "This unique program has given me the opportunity to apply my skills and work alongside (women family members) for the implementation of their She Leads action plan in the field."
Committed to supporting the efforts of his sister and aunt – both "She Leads" program alumnae who are working to advance women's National Identity Card (NIC) registration in their communities – Faizan held meetings with local male political leaders on ways to improve women's participation in future elections. He also held awareness-raising sessions with 10 teachers and 62 students from local high schools, sharing information about the importance of women's political and electoral participation. Faizan also worked with "She Leads" alumnae to conduct door-to-door outreach to raise awareness about NIC registration. Finding that many of the men he met with did not identify women's NIC registration as important, Faizan was able to increase support for women family members' NIC registration by engaging directly with the male heads of household. These efforts paved the way for his aunt and sister to revisit the houses and hold awareness sessions with the unregistered women. Through this process, within a three-week period, Faizan, his aunt and his sister identified 70 women to be registered for their NICs and are working with Pak Women to bring a mobile voter registration van to the area to facilitate the registration.
As Faizan notes: "This joint effort, under the Male Allies and She Leads trainings, gave me the confidence to stand by the women of my family and work alongside them to make our village a better place for women and encourage our community to strive for improved voters' turnout in the next elections."
IFES' "Participation of Women in Elections and Registration" (POWER) program is carried out with support from Global Affairs Canada. "She Leads" and "Male Allies" trainings in Khyber Pakhtunkhwa are implemented in partnership with local organization Pak Women.
Published on March 8, 2021.