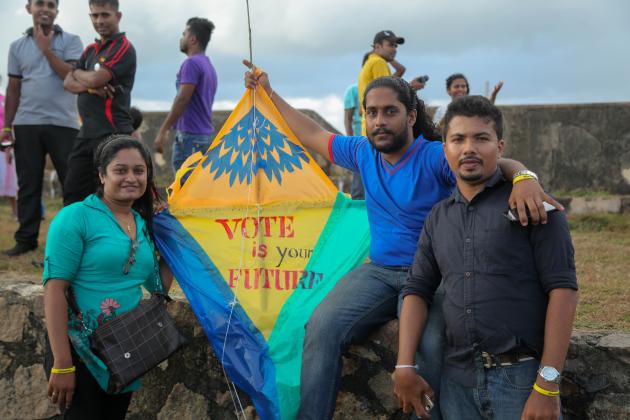 Engaging Sri Lanka's Youth as Advocates for Legal Reform
As the next generation of political leaders, Sri Lanka's youth have a critical role to play in bolstering an inclusive democratic process that is responsive to all of its citizens. Under its U.S. Agency for International Development-funded "Improved Election Management Program," the International Foundation for Electoral Systems (IFES) is working with the Election Commission of Sri Lanka (EC) to strengthen democratic participation of first-time voters. To support this effort, IFES and the EC are partnering with youth groups from across the country to conduct a nationwide #YouthVoteSL campaign. The campaign sought to encourage young people to participate in elections, ultimately upholding civic and political rights enshrined in the United Nations Convention on the Rights of the Child.
Reflecting IFES' global commitment to supporting young people's transition to active citizenship, the launch of the #YouthVoteSL campaign was marked by a joint press briefing in July to publicize the importance of youth participation and raise awareness about legal reforms needed to ensure that newly-eligible voters are able to cast their ballots. Reform efforts seek to address issues in Sri Lanka's annual enumeration process which left thousands of 18-year-olds disenfranchised from electoral participation in 2015 despite meeting the age requirements for voting. In response, youth groups drafted and circulated a petition as part of the #YouthVoteSL campaign calling for reform. The petition garnered over 400,000 signatures from citizens of all ages and will be delivered to Parliament. A youth group from the north also launched a complaint with Sri Lanka's Human Rights Commission to generate legal change.
The press conference also launched a seven-day social media competition to encourage youth-led organizations and networks to organize events, design materials, and publish videos that promoted messages related to youth civic engagement. The #YouthVoteSL social media campaign reached over 134,000 users through Twitter and Facebook.
The #YouthVoteSL social media drive culminated in a "Kites for Rights" event on August 12, which IFES coordinated with the EC and 40 youth organizations. Approximately 300 youth representing Sinhala, Tamil and Muslim communities from the North, East, Up-country, South and Colombo came together for the event in Galle. The full-day event included polling and counting simulations led by the chairman of the EC and concluded with participants flying kites designed and decorated with messages promoting youth's right to vote.
The EC's launch of the #YouthVoteSL social media campaign marked an innovative and sustainable effort to educate youth about their right to vote and lay the foundation for sustainable collaboration with a network of youth advocates. By bringing young people from diverse communities together, the campaign also provided a critical opportunity to highlight youth's role in promoting a resilient democracy that works for all of Sri Lanka's citizens.