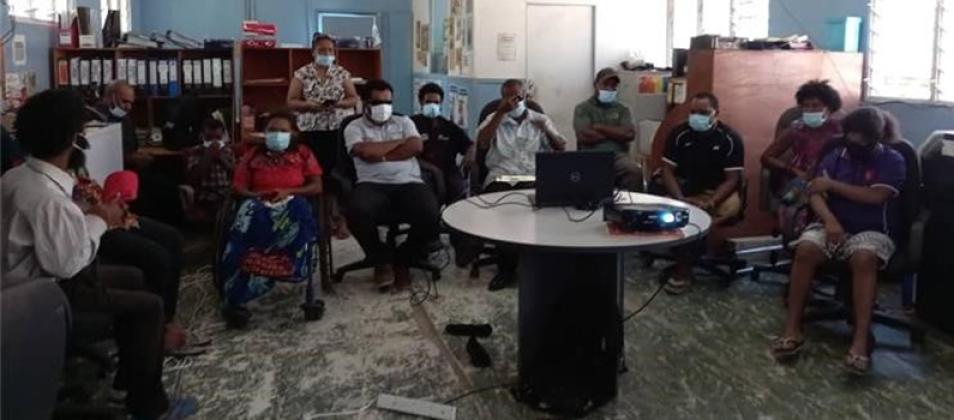 Ensuring Inclusion and Meaningful Political Participation in the Pacific During COVID-19
The COVID-19 pandemic has created many challenges for governments around the world. Its effects – including in the form of government responses – are heightening existing inequalities, threatening both health and democratic freedoms and furthering exclusion of many people already underrepresented in political life. People with marginalized social identities, such as displaced persons, LGBTQ persons, Indigenous peoples, older people, people with disabilities, women and young people, have experienced exacerbated barriers as a result of the pandemic.
"Here in Palau people see the political campaign activities as just supporting the candidate for elected office, but don't see it's an opportunity to be creative and address your pressing issues such as ensuring meaningful participation for persons with disabilities in the political campaign activities." – Villaney Remengesau, Omekesang disability organization, Palau 
In partnership with the Fijian Elections Office, the International Foundation for Electoral Systems (IFES) co-hosted a webinar on inclusion during the COVID-19 pandemic as part of a series to inform election management bodies (EMBs), civil society organizations (CSOs) and electoral stakeholders in the Pacific region on best practices for conducting elections during the public health crisis. Moving forward with an election can lead to possible risk of infection for voters and poll workers, low voter turnout and credibility issues. This series aims to provide local stakeholders with information to mitigate the potential risks involved when conducting an election during the COVID-19 pandemic. The first three webinars covered Safeguarding Health and Elections, Legal Considerations When Delaying or Adapting Elections, and Election Considerations in the Pacific During an Infodemic.



The fourth webinar took place on October 6, 2020, gathering over 30 representatives from Pacific EMBs, CSOs and disabled people's organizations (DPOs). IFES Senior Global Inclusion Advisor Virginia Atkinson and Inclusion Specialist Rebecca Aaberg discussed the newly published Inclusion and Meaningful Political Participation paper in IFES' COVID-19 Briefing Series. The briefing focused on barriers to political participation caused either by the pandemic or further exacerbated by it and opportunities to create a more inclusive and accessible systems for the future. As society creates innovative ways to engage in political life remotely, these options can continue even once the pandemic is over.
Fa'atino Utumapu, general manager of Nuanua O Le Alofa, the only national DPO in Samoa, contributed to the discussion. Nuanua O Le Alofa has used the pandemic to change their approach to work. For example, they have used their position on Samoa's Disaster Advisory Committee to advocate for national messaging about COVID-19 to be made available in multiple accessible formats like sign language, braille, large print and simplified language. The organization has also used this time to prepare for Samoa's April 2021 elections by encouraging voter registration and advocating for early voting to make voting more accessible to persons with disabilities and older persons. Voter education materials are now available in multiple formats, making them more accessible to the public.
Following the presentations, participants took part in a lively discussion. Representatives from DPOs across the region, including the Autonomous Region of Bougainville and Papua New Guinea, shared challenges they are facing due to the pandemic and how they are trying to overcome them. Some examples shared include advocating with parties and leaders to provide information online in lieu of gatherings, creating handbooks and guides in braille and large print and providing alternative ways to cast a vote instead of at the polling center.
Published on November 16, 2020.