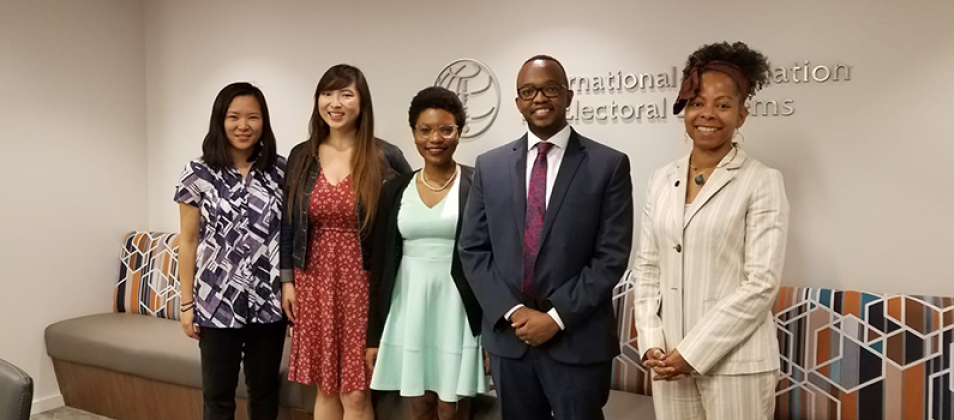 Fighting Fake News on the Digital Frontier of Elections
by Otito Greg-Obi*
On June 12, 2018, Mark Kaigwa, the CEO and founder of Nendo, joined the International Foundation for Electoral Systems (IFES) for an event, "On the Border of Truth: Defense Against Social Media Propaganda," which featured a lively presentation and discussion on the effects of social media in Kenya. During the 2017 Kenyan general elections, there was widespread misinformation shared through social media and in some cases verified local news outlets. Kaigwa's company, Nendo, draws insights from 453 million internet users to generate innovative solutions to the many challenges that arise in the world of rapid online information dissemination. Nendo set out to combat the issue of misinformation in Kenya by devising the online Stop Verify Reflect quiz, an engaging tool that teaches users how to spot fake news articles. During his presentation, Kaigwa explained that the Swahili word "mianendo" means a trend or habit, while the Japanese word "nendo" means wet clay. This dual meaning illustrates one key takeaway from Nendo's nationwide impact: it is possible to mold and transform social media trends in a positive way and to build discerning media literacy habits.
Aside from misinformation from fake news articles, another major challenge during the 2017 Kenyan elections was the constant generation of falsified memos and statements claiming to be from Kenya's Independent Electoral Boundaries Commission (IEBC). Kaigwa identified a number of recommendations for addressing this issue. First, he proposed that the IEBC create and license a distinct typeface or font in order to make it difficult for ordinary citizens to make forged documents look authentic. Second, he recommended standardizing the scanning and screenshotting of hard copies of documents by adding distinct tints and seals inaccessible to the public. Third, Kaigwa emphasized the importance of incorporating WhatsApp into the IEBC's communications strategy, as it is the platform where the most misinformation occurs. Kaigwa suggested that the IEBC create a verified WhatsApp number and make use of the "status" feature, which is analogous to "stories" on Snapchat. This feature allows for rapid response to rumors on a platform with a wider reach than traditional web-based or radio-based public service announcements.
During closing remarks, IFES' Civic and Voter Education Expert Carla Chianese emphasized the importance of adaptability in both electoral assistance programs and electoral management bodies' strategic communications efforts.
"It's no longer business as usual for us in this space, the information ecosystem that we are doing civic and voter education in is rapidly evolving […] we have so much influence coming from outside and serious media manipulation that is affecting the way we are engaging with communities and public members, and the way that electoral management bodies are also doing this type of work." – Carla Chianese
Chianese also highlighted the importance of pairing offline interventions with online tools and posed the critical question of how to reach audiences that are fully committed to evading the truth. "The tools that these media manipulators are using are so sophisticated and deeply orchestrated to sow seeds of division for political gain or for extremist views and we can't just be on the ground doing offline interventions anymore, we definitely need to complement it with online interventions […] What we're increasingly finding is that in isolation – yes, it's good to build up media literacy skills and to create more critical thinkers and healthy skepticism among public members – but media literacy on its own is not going to give us the impact that we desire. Media literacy works really well for people who want to seek out the truth but how do we keep engaging the members of the public that are so far gone to the extreme side?"
With each new electoral cycle, IFES remains committed to providing adaptive interventions that meet the needs of today's ever-changing media landscape. Through the Kenya Electoral Assistance Program (KEAP), IFES recently partnered with Nendo to conduct a social listening exercise that evaluated four media campaigns that took place during the 2017 elections in Kenya: 1) #BetterThanThis, a campaign countering violence against women in elections; 2) YVOTE, a youth voter education campaign; 3) Taifa Letu, a peace messaging campaign, and 4) an anti-hate speech campaign. Overall, the campaigns IFES deployed through KEAP reached 16,667,755 people on various social and digital platforms. Such widespread and dynamic reach is essential for maximizing the impact of voter education campaigns and ensuring that citizens feel empowered to participate in democracy as well-informed voters.
*Otito Greg-Obi is a program associate with IFES' Africa division.