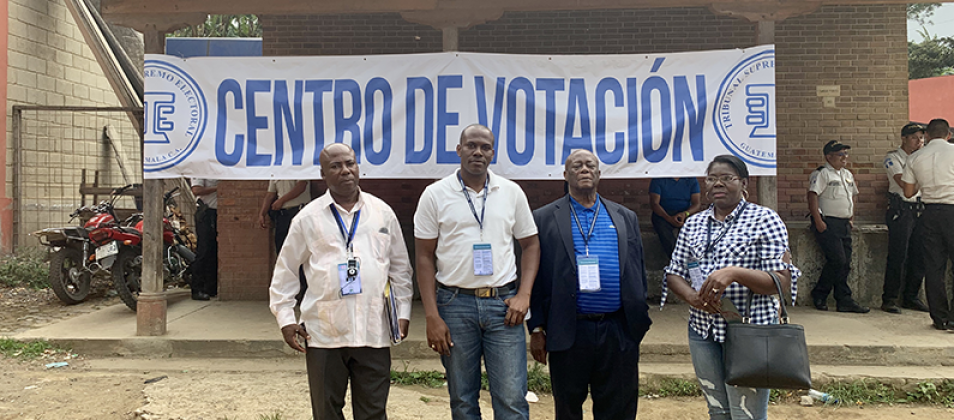 Haitian Delegation Participates in Election Observation Exchange Mission to Guatemala
by Jacob Buchholz and Marita Ivonne Jiménez*
From June 13-17, a delegation from Haiti's Provisional Electoral Council (CEP) participated in an election observation and exchange mission organized by the Supreme Electoral Tribunal (TSE) of Guatemala around the country's June 16 general elections. The delegation consisted of two councilors, the regional coordinator for the West Department and the chief of the Information Technology Unit. The purpose of this mission was for the CEP to gain a better understanding of comparative models of electoral operations, organization of election management bodies (EMBs) and successes and challenges of implementing electoral reforms.
During the first two days of the program, the participants took part in informative sessions about Guatemalan electoral institutions and processes, as well as Guatemala's major 2016 reforms to its Electoral and Political Parties Law. These reforms are being implemented for the first time in the 2019 electoral cycle. The Guatemalan government, local and international election experts and prominent civil society members led the discussions, which were attended by EMB representatives from across Latin America and the Caribbean. On Election Day, the participants observed voting procedures at eight polling stations and the vote counting process at another station after voting closed.
"My participation in this mission will allow me to better plan the various parameters related to the electoral process in Haiti."
After the exchange, the CEP participants were pleased with the takeaways they are bringing back to Haiti. Discussing the voting material at the polling stations, one participant remarked that "the ballot boxes and voting booths are very simple and pretty, and cheaper than those that we used in the 2015/2016 elections in Haiti."
Another CEP member said, "My participation in this mission will allow me to better plan the various parameters related to the electoral process in Haiti." The participants noted that the Guatemalan examples on preventing election fraud, political party financing and voter registration were particularly useful.
In addition to participating in the academic program, the mission provided the CEP members with an opportunity for interaction, discussion and exchange with the TSE and EMB representatives from approximately 19 other countries in the region. The learning and connections forged contribute to sustained peer-to-peer technical support. The International Foundation for Electoral Systems (IFES) will continue to leverage its partnerships with EMBs in the region to empower the CEP with additional tools and knowledge to institutionalize and reform its electoral processes. Building and strengthening the CEP's institutional capacity through peer-to-peer exchanges enhances the CEP's long-term professional and technical abilities to administer Haitian elections.
*Jacob Buchholz is a program coordinator and Marita Ivonne Jiménez is a program associate for the Americas at IFES.