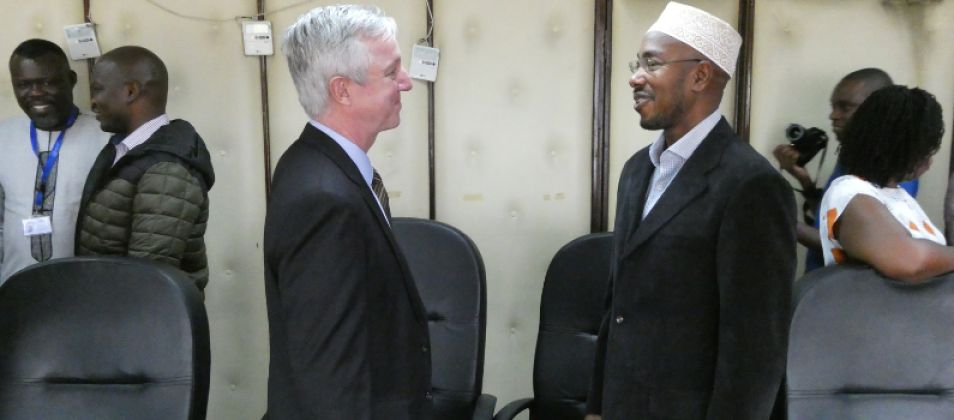 IFES and IEBC Partner to Fight Hate During Kenyan Election
The International Foundation for Electoral Systems (IFES) and the Independent Electoral and Boundaries Commission (IEBC) of Kenya have signed a Memorandum of Understanding to strengthen IEBC's monitoring of hate speech related to Kenya's upcoming General Election.
"IFES is excited to be partnering with the IEBC to counter the malicious impact of hate speech on the important elections Kenya will be holding on August 9," said IFES President and CEO Anthony Banbury. He added, "This is the first instance we are aware of where an AI-driven tool has been custom-developed to detect online hate speech for a specific election, and made available to the national election commission so it will have access to real-time reporting on levels and targets of hate speech, and can respond accordingly. The impact of misinformation and hate speech on elections and democracy in countries around the world is getting worse by the day, and clearly much more needs to be done. I applaud the IEBC and Kenya for being a global leader in applying AI to this critical need."
IFES will support the IEBC through a custom-developed hate speech monitoring tool that pairs cutting-edge Artificial Intelligence (AI) based on locally sourced data with robust ethics and transparency principles.
The tool, developed in partnership with the Digital Equity Association and leading researchers, data scientists, and designers in Kenya and around the world, summarizes social media data in English, Kiswahili and Sheng in a custom dashboard. This will allow the IEBC to monitor the content, volume, and trends in electoral hate speech, as well as show which groups, including marginalized communities, are being targeted. 
With this information, IEBC will be better equipped to support the ability of all Kenyans to participate in the election peacefully and enable all candidates to compete fairly and openly. 
After the election, IFES will also work with Kenyan and global partners to further improve the tool so that it can be deployed in elections around the world.
Read coverage of IFES' work using A.I. to track hate in U.S. News & World Report.
IFES advances democracy for a better future. We collaborate with civil society, public institutions and the private sector to build resilient democracies that deliver for everyone. As a global leader in the promotion and protection of democracy, our technical assistance and applied research develops trusted electoral bodies capable of conducting credible elections; effective and accountable governing institutions; civic and political processes in which all people can safely and equally participate; and innovative ways in which technology and data can positively serve elections and democracy. Since 1987, IFES has worked in more than 145 countries, from developing to mature democracies. IFES is a global, nonpartisan organization based in Arlington, Virginia, U.S., and registered as a non-profit organization [501(c)(3)] under the United States tax code.
Since 1992, IFES has worked with Kenyan Election Management Bodies to promote peaceful and inclusive electoral processes. IFES acts as a neutral facilitator and advisor to key institutions such as the Independent Electoral and Boundaries Commission (IEBC), judiciary, Office of the Registrar of Political Parties (ORPP) and others to safeguard electoral system integrity.
Published July 29, 2022.