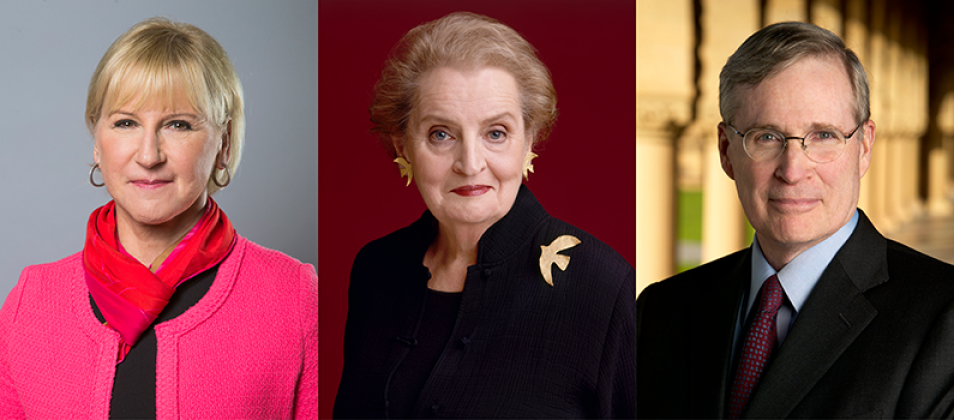 IFES Announces Recipients of 2019 Democracy Award
RSVP for the 2019 Democracy Awards Dinner.
The International Foundation for Electoral Systems (IFES) will honor Swedish Minister for Foreign Affairs Margot Wallström, former United States Secretary of State Madeleine K. Albright (D) and former U.S. National Security Adviser Stephen J. Hadley (R) with its 2019 Charles T. Manatt Democracy Award. The honorees will receive their awards at a special ceremony to be held on September 30 in Washington, D.C.
As Sweden's Minister for Foreign Affairs, Margot Wallström is a leading voice on democracy, gender equality and human rights in the international community. When Minister Wallström announced her government's foreign policy priorities before Parliament in February 2019, she put democracy promotion first. Minister Wallström launched the world's first feminist foreign policy in 2014, an approach that a number of other governments have subsequently adopted. She previously held several positions in the Swedish Parliament, the Swedish government and the European Commission, and served as Special Representative of the United Nations Secretary-General on sexual violence in conflict.
"Margot Wallström is a passionate and tireless advocate for so many important causes, including democracy and women's equality. She teaches us that women's equal and meaningful involvement in decision-making processes makes democracies more inclusive and sustainable," said IFES President and CEO Anthony Banbury. "Her foreign policy's central tenets of rights, representation and resources for women and girls are crucial to achieving gender equality. I have known Margot for years and have always been inspired by her wisdom, her strength and her principles. IFES is deeply honored to celebrate her leadership."
"The worries of the world can sometimes make it seem like doomsday is close at hand. But the world can be made safer and more secure – with more democracy, more solidarity, more cooperation, more sustainability," said Minister Wallström. "Hope is not a feeling, but a way of acting and I am grateful to receive this Democracy Award from IFES, an organization that helps to build this hope and fight the doomsday feeling with a policy for faith in the future – in Sweden and in the world."
Dr. Madeleine K. Albright was named the U.S.'s first female Secretary of State in 1997, becoming the highest-ranking woman in the history of the U.S. government at that time. In this role, she promoted democracy and human rights around the world, most critically in the Balkans where her actions helped end ethnic cleansing and conflict. In 2012, Dr. Albright received the Presidential Medal of Freedom, the nation's highest civilian honor, from President Barack Obama. Dr. Albright chairs the National Democratic Institute, the Albright Stonebridge Group and Albright Capital Management LLC.
"Madeleine Albright has long advocated for taking the responsibilities of citizenship seriously," said IFES Co-Chairman Donald R. Sweitzer. "As she writes in Fascism: A Warning, 'It is up to us to remedy democracy's faults when and wherever we can, but never to forget the underlying strengths.' IFES believes that democracy only works when citizens can fully and safely engage in their countries' political and electoral processes. We are proud to honor Dr. Albright's record of achievement and long-lasting commitment to civic and democratic participation."
"The world is at a crossroads, with authoritarian leaders repressing civil society and subverting democratic systems in their own countries and elsewhere," said Dr. Albright. "IFES is a vital partner in these challenging times, and I am honored to receive their Democracy Award. We are counting on citizens, especially women and youth, to join in the fight for freedom and democracy and to speak up – online, at the ballot box, in legislative bodies and more."
Stephen J. Hadley served as National Security Adviser to President George W. Bush. He is currently Chair of the Board of Directors of the U.S. Institute of Peace, Executive Vice Chair of the Board of Directors of the Atlantic Council and a Principal of RiceHadleyGates LLC. In 2015, he and Dr. Albright launched the Atlantic Council's Middle East Strategy Task Force to engage the international community in discussions about peace in the Middle East.
"Building democracy is difficult work and authoritarian leaders are forever seeking ways to hold on to power while cloaking themselves in a veneer of democracy. In government, Steve Hadley built a distinguished record of working to spread the benefits of democracy to millions around the world in the face of stiff authoritarian resistance. After his government service, Steve has continued to be a leading voice on the importance of democracy and how its spread help makes for a more peaceful, just and safer world," said IFES Chairman J. Kenneth Blackwell. "IFES is honored to recognize Steve Hadley's contributions to the promotion of democracy, work that affirms the fundamental rights of human security and universal suffrage."
"I am honored to receive the 2019 Democracy Award from IFES, an organization that strives to build strong democratic institutions that respect their citizens' fundamental rights and freedoms," said Mr. Hadley. "Throughout my career, I have seen time and again that the most important contributor to a country's welfare is a commitment by its government and its people to democratic principles. IFES' work across decades and continents has helped ensure that millions of people today are enjoying the benefits of democratic government."
IFES' Charles T. Manatt Democracy Awards are presented each year to a Democrat, a Republican and a member of the international community who demonstrate the dedication to democracy and human rights embodied by the award's namesake, former IFES Board of Directors Chairman Charles T. Manatt.
Previous U.S. recipients of the Democracy Award include Senator Christopher Coons (D-Del.); United States Agency for International Development Administrator Mark Green (R); Representative David Price (D-N.C); former IFES Board of Directors Vice Chair Judy Black (R); Representative Sheila Jackson Lee (D-Texas); Senator John Barrasso (R-Wyo.); Representative Nancy Pelosi (D-Calif.); Representative Ed Royce (R-Calif.); Representative Steny Hoyer (D-Md.); Senator Jerry Moran (R-Kan.); Senator Richard Durbin (D-Ill.); Representative Kay Granger (R-Texas); Representative Nita Lowey (D-N.Y.); Representative David Dreier (R-Calif.); Senator Patrick Leahy (D-Vt.); Representative Ileana Ros-Lehtinen (R-Fla.); Representative David Obey (D-Wis.); Representative Lee H. Hamilton (D-Ind.); Senator Richard G. Lugar (R-Ind.); Representative Tom Lantos (D-Calif.); and Senator James Inhofe (R-Okla.).
Previous international recipients include former Liberian President Ellen Johnson Sirleaf (2018); Organization of American States Secretary General Luis Almagro (2017); disability rights advocate Nay Lin Soe of Myanmar (2016); former Chairman of Nigeria's Independent National Electoral Commission Professor Attahiru Jega (2015); Venezuelan opposition leader Maria Corina Machado (2014); former President of the Federal Electoral Institute of Mexico Dr. Leonardo Valdés Zurita (2013); Kenyan gender advocate Maimuna Mwidau (2012); South African Judge Johann Kriegler (2011); and former Lebanese Minister of Interior and Municipalities His Excellency Ziad Baroud (2010).
###
As the global leader in democracy promotion, IFES advances good governance and democratic rights by providing technical assistance to election officials; empowering the underrepresented to participate in the political process; and applying field-based research to improve the electoral cycle. Since 1987, IFES has worked in over 145 countries, from developing democracies, to mature democracies. For more information, visit www.IFES.org.
Photo credits: Margot Wallström – Kristian Pohl / Government Offices; Madeleine Albright – Timothy Greenfield-Sanders