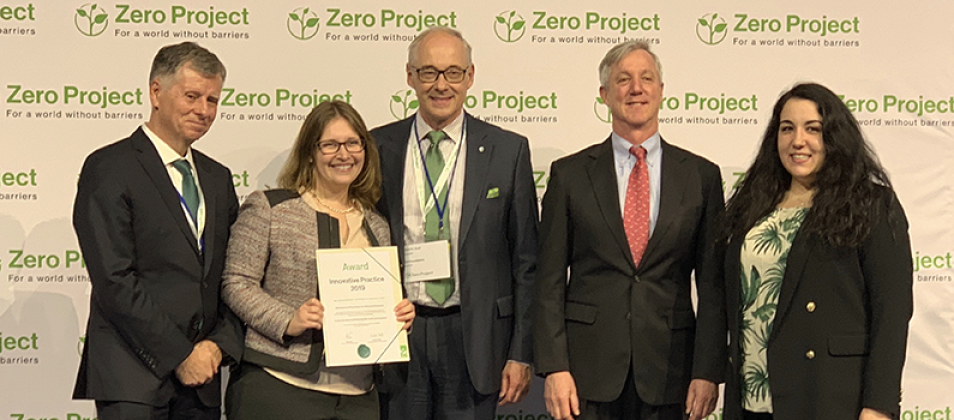 IFES Recognized for Innovative Disability Inclusion Practices
The International Foundation for Electoral Systems (IFES) has received international recognition as a recipient of two Innovative Practice Awards from the Zero Project, an initiative of the Austrian Essl Foundation, which provides a platform for sharing innovative solutions to barriers faced by persons with disabilities around the world. The two tools selected for the award include IFES' Election Access Observation Toolkit and its Electoral Sign Language Lexicon.
IFES received the awards on February 21 at a special ceremony during the 2019 Zero Project Conference held at the United Nations Office in Vienna, Austria. The conference was attended by IFES President and CEO Anthony Banbury, Inclusion Advisor Virginia Atkinson, and Deputy Regional Director for the Middle East and North Africa Ambar Zobairi. During the conference, Atkinson spoke alongside IFES partners Chief Electoral Officer of Elections Saskatchewan Dr. Michael Boda and President of the National Electoral Institute of Mexico Lorenzo Cordova on a panel on accessible elections. The conference also featured Zobairi on a panel on innovative practices to support greater use of sign language in political, educational and social contexts.
IFES' Election Access Observation Toolkit provides a methodology for conducting standalone observations on accessibility, as well as questions for mainstream observer groups to incorporate disability inclusion into their missions. IFES, along with disabled people's organization (DPO) partners around the world, developed the Election Access Observation Toolkit to provide data on barriers to political access and demonstrate the leadership capabilities of people with disabilities. Drawing upon IFES' experience conducting dozens of election access observations in countries around the world and international and regional standards for inclusive elections, the toolkit provides DPOs and election observer groups with the background and tools to effectively incorporate a disability rights perspective into domestic and international observation missions. The toolkit, supported by the Australian Department of Foreign Affairs and Trade, United States Agency for International Development and Global Affairs Canada, gathers lessons learned from election access observations conducted by IFES and DPOs in a wide range of country contexts, including Haiti, Indonesia and Kosovo.
In addition to the Election Access Observation Toolkit, IFES also received an Innovative Practice Award from the Zero Project for its Electoral Sign Language Lexicons. For Deaf voters, language barriers are a profound challenge to full participation in political life. In many countries, Deaf communities are further marginalized from public life because they do not have access to educational opportunities, which results in low literacy, and during the electoral period, voting materials are not translated into sign language. This creates an alarming gap in access to information for Deaf communities.
Electoral Sign Language Lexicons seek to address this information gap by capturing or developing critical vocabulary that can be used by Deaf communities to participate in political life. The lexicon is developed through a collaborative process that brings together Deaf leaders, sign language experts and sign language interpreters. Once developed, lexicons are made available as PDFs, YouTube videos and as a mobile application. The methodology was first used in Libya in 2015 and has since been contextualized for Morocco, with Haitian and Tunisian versions in progress. The Electoral Sign Language Lexicon includes over 300 words related to political participation. IFES' methodology also includes a training-of-trainers workshop that empowers Deaf advocates to share the lexicon with their communities. Through its innovative approach, the lexicon allows Deaf persons to not only understand procedures of voting, but also make informed decisions in the electoral process.