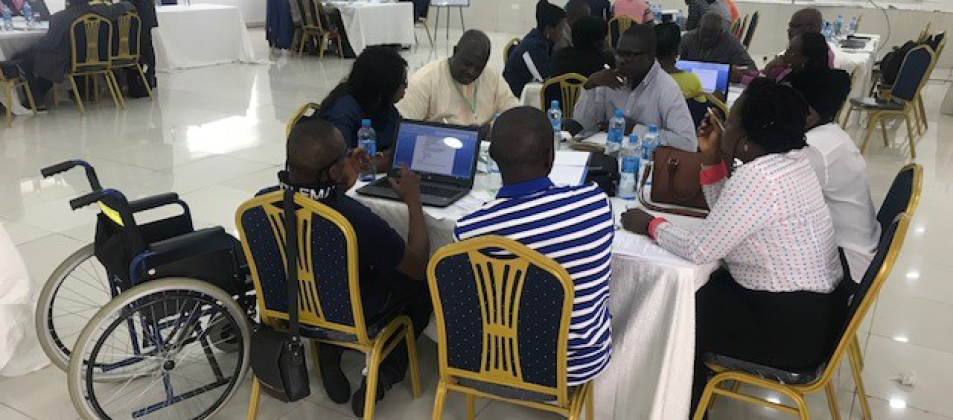 Lagos Develops First State Electoral Commission Strategic Plan in Nigeria
Strengthening the electoral process at the local level in Nigeria depends to a large extent on the sustainability of the State Independent Electoral Commissions (SIECs). In accordance with the 1999 Nigerian Constitution, Nigeria has a two-tiered system of electoral administration, with the Independent National Electoral Commission (INEC) managing national-level elections (presidential, National Assembly, and gubernatorial), and SIECs managing state-level, local government council elections. The International Foundation for Electoral Systems (IFES) regularly provides training support to SIECs ahead of their local council elections. Part of this training is to impart the importance of long-term planning, which will improve the efficiency and effectiveness of commissions over time. INEC is on its second five-year strategic plan, covering the period 2017-21, but long-term strategic planning is a novel concept for many state-level commissioners. One SIEC in particular has taken IFES' advice to heart.
The Lagos State Independent Electoral Commission (LASIEC) manages local elections within 20 local government areas in the state, serving over 6 million registered voters, the most of any state in the country. With IFES support, LASIEC is developing a five-year strategic plan to address gaps in its capacity to deliver on its mandate. By moving from short-term planning around immediate elections to a longer-term approach that takes into consideration the whole electoral cycle, LASIEC is demonstrating its true independence and leadership as a state-level election management body.
The commission formed a 12-member Strategic Planning Committee, which includes IFES, in November 2017 to shepherd the process, and held a strategic planning workshop for 56 LASIEC commissioners, senior staff, and election officers in February 2018. At the workshop, IFES assisted LASIEC in developing the strategic foundations, pillars, and objectives for the strategic plan.
"I must appreciate IFES and its sponsors – the United States Agency for International Development (USAID) and the United Kingdom's Department for International Development (UKAID) – for their unwavering commitment and contributions toward building the capacity of the commission in international best practices in election administration and management. I pledge that the commission will continue to work hard to justify the confidence reposed in it by IFES." – LASIEC Chairperson Justice Ayotunde Philips, speaking at the strategic planning workshop
LASIEC's strategic plan, covering the period 2018-22, is expected to be shared with stakeholders and formally rolled out in the coming weeks. The plan is the first of its kind for any SIEC in Nigeria and will serve as a model for other SIECs to follow. It is expected to provide a strategic focus and the restructuring needed to make LASIEC a viable, effective, and efficient election management body.
These activities are supported by USAID and UKAID.