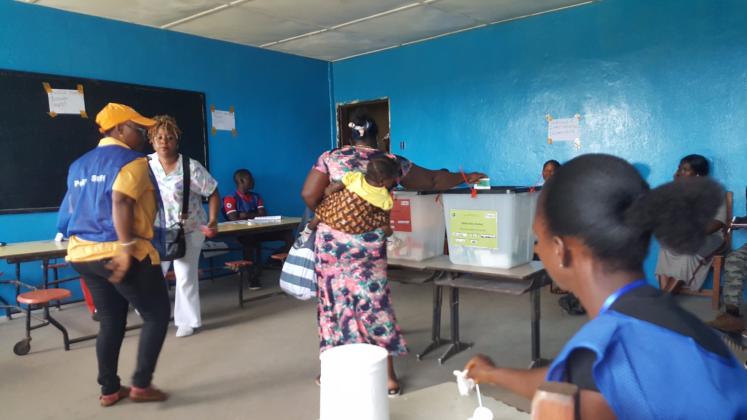 Liberia's Landmark 2017 Elections Deepen its Democracy
By Editorial and Communications Manager Adam Gallagher
After decades of conflict and civil war, Liberia's October 2017 landmark elections represent a critical juncture for the country's democracy. Voters went to the polls to choose their next president and vice president as well as all 73 members of the House of Representatives. With 20 candidates vying for the presidency and 980 candidates running for the House, the elections were hotly, but peacefully, contested. Although the National Elections Commission (NEC) has yet to declare official results, provisional results indicate that a November 7 second-round contest will be held between former football star George Weah, representing the Coalition for Democratic Change, and Vice President Joseph Boakai of the ruling Unity Party. Liberians are poised to witness the first transfer of power from one democratically elected government to another since 1944.
Conducting elections in Liberia is a challenging enterprise, as the country is still recovering from decades of violence and instability. The remnants of the 1989-2003 civil war, from the husks of scorched buildings to the stories of the Liberian people, are ever-present reminders of the brutality that gripped the country. Today, there is still a very poor communication and transportation infrastructure, making disseminating anything from voter information to election materials arduous and complex.
The International Foundation for Electoral Systems (IFES) has played a pivotal role in Liberia's democratic transition since the signing of the 2003 Comprehensive Peace Agreement, supporting the capacity building of the NEC and strengthening civil society organizations. Liberia's other post-conflict general elections (2005 and 2011) received extensive international technical and financial assistance, particularly from United Nations Mission in Liberia (UNMIL). With the ongoing drawdown of the UNMIL mission, international support for the 2017 elections was much more modest, with Liberians fully taking the reins of their democracy. In the lead up to the 2017 vote, IFES supported the NEC and 27 civil society organizations in all 15 counties of Liberia to promote a peaceful, credible and transparent election.
Although the October 10 polls were held during the peak of Liberia's rainy season, Election Day was sunny and sweltering. At polling stations throughout the country, long queues of voters eagerly waited for the polls to open at 8:00 a.m. Despite the humid conditions and long lines, voters patiently waited to have a say in how they are governed.
Elderly voters, voters with disabilities and mothers with young children, were given priority in the lines and poll workers diligently guided voters through the process. Demonstrating their confidence in the security of the polling station, many mothers brought their children with them. Liberian National Police and other security forces were present at polling stations, but did not carry heavy weapons or intimidate voters. At polling stations IFES visited, there was a sizeable presence of domestic and international observers as well as party agents monitoring the vote. Overall, international observer missions lauded the conduct of the vote and highlighted the NEC's preparations.
Across Liberian society, there was an acute desire for an electoral process free from the violence that has characterized Liberia's history. In the months preceding the polls, political parties pledged to support violence-free elections. As part of a robust multimedia voter education campaign, IFES worked with civil society groups to promote peaceful elections. IFES collaborated with Miatta Fahnbulleh, Liberia's most famous singer who performed at outgoing President Ellen Johnson Sirleaf's Nobel Peace Prize ceremony, on a song encouraging Liberians to "say no to election violence." The song has become a phenomenon, played on community-based radio stations throughout Liberia.
In a country where over half the population is illiterate, radio is the dominant form of mass communication. IFES produced weekly radio programs, "Elections and You" (watch IFES Board Chair Ken Blackwell and President and CEO Bill Sweeney during a live recording of "Elections and You") and "Say Yes to Peace," which provided voter information to Liberians, allowing them to ask questions directly to NEC commissioners, and promoting the importance of a peaceful, democratic transition of power.
Women have played a key role in Liberia's democratic transition, and the 2017 elections were no different. Of the approximately 2.1 million Liberians who registered to vote, nearly half were women. According to the Carter Center's preliminary statement on the elections, woman made up 53 percent of voters and 39 percent of polling station staff. IFES worked closely with the NEC's Gender Section to produce a guide to support the integration of women with disabilities at the commission and in its programming. On Election Day, a woman doctor from Bomi County emphatically told IFES, "We are voting for our children's future and Liberia's future."
Since 2004, IFES and the NEC have developed a strong partnership, working together on Liberia's first democratic elections in 2005 and 2011. That partnership was strengthened during trying times, as IFES supported the NEC in conducting the 2014 special senatorial elections during the Ebola crisis. In the days before the 2017 election, NEC Chairman Jerome Korkoya noted, "We are a young commission and IFES has been a great partner we can rely on. In the areas of gender and disability IFES has been wonderful. We are very thankful for its support."

For the 2017 elections, IFES supported the NEC in a number of key areas, including building its information and communication technology management capacities, technical support on gender and disabilities issues, developing its website and social media platforms, and building the capacity of its Civic and Voter Education Section. Liberia's outgoing president, Nobel laurate Madam Sirleaf, also recognized IFES' contributions to her country's democratic transition: "IFES has been with us for all our elections and played a very important role as a partner for Liberia."
Liberians earnestly demonstrated their yearning to build on the democratic gains made since President Sirleaf was elected in 2005. Provisional results have estimated turnout to be at 74.5 percent. The politically charged atmosphere led to no serious incidents of violence in the lead up to the vote, on Election Day or in the following days. The success of the 2017 elections augurs well for Liberia's democratic consolidation. While a run-off vote is still in the offing, Liberians have further entrenched the right of every voice in their society to have a vote.
For more on Liberia's 2017 elections, please see: