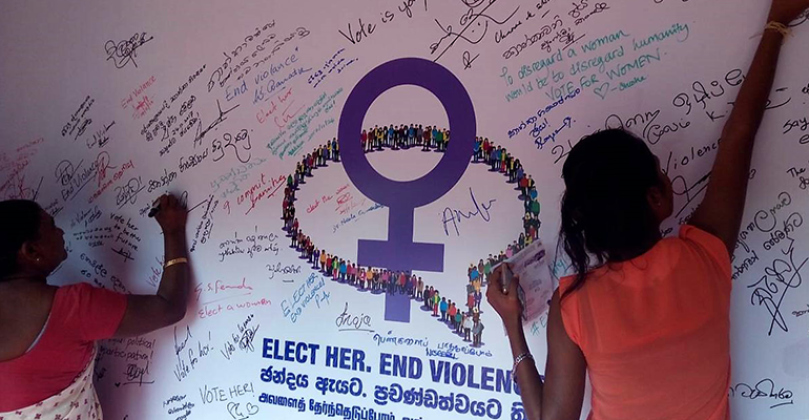 A Multi-Stakeholder Approach to Addressing Violence Against Women in Elections
Electoral violence against women, whether by political party leaders, poll workers or family members, represents a significant obstacle to increasing women's representation in the political sphere. Different from observable Election Day acts, which tend to affect men, violence against women in elections (VAWIE) often occurs in the private sphere or in the form of psychological threats or social restrictions, as is often the case in Sri Lanka. IFES' 2017 VAWIE Assessment, carried out under the Australian Department of Foreign Affairs and Trade-funded Promotion of Women's Electoral Representation (POWER) program, identified widespread instances of electoral violence against women, including that high rates of character assassination through social media platforms restrict women's candidacy for office; women trying to obtain nominations face sexual harassment by political party leaders; and neither observer groups nor police had the tools needed to monitor or respond to electoral violence against women.
"As observers, we are data collectors. Our data can inform policy makers about election challenges, including the specific problems faced by women. This is why it is important to better capture VAWIE through our monitoring tools" - Director, Centre for Monitoring Electoral Violence
[caption caption="Participants review questions and tools for measuring VAWIE." align="right"]
[/caption]
Sri Lanka looks to hold local government elections in early 2018, which will introduce thousands of new women leaders as the country implements its first-ever women's quota. There is a critical need to mitigate VAWIE. To address this need, IFES is working with the Election Commission and civil society partners to implement a series of initiatives that aim to engage a diverse group of electoral stakeholders in comprehensively addressing election violence against women. Key examples include:
Coordinating a media training for journalists on principles of gender-sensitive election reporting. The training included an interactive crisis simulation that encouraged media participants to respond to instances of hate speech used against women candidates – a common form of VAWIE in Sri Lanka. Following the training, participants wrote articles calling on media actors to address increasingly prevalent character assassinations of women candidates.
Working with gender-based violence (GBV) service providers and election observation groups to develop improved data collection tools to better respond to VAWIE. The election monitoring tools will be implemented in the upcoming election and aim to improve data collection of incidents of VAWIE, as well as better identify referral pathways for survivors of election-related violence.[caption caption="Police engage in an interactive crisis simulation." align="right"]

[/caption]
Coordinating a training for police officers that introduced police participants to a variety of election security principles and tools that can help ensure a level playing field for men and women. These included conducting gender-sensitive election security assessments and capacity building workshops; participating in electoral security working groups that reflect diverse stakeholder views; and adopting codes of conduct that limit hate speech and provocation of violence by providing clear guidelines for regulation and reporting mechanisms.
Working with election monitoring groups, police and the Election Commission to develop a police manual on "women and election security." The initiative links election security-related actors with GBV service providers who are typically separated from the political process.
"Election violence against women is rarely taken into account as a form of violence. There is a long way to go, especially in terms of making the police department sensitive to this issue, but the [police handbook] is a good start" - Police officer
[caption caption="Chairman of the Election Commission signs the \"Elect Her. End Violence.\" campaign pledge." align="left"]
[/caption]
Advocacy to address electoral violence against women culminated in Sri Lanka selecting VAWIE as its national theme for the global "16 Days of Activism" against gender-based violence. Launched on November 24, 2017 in Colombo, the 16 Days of Activism includes a public advocacy campaign entitled "Elect Her. End Violence," which calls on citizens across Sri Lanka to take a public pledge to end VAWIE. Following the launch, IFES organized the first "Elect Her. End Violence" campaign event in Hambantota, during which more than 150 people signed a pledge to promote violence-free and gender-inclusive elections. Taken together, IFES and the Election Commission's efforts to engage a network of security actors, observer groups, election administrators and GBV service providers have resulted in the development of locally-owned resources and national-level recognition of the need to mitigate electoral violence against women.