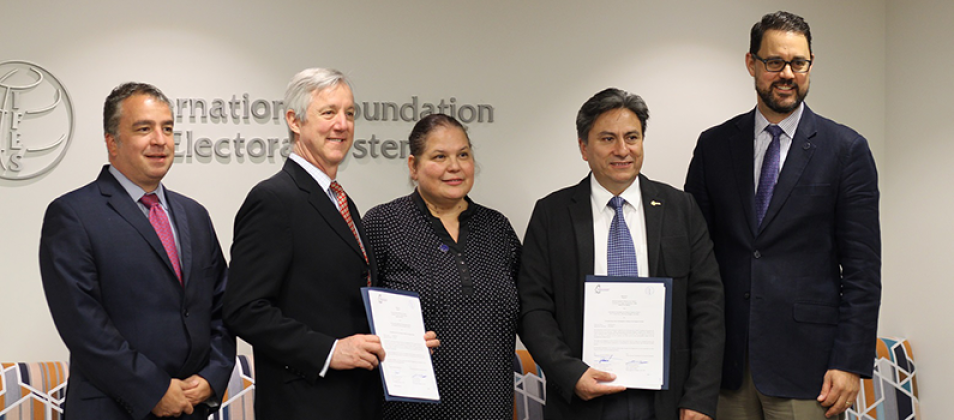 Participatory Budgeting Project to Be Implemented in Mexico City
by Marit Björnlund*
On June 4, leaders of the Electoral Institute of Mexico City (IECM) visited the International Foundation for Electoral Systems' (IFES) headquarters to sign an agreement that marks the next phase of their longstanding partnership. With this "Enhancing Citizen Participation in Mexico City" agreement, the IECM will welcome IFES' expertise for research on comparative experiences in participatory budgeting, and the organizations will work together to develop civil society workshops in Mexico City on participatory budgeting and domestic election observation.
The signing ceremony was attended by IECM's President Councilor Mario Velázquez Miranda and Electoral Councilor Yuri Gabriel Beltrán and IFES' President and CEO Anthony N. Banbury, Vice President for Programs Michael Svetlik and Regional Director for the Americas Margarita R. Seminario. IFES and IECM, the electoral management body (EMB) of the largest city in North America, institutionalized their partnership with a Memorandum of Understanding signed in 2016, and Banbury and Velázquez expressed their excitement and honor about expanding the partnership.
Velázquez explained how the project aims to generate greater citizen participation in Mexico City's democratic processes, particularly through its participatory budget mechanism, which has been in place since 2011. In a participatory budgeting process, members of the community are invited to determine how to allocate a specific portion of government resources, generally to social or public works projects that address community needs. In Mexico City, about 50 million USD per year are allotted to participatory budgeting, with citizens first submitting proposals and then voting on what proposals should be implemented in their neighborhoods.
Last year, the IECM received 19,000 project proposals, Beltrán noted. "That's lots of people being creative about how to solve community problems." Through the partnership between IECM and IFES, Beltrán added, "what we are trying to do is not only that the people vote but that the people discuss the possibilities of doing a project or not. We think of this as a possibility to provide public discussion, on electronic networks and even in real networks, assemblies or [any other] format."
During the signing ceremony, Velázquez and Beltrán also expressed the IECM's strong interest in developing a training center where other Latin American EMBs can receive training and learn from the IECM's experience, particularly those from Central American countries whose population size is closer to that of Mexico City than Mexico.
Seminario added that the IECM is doing innovative work on issues like inclusion and integrity: "We are excited to tap into this expertise and experience" to inform IFES' other projects in the Americas, she said. The IECM participates in electoral observations around the Americas, such as in Panama in May 2019 and Guatemala in June 2019, which provide excellent opportunities to connect and exchange with other regional EMBs. Svetlik also noted that the IECM is the only subnational group that is a member of the Organization of American States' Interamerican Meetings of Electoral Authorities.
Through the "Enhancing Citizen Participation in Mexico City" project, IFES will collaborate with the IECM to document its work on participatory budgeting and provide a review of best practices in the mechanism, particularly from Spain. IFES and IECM will host capacity-building workshops and IFES will present its recommendations to the IECM in late 2019. This exciting project is a learning opportunity for both groups and will provide a model for other EMBs to follow in enhancing citizen participation in the region.
*Marit Björnlund is a program coordinator for the Americas at IFES.