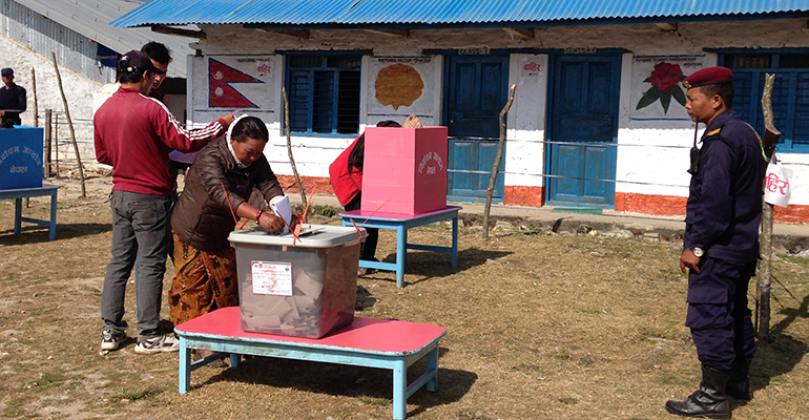 Photo Gallery: Voters in 32 Districts Cast Votes in Nepal's Historic Elections
On November 26, 2017, Nepal held the first phase of its first national and state-level legislature elections since the promulgation of its new constitution on September 20, 2015. Voters headed to one of 2,919 polling locations across 32 districts in the hill and mountain regions of Nepal, with the remaining 45 districts preparing to vote on December 7. These districts represented 3,191,945 of the 15,427,938 total registered voters. Counting will be conducted after the completion of the second phase.
These elections mark an important step in Nepal's transition to a federal state. Voters cast ballots for the House of Representatives and the first-ever State Assemblies. The State Assembly elections will determine the make-up of state legislatures, which will have newly decentralized powers over land registration; vehicle and entertainment taxation; tourism, and the protection of state languages and culture. Also in line with the new federal structure, constituency boundaries were redrawn in September 2017, reducing the number of federal electoral constituencies from 240 to 165.
The House of Representatives and State Assemblies are elected through a combination of first-past-the-post (FPTP) and proportional representation. In the former, votes are cast for specific candidates and the candidate with the greatest number of votes wins. In the latter, votes are cast for specific parties and seats are filled from a closed list that is carefully composed to reflect legal provisions that ensure the inclusion of marginalized populations, ethnic minorities and women (for more, please see IFES FAQs' "Elections in Nepal: 2017 House of Representatives and State Assembly Elections").
Following local elections in the spring and summer of 2017, the Election Commission of Nepal (ECN) has introduced several new policies and practices to improve the electoral process. For example, the FPTP ballots have been printed after candidate nomination so that only those eligible candidates are on the ballot. Following a Supreme Court decision in late October 2017, the ECN also decided to split the FPTP ballots so that there is one for the House of Representatives and one for the State Assemblies. While this is generally expected to reduce confusion among voters, it also delayed implementation of voter education activities as planned. Still, the ECN has incorporated new social media techniques into their voter education strategy in addition to increasing usage of other voter education tools such as mock ballots and informational videos. While some challenges remain, these are all positive steps for the future of democracy in Nepal.
Polling for the first phase of elections on November 26, was generally calm and peaceful with many voters expressing their pride in being able to cast a ballot and participate in the democratic process in Nepal. Despite many attempts to disrupt the process by groups against the new structure of government, the ECN has preliminarily reported turnout at 65 percent of registered voters.
Counting will take place only after the second phase of voting on December 7, once all ballots have been cast. The ECN has banned poll surveys to estimate winning candidates after this first round, so as not to influence voting in the second phase. Results are expected to be announced anywhere from a few days to a few weeks following the second-phase elections.
Click here to view the photo gallery.