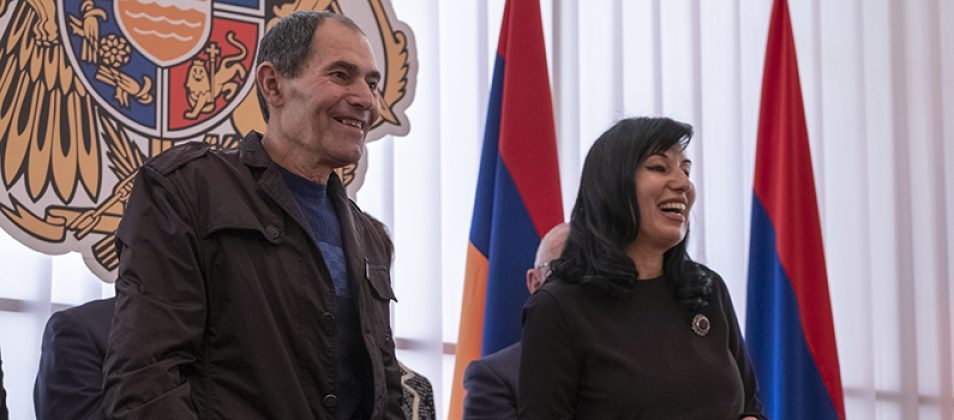 Presentation of Armenian Parliamentary Mandates
After the implementation of the International Foundation for Electoral Systems' (IFES) well-regarded poll worker trainings and voter education efforts for the early parliamentary elections in Armenia, the IFES team suggested that the Central Election Commission (CEC) bring together newly elected members of Parliament (MPs) and citizens from different provinces to formally present their new parliamentary mandates. On January 10, 2019, the presentation ceremony took place, at which citizens handed over the mandates to the MPs to represent the symbolic transfer of power from the people to the new MPs. Different electoral districts were included in the selection criteria in order to ensure broad geographic representation of randomly selected voters. 
Two voters, a man and a woman, were chosen at random from the pool of active voters in each constituency to present the mandates. As the official voting age in Armenia is 18, two young voters whose 18th birthdays were on Election Day were selected to take part in the ceremony as well. The oldest voter in the country was also invited to participate; she is 103 and presented the first mandate to Gurgen Baghdasaryan, deputy of the Bright Armenia party. This ceremony was a reminder that the principles of democracy and a government responsible to the people do not stop at the ballot box, but must be upheld through governance and policymaking. It is the responsibility of those elected by the people to act on behalf of all citizens, and this ceremony encapsulated that hopeful, hard-working, democratic spirit.
Among those presented with mandates were three IFES alumni: MPs Ararat Mirzoyan, Hamazasp Danielyan and Heriknaz Tigranyan. Mirzoyan, a former IFES voter education officer in 2012 and 2013, was the former deputy prime minister and elected as the speaker of Parliament. Danielyan was an IFES program and monitoring and evaluation officer through multiple programs. Tigranyan worked previously for IFES as a civic education specialist.
Various Armenian media outlets covered the ceremony, which was attended by representatives from the international community, Armenian government and nongovernmental partners and was held at the Armenian National Academic Theater of Opera and Ballet.
The joint efforts of IFES, the United Nations Development Programme and the CEC made this first-of-its-kind event a reality. The event will no doubt resonate for participants and the voters of Armenia, who are witnessing the dawn of a new era of accountable governance from their elected MPs.