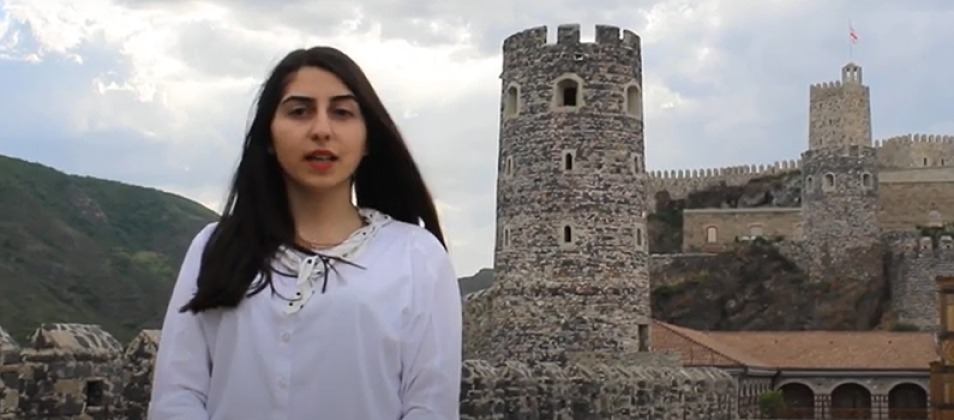 Promoting Unity Through Youth-Led Community Organizing in Georgia
Georgian youth are often perceived as apathetic or too idealistic. This furthers the "violence of exclusion," a structural and psychological marginalization of young people that is indivisible from their political, social, cultural and economic disempowerment and results in policies and programs that do not reflect their rights and realities. While not unique to Georgia, the stereotype that young people are not wise or experienced enough encourages disenfranchisement and limits their participation in electoral and political processes. This is especially the case among young people in ethnic and religious minority communities in Georgia, who face additional barriers to engage in local and national democracy. With the vast majority of ethnic and religious minorities unable to speak Georgian, they are often excluded from not only decision-making, but also from basic resources provided by the state. These multiple layers of marginalization prevent access to resources that foster engagement, advocacy and inclusion.
To empower underrepresented populations and provide spaces for young people to directly influence decision-making processes, the International Foundation for Electoral Systems (IFES) in Georgia launched the "Knowledge, Advocacy, Responsibility, engagement" (KARe) initiative. The KARe initiative is designed to build young people's skills in community organizing and mobilization among young leaders in ethnic and religious communities who strive to cultivate solidarity and unity regardless of ethnic or religious identities. Through dedicated capacity-building, KARe youth community mobilizers work to support citizens applying for state services, counter disinformation and propaganda and raise awareness of elections and political processes.
On International Youth Day 2020, the work of IFES' KARe youth community mobilizers embody the principles of global action at the local level to transform their neighborhoods, communities and country. Building resilient and engaged communities is the foundation of democracy at any level and through KARe, young leaders in Georgia's minority community are at the forefront of this effort. Learn more about Georgia's youth community mobilizers and their understanding of democracy in the videos below!
Aitaj Khalilli on Solidarity

"What is solidarity? This is a very interesting question. And I want to share my definition of it with you. For me, solidarity means unanimity that unites people around one common goal, issue or interest. Solidarity is showing support to a stranger, it is the encouragement of others, and it is cheering up others. Solidarity is a power that lies in you, me and in every human being. And it needs to be uncovered. In my opinion, the basic principles of solidarity are ingrained in humanism. That is why it is so significant. When we discuss solidarity, we should consider the various forms of civic and social solidarity that bypass any kind of identities but human identity. I think solidarity is the emancipating principle that we need not only in our country but globally. That is why: (Switches to Azerbaijani) Let's stand in solidarity."


Ali Mamedli on Community Organizing

"Community organizing is a process where people who live near each other come together into a unity that acts in the shared interests of the community. Community organizing put the community member and their interests in the center to build a public policy from the perspective of ordinary people. Organized communities can overcome the condition of being voiceless and transform their reality by themselves. Community organizing is a process by the people, of the people, for the people."


Suzana Shakarjanyan on Equality

"Equality is the situation when even if I am not a member of the dominant ethnic group, I am not a representative of the dominant religious group, I am not rich or someone from the capital city, I still am treated equally and no one can discriminate against me or can violate my rights. Equality means equal rights for every person regardless of their gender, age, ethnic background, etc. Substantial equality can be achieved only when the main value of a society is human beings. As Thomas Jefferson once said, 'Equal rights for all and special privileges for none.'"

The KARe initiative is supported through the "Georgia Elections and Political Processes Support" program.
Published on August 26, 2020.