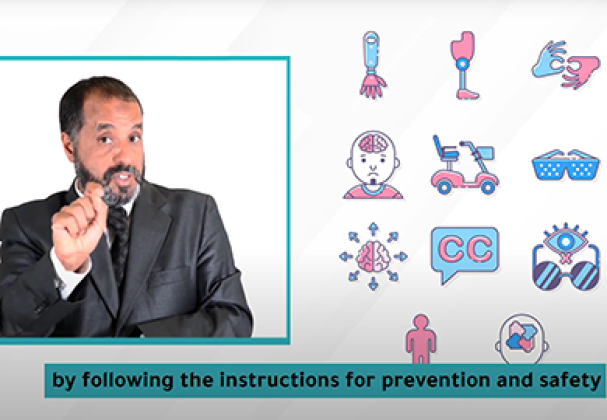 Providing Accessible COVID-19 Information to Libyans with Disabilities
Distributing accurate and timely messages and countering the spread of misinformation is critical in the context of the COVID-19 pandemic. To increase access to this critical information for persons with disabilities, the International Foundation for Electoral Systems (IFES) partnered with the Libyan disabled people's organization (DPO) Zaykum Zayna ("As You Are, We Are") to create a video that describes methods to prevent the spread of COVID-19.

The COVID-19 pandemic has created unique and unprecedented challenges to safety and security worldwide. While Libya reported just over 800 COVID-19 cases by the end of June, Libyans continue to contend with both the spread of the virus and the continuation of violent conflict between the United Nations-recognized Government of National Accord (GNA) and the Libyan National Army, led by General Khalifa Haftar. Moreover, the lack of reliable information on the spread and prevention of the disease has led to fear and uncertainty, particularly among marginalized communities whose access to reliable information may already be compromised.
Over the last few months, increased shelling has targeted health care facilities, weakening an already overwhelmed and ill-equipped health care system. In response to COVID-19, the GNA banned large gatherings in March, closed restaurants and schools and imposed a curfew to enforce social distancing measures. While the lockdown appears to have been effective in the fight against COVID-19, IFES also recognizes that timely, inclusive and accurate messaging on the virus could be similarly effective in mitigating its spread.
The three-minute video produced by IFES and Zaykum Zayna provides targeted information for persons with different types of disabilities, such as effective methods for sanitizing items like mobility and learning aids, frequent hand-washing and continuing to follow health advice provided by government and health authorities. To maximize the accessibility of its messaging, the video also includes graphics, subtitles, voice-over and sign language. The video is available both on IFES Libya's Facebook page and Zaykum Zayna's website and has also aired on Libyan TV.
Zaykum Zayna grew into an independent organization from IFES' 2013 media campaign advocating for persons with disabilities and their access to electoral information. As the first-ever network for DPOs and activists in Libya, Zaykum Zayna also coordinated with IFES to create a Libyan Arabic Sign Language Electoral Lexicon. The lexicon, which received a Zero Project Innovative Practice Award in 2019, was the first of its kind in Libya and included a 300-word sign language lexicon, manual, DVD and smartphone application available in sign language, English, French and Arabic.
IFES has been working in Libya since 2012 and works closely with the High National Elections Commission, Central Committee for Municipal Council Elections, Ministry of Education, civil society organizations and other stakeholders to conduct voter outreach and engagement and provide technical support on elections procedures. Learn more about IFES' programming in Libya.
Published on August 26, 2020.