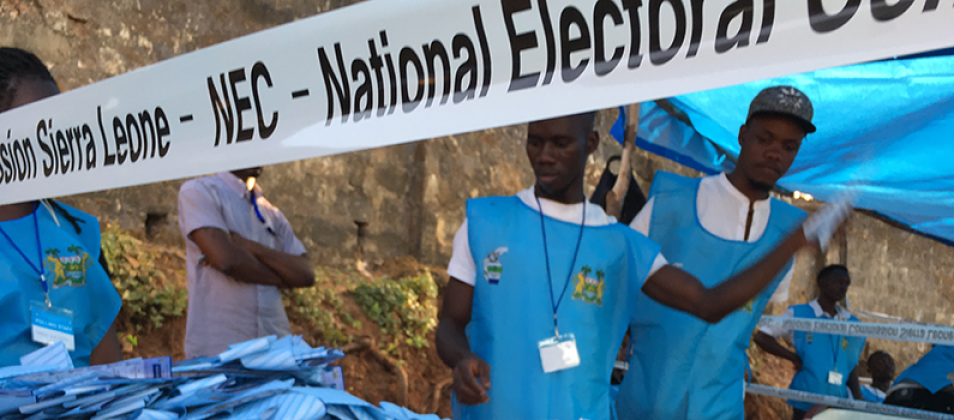 Resonating through Radio: Voter Education in the Sierra Leone 2018 Elections
by Otito Greg-Obi*
In preparation for the Sierra Leone elections on March 7, 2018, the International Foundation for Electoral Systems (IFES) launched the United States Agency for International Development-funded Sierra Leone Election Dialogue Series (SLEDS) Project alongside its implementing partners: the International Republican Institute, National Democratic Institute, Internews, and Search for Common Ground. The SLEDS project aimed to increase the participation of women and disadvantaged groups in dialogue surrounding the elections and to support increased professionalism in Sierra Leone's media coverage of the elections.
[caption caption="Young voter next to a NEC poster" align="right"]
[/caption]
IFES worked closely with the Media and External Affairs department of the National Electoral Commission (NEC) to develop and disseminate a series of voter education radio ads. This mode of outreach was a new and necessary approach for the NEC that was particularly impactful due to a truncated elections timeline and the need to make information quickly and easily accessible to the public. Throughout the electoral cycle all messages were broadcast via Sierra Leone's Independent Radio Network, a central hub of various local radio stations such as Radio Democracy and the Sierra Leone Broadcast Commission Network.
The first batch of radio ads went live on January 31st and featured 25 different messages in English and Creole. These radio ads encouraged the participation of women and persons with disabilities. These ads also featured general information on where to vote, how to cast a ballot, and what to expect at polling stations.
[caption caption="Radio ad about women's participation (English)"]
[/caption]

The first round of elections was largely peaceful. However, political tension contributed to fears of electoral violence in the lead up to the runoff elections. IFES responded by supporting the NEC in honing the radio ads during this period to create a new set of 25 messages. Many of these messages focused on acceptance of the results as well as peace and reconciliation. Several other messages centered around the legal and financial consequences of committing various electoral offences. This was crucial in fostering an electoral environment that supports both peace and rule of law. The second batch of messages aired during the last week of March and featured messages in English and Creole and in dialects such as Mende, Temne, Limba, and Kono.
IFES and the NEC made a conscious effort to increase the reach of these messages by offering them in a wide range of local dialects.
"It's essential to connect with the populace in their own language… The time right after the March 7 elections was rife with violence and rumors, and these needed to be mitigated by asking people to be peaceful in words that would echo with their own traditions." - Ravisha Mall, IFES media expert
[caption caption="Radio ad about polling centers (Creole)"]
[/caption]
 
The NEC faced many challenges with the spread of misinformation during the elections via social media outlets such as WhatsApp. "The best way to fight a rumor is [with] truth, but it has to be [on] the same platform and information [echo chamber] where the rumor exists. A rumor spread via social media, cannot be countered in a newspaper. The audience, the reach, the reaction, all differ for different platforms," said Mall.
With its rapid and widespread reach, social media has come to dominate political discourse during electoral cycles in many countries. Although social media can be a useful tool for democratizing information and increasing access to news, it is important for institutions and stakeholders in democracy — election management bodies in particular —to remain vigilant in spotting and countering false information. The key is to not only produce rapid responses but to also employ a pre-emptive external outreach strategy that is adaptable to a wide range of both traditional and non-traditional mediums of communication.
[caption caption="Radio ad about election results (English)"]
[/caption]

Furthermore, it is equally important to match communication strategies to local contexts. In Sierra Leone, internet users make up just 11.7 percent of the population. This means that even though social media plays a considerable role in areas with higher levels of internet usage, such as Freetown, it is just one piece of the puzzle. Thus, it is still vital to connect with voters and media stakeholders through multiple interventions such as radio ads, public debates, and media training. This locally contextualized, multi-pronged approach enabled the SLEDS project to reach large audiences of Sierra Leoneans nationwide and kept the public informed throughout the electoral process.
*Otito Greg-Obi is a program associate with IFES' Africa division.