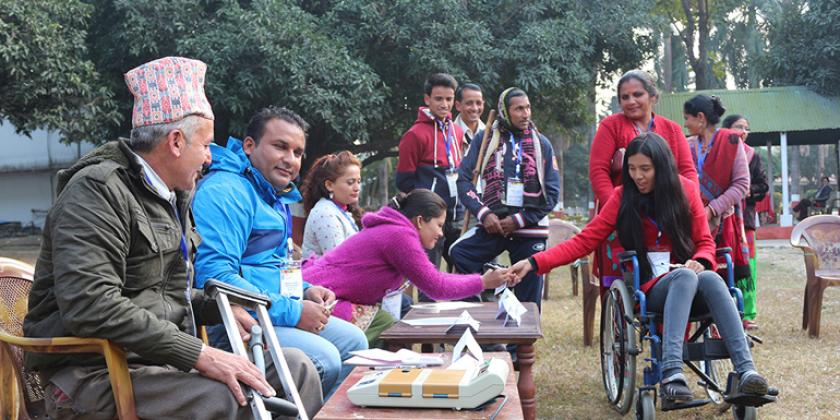 RightsNow! Disability Consortium Launches Resource Portal for Disability Rights Implementation
The Global Disability RightsNow! consortium, which the International Foundation for Electoral Systems (IFES) is a member, is launching a new resource website for disability rights advocates in Armenia, Kenya, Mexico, Vietnam and other places around the world.
The Global Disability RightsNow! website draws on the U.S. experience of the disability rights movement as well as actions taken by disability rights activists from around the world. It is meant to be used by disabled people's organizations, government personnel, legislators, and civil society organizations around the world. But it is especially designed for RightsNow! partners in Armenia, Kenya, Mexico, and Vietnam.The site offers:
Key "principles" of disability rights that capture and illustrate common elements of effective laws around the world.
Tools and resources to put your plans "in practice." For example, users can find information on making voting stations accessible, or resources on how people with disabilities can transition from living at institutions to living at home.
"Impact" stories that reveal strategies used by people around the world to advance disability rights. For example, how a national cross-disability council was established in Myanmar and how indigenous people with disabilities in Mexico gained a voice in the United Nations.
The "law" section shares information on disability-related laws in Armenia, Kenya, Mexico, the United States, and Vietnam, as well as information on implementing the United Nations Convention on the Rights of Persons with Disabilities (CRPD).
Although much of the content is in English, some resources also are available in Spanish, Armenian, Vietnamese, and International Sign (IS). Come explore the resources at www.GlobalDisabilityRightsNow.org.
"This website will allow all those who are working tirelessly for disability rights and justice to get the information they need to achieve their goals. It is so important that we share strategies that are working to make disability rights enforceable and to support each other's efforts in a unified global movement." –Susan Sygall, CEO, Mobility International USA
The new Global Disability RightsNow! website is one component of the "RightsNow! Strong Communities through Enforcing the Rights of Persons with Disabilities" project, which works to improve implementation of national disability laws and the CRPD in Armenia, Kenya, Mexico, and Vietnam. The project is a collaborative effort of four organizations, led by Mobility International USA with the U.S. International Council on Disabilities, the Disability Rights Education and Defense Fund, and IFES. The project is made possible through funding support from the U.S. Department of State, Bureau of Democracy, Human Rights, and Labor.