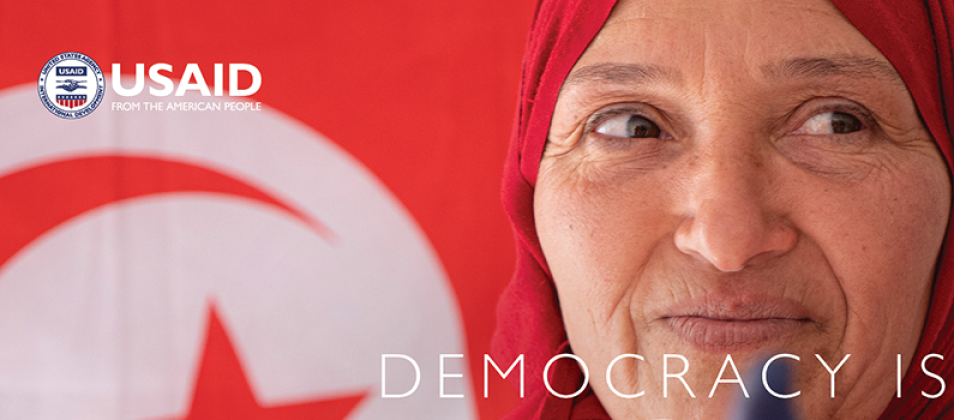 Like the United States Agency for International Development (USAID), the International Foundation for Electoral Systems (IFES) believes that citizen-responsive governance is critical in ensuring that countries reach their full potential. However, in many countries large segments of society lack the political rights and power to ensure that their governments are responsive to their needs. In Tunisia, women – particularly rural women – face challenges to their civic and political participation. According to the Tunisian National Institute of Statistics, 65 percent of Tunisian women living in rural areas drop out of school at an early age, contributing to an illiteracy rate of over 30 percent within this population. Illiteracy, along with other social and cultural barriers, leads to low electoral participation and further marginalization.
"I thought that every time we vote, there weren't any tangible results. It's only after Awatef's visit that I started to reconsider voting. She convinced me that I should make my voice heard." – Selma Sbissi, Tatouine, Tunisia
As part of an effort to enfranchise illiterate women residing in rural areas to hold their government accountable, IFES partnered with USAID and the Tunisian Mediterranean Center to train and deploy women ambassadors in governorates with the highest illiteracy rates. These civic education ambassadors then encouraged women like Selma Sbissi, featured in the video below, to register and vote in the 2018 municipal elections. Selma was one of over 7,000 rural women whom IFES reached during the voter registration campaigns and 27,000 reached during the mobilization campaigns. Her inspirational story affirms that Tunisia's democratic future lies in empowering its most marginalized citizens to exercise their political rights and contribute to the political life of their communities.

This activity was funded by USAID through the Consortium for Elections and Political Process Strengthening (CEPPS). Established in 1995, CEPPS pools the expertise of three premier international organizations dedicated to democratic development: IFES, the International Republican Institute and the National Democratic Institute. CEPPS has a 20-year track record of collaboration and leadership in democracy, human rights and governance support, learning from experience, and adopting new approaches and tools based on the ever-evolving technological landscape.