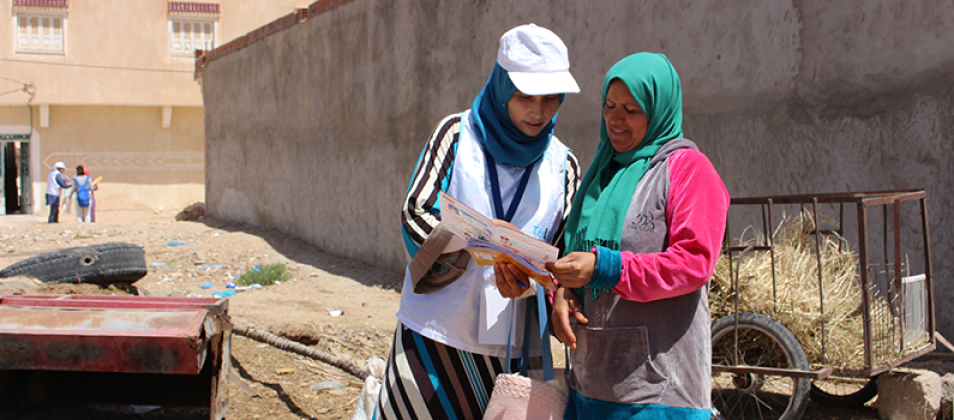 Mobilizing Rural Women for Tunisia's Municipal Elections
Women in Tunisia, particularly rural women, face a number of challenges to civic and political participation. According to the National Institute of Statistics, 65 percent of Tunisian women living in rural areas drop out of school at an early age, contributing to an illiteracy rate of over 30 percent within this population. Illiteracy, along with other social and cultural barriers, leads to their low electoral participation and further marginalization. As part of an effort to enfranchise illiterate women residing in rural areas, the International Foundation for Electoral Systems (IFES) partnered with the Tunisian Mediterranean Center (TU-MED) to train and deploy women ambassadors in governorates with the highest illiteracy rates to encourage women, especially illiterate women living in remote and hard-to-access areas, to register and vote in the May 6, 2018, municipal elections and provided them with information on registration and voting procedures.
IFES reached over 7,000 rural women during the voter registration campaigns and over 27,000 rural women during the mobilization campaigns. Based on a TU-MED survey of women reached during the campaigns, 69 percent reported that they participated in the municipal elections, which far exceeded the national average of 35 percent. Among the women who reported voting, over 25 percent declared that they voted against candidates who wanted to buy their vote or voted to sanction those they do not trust. These results demonstrate the campaigns' impact – not only did the majority of women reached choose to participate in the elections, but the reasons many selected certain candidates also demonstrate an understanding of their rights and responsibilities as voters.
Not only did the activity encourage some women to vote, but it also inspired them to become more engaged in civic affairs and gave them the confidence to be active citizens in their communities. Indeed, one rural woman said, "We actually want rural women to get out of their bubble and be active in politics. A woman, whatever her socioeconomic situation is, whatever her region or how cultivated she is, we want her to prove herself, to talk with the people in authority and contribute to making decisions to improve the situation in the rural areas."
The campaigns' success was possible thanks to the hard work and commitment of women outreach ambassadors trained by IFES, who traveled the roads of Tunisia engaging women and empowering them to vote. The ambassadors also found themselves transformed by the experience, honing their communication skills and becoming active figures in their regions. As one ambassador noted, "Field work is really different from the theory of the training. On a personal level, it shaped my communication and negotiation skills, allowed me to know my potential and shaped my thinking when talking with rural women." Another ambassador explained that this initiative led her to discover a passion for work in civic engagement, through which she met people she never expected to meet, built new relationships, discovered different ways of life and used this information to encourage them to become more civically engaged. She summed up the experience: "This is a lifetime experience […] that shifted my purpose in life. Now I feel that I am making a difference in this world."

As demonstrated by the high voter turnout of rural women reached through the registration and mobilization campaigns, as well as the testimonies of the women ambassadors and beneficiaries, face-to-face outreach is an effective approach to mobilizing voters. Furthermore, face-to-face outreach creates enduring transformations in both the rural women and outreach ambassadors. As a result of the campaigns, they were more willing to vote, more civically engaged and eager to become leaders in their own communities. A rural woman concluded, "the campaign helped me to be more active in my region. Even though I am not educated, I want to be active and contribute to raising awareness in women and girls in my region to vote and to make changes."
This activity was funded by the Canadian Government and the United States Agency for International Development through the Consortium for Elections and Political Process Strengthening (CEPPS). Established in 1995, CEPPS pools the expertise of three premier international organizations dedicated to democratic development: IFES, the International Republican Institute and the National Democratic Institute. CEPPS has a 20-year track record of collaboration and leadership in democracy, human rights and governance support, learning from experience, and adopting new approaches and tools based on the ever-evolving technological landscape.