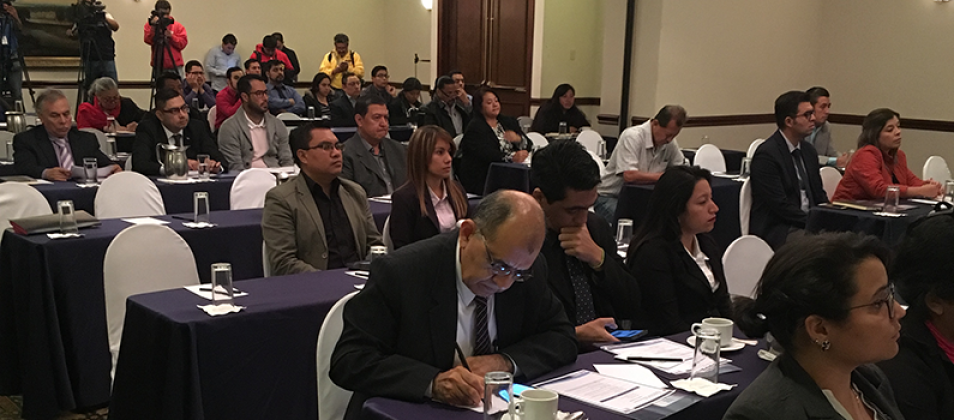 Supporting Implementation of Political Finance Reform in Guatemala
by Mario Raúl Toledo*
In Guatemala, the International Foundation for Electoral Systems' (IFES) support to the Supreme Electoral Tribunal (TSE), the country's main election management body, includes ongoing collaboration to implement political finance reform, such as improving the TSE's oversight capabilities and training political parties on the financial rules.
On November 26, IFES conducted a successful training for TSE staff on financial reporting, which continued IFES' work with the Specialized Unit for Control and Oversight of Political Party Finances, a critical section of the TSE. The TSE's Specialized Media Unit, Electoral Audit, General Inspection and Citizen Registry teams were trained to better understand the TSE's financial oversight responsibilities as dictated by the 2016 Electoral and Political Law (LEPP), a sweeping reform of the Guatemalan electoral system. A solid understanding of the TSE's oversight responsibilities will be essential to their preparations for Guatemala's general elections in June 2019.
New financial oversight instructions based on the LEPP reforms were also included in the revised Manual for Financial Reporting of Political Organizations, updated with the collaboration of IFES and the TSE and printed with IFES' support. The manual is available to political parties, which must follow the new financial reporting guidelines, and to the general public on the TSE's website. During the November 26 training, IFES' facilitators explained the function of the Oversight Unit and used the new manual as a reference guide.
The revised manual is also an important tool for political organizations, and IFES previously trained parties on their new financial reporting requirements. On November 15 and 16, IFES partnered with the Netherlands Institute for Multiparty Democracy to conduct a training for staff members from 25 political parties on their financial responsibilities, as updated in the 2016 electoral reforms. The finance training supported the work of the TSE's Oversight Unit by better educating political parties' finance teams to adhere to the new party financing regulations. During the training, the Oversight Unit's facilitators explained the unit's function and referenced cases from the manual.
IFES will continue to work with the TSE Oversight Unit and Guatemalan political parties to prepare all stakeholders for financial accountability throughout the 2019 electoral process. This support contributes to increasing the transparency of the political process, a top priority for many Guatemalan citizens.
*Toledo is a program officer for Guatemala at IFES.