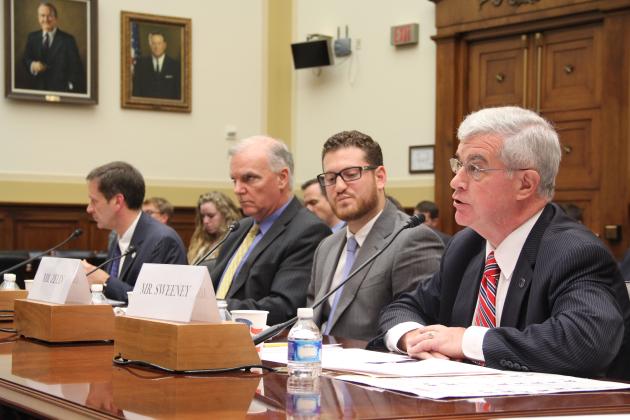 News and Updates
Interview/Speech/Testimony
Tunisia's Fragile Democratic Transition
On July 14, 2015, International Foundation for Electoral Systems (IFES) President and CEO Bill Sweeney provided testimony to the House Foreign Affairs Subcommittee on the Middle East and North Africa on "Tunisia's Fragile Democratic Transition." IFES was invited to discuss Tunisia's progress towards democracy since the 2014 elections and provide recommendations on future U.S. support.
Sweeney was joined on the panel by International Republican Institute (IRI) President Mark Green, National Democratic Institute (NDI) Senior Associate and Regional Director Leslie Campbell and Washington Institute for Near East Policy Richard Borrow Fellow Aaron Zelin. After thanking Chairman Ileana Ros-Lehtinen (R-Fla.), Ranking Member Ted Deutch (D-Fla.), and the Subcommittee for convening the hearing, Sweeney conveyed IFES' condolences to those in Tunisia and across the globe impacted by the June 26 Sousse tragedy.
Sweeney then summarized IFES' written statement, highlighting the importance of Tunisia's planned 2016 municipal and regional elections, noting that "It's not the first election that establishes a democracy, but those that take place years or even decades later."
Sweeney then detailed key electoral issues that Tunisians and their international partners must address prior to the local elections, including the drafting of a legal framework for regional and municipal elections; the establishment of the Independent High Authority for Elections (Instance Supérieure Indépendante pour les Élections [ISIE]) as a permanent body; the implementation of "lessons learned" from the 2014 election; and the critical need to focus on youth, particularly given that "Over a third of Tunisians between 15 and 29 remain jobless – to this group, a dictatorship and a democracy are still much the same."
Sweeney concluded his remarks by thanking the Subcommittee, and reiterating "While Tunisia is a job well done, it is also a job not finished," and that American assistance for democracy and governance will continue to play a critical role in strengthening Tunisia's fledgling democracy.
Since the fall of autocrat Zine El Abidine Ben Ali in January 2011, IFES, NDI and IRI – which together compose the Consortium for Elections and Political Process Strengthening (CEPPS) – have worked collaboratively to advance democracy in Tunisia. In a joint op-ed in the July 14 online edition of The Hill, Sweeney, Green and Campbell highlighted CEPPS' programming in Tunisia on an array of important transition issues such as constitutional and electoral reform, independent media, women's rights and transitional justice. Echoing Sweeney's call for continued democracy assistance during his testimony, the authors asserted, "The United States must stand as a full partner with Tunisia at this difficult moment, as we have much to benefit from a relationship based on shared interests and shared values in a region where such allies are scarce."
Along with Chairman Ros-Lehtinen and Ranking Member Deutch, the hearing was attended by Congressman Steve Chabot (R-Ohio), Congressman Curt Clawson (R-Fla.), Congressman Gerry Connolly (D-Va.), Congressman Ron DeSantis (R-Fla.), Congressman David Trott (R-Mich.) and Congressman Ted Yoho (R-Fla.).
During her opening remarks, the Chairman thanked IFES, IRI, and NDI for their joint op-ed. To read President Sweeney's written testimony, please click here. An archived video of the hearing is available on the House Committee on Foreign Affairs website.