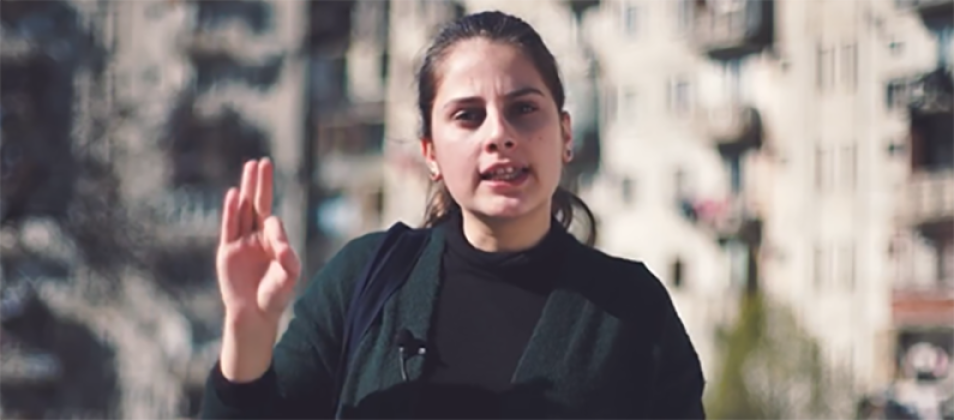 Celebrating International Day of Persons with Disabilities
The annual International Day of Persons with Disabilities, held on December 3, commemorates the human rights of persons with disabilities. The theme for this year's International Day of Persons with Disabilities is "Building Back Better: toward a disability-inclusive, accessible and sustainable post COVID-19 World." For over 30 years, the International Foundation for Electoral Systems (IFES) has worked to support the political rights of women and men with disabilities, recognizing that all people should have an equal opportunity to contribute their voice within the political life of their communities.
In 2020, IFES partnered with disabled people's organizations (DPOs) in every region of the world to develop innovative approaches to empower people with disabilities to participate in political life during the COVID-19 pandemic and beyond.
Ensuring People with Disabilities Are Involved in Political Life During COVID-19
In July, IFES published Inclusion and Meaningful Political Participation, the fourth paper in the COVID-19 Briefing Series. The paper explores how all people can participate in elections and democracy during COVID-19 and other crises. The paper examines both obstacles and opportunities for inclusion and meaningful political participation, and offers guidance for democracy and governance practitioners, policymakers and supporters. IFES published this paper on the 30th anniversary of the landmark Americans with Disabilities Act (ADA), which prohibits discrimination against people with disabilities and ensures civil rights protections and equal access to businesses, employment, transportation, state and local government programs and services and telecommunications in the United States.
Have you read @IFES1987's latest #COVIDxDemocracy paper on inclusion and meaningful political participation during #COVID19 and other crises? Check out the link below to read the full paper! https://t.co/k0CVM1vkfE@USAIDDRG @DFID_UK @GAC_Corporate @USAID @IFESYouth @IFESGender

— IFES Disability (@IFESDisability) July 31, 2020
In July, IFES also published guidance on how to ensure people with disabilities are included in political life as voters, poll workers and other election stakeholders during the pandemic. Drawing upon international good practices and IFES programs working with persons with disabilities and their organizations in over 60 countries, this article provides recommendations to protect and strengthen the political rights of people with disabilities during COVID-19 and other crises.
Amplifying the Voices of Disability Rights Advocates in Georgia During COVID-19
To support people with disabilities to advocate for equal rights in Georgia, IFES launched a series of public service announcements (PSAs) in April 2020. The PSAs feature young women with different types of disabilities sharing how they have been impacted by COVID-19 and seek to raise awareness about barriers faced by young Georgians with disabilities to build a more inclusive and accessible society.
Strengthening Access to Voting Rights for Sri Lankans with Psychosocial Disabilities
Ahead of the August 2020 elections, the Election Commission of Sri Lanka (ECSL) collaborated with a group of DPOs to create a social media campaign to ensure people with psychosocial disabilities knew they had the right to vote and to raise awareness with political parties of the need to eliminate derogatory language from their political campaigns. The campaign, produced both Sinhala and Tamil, reached nearly 50,000 people and resulted in the ECSL chairman releasing a public statement acknowledging the political rights of people with psychosocial disabilities.


Promoting Disability-Inclusive Elections in Jamaica
In Jamaica, ahead of the September 2020 elections, IFES worked with Combined Disabilities Association, a local DPO, to produce voter education posters and videos on the rights and responsibilities that voters with disabilities have while exercising their right to vote during the pandemic.
Ensuring Political Inclusion of Deaf Tunisians During COVID-19
IFES and Deaf advocates produced videos in Tunisian Sign Language and organized webinars on the impacts of COVID-19 for Deaf communities. IFES also created a comic book and series of animated civic education videos that include sign language and feature Deaf people as characters. The videos have also been integrated into IFES' civic education curriculum and shared with nearly 200 Deaf and hard-of-hearing Tunisians during IFES-led civic education sessions.
Supporting Disability Rights Through Inclusive Voter Education in Malawi
In May 2020, IFES worked with the Malawi Electoral Commission (MEC) to produce a series of inclusive voter education videos and posters as part of the "My Country, My Choice" campaign to inform voters of electoral procedures ahead of the June 2020 presidential election. The videos, which included sign language interpretation, provided information about MEC measures to mitigate the spread of COVID-19 and enhance the effectiveness of the electoral process.
Celebrating Participation of Persons with Disabilities
Join us for the upcoming webinar "COVID-19 and Elections: Ensuring the Participation of Persons with Disabilities," on Monday, December 7 at 10 a.m. ET/GMT+5, featuring IFES Senior Global Inclusion Advisor Virginia Atkinson. The event is being organized by the United Nations Development Programme and Department of Political and Peacebuilding Affairs and will feature simultaneous interpretation in Arabic, English, French and Spanish.
Throughout the month of December, @IFESDisability will be posting photos of disability rights advocates from around the world with statements focused on inclusion of people with disabilities in political life during the pandemic. Follow updates using the hashtags #AVoteForEveryVoice and #COVIDxDemocracy.
Learn more about IFES' disability inclusion programming and visit ElectionAccess.org for the latest on disability rights and inclusive political participation.
Published on December 3, 2020.