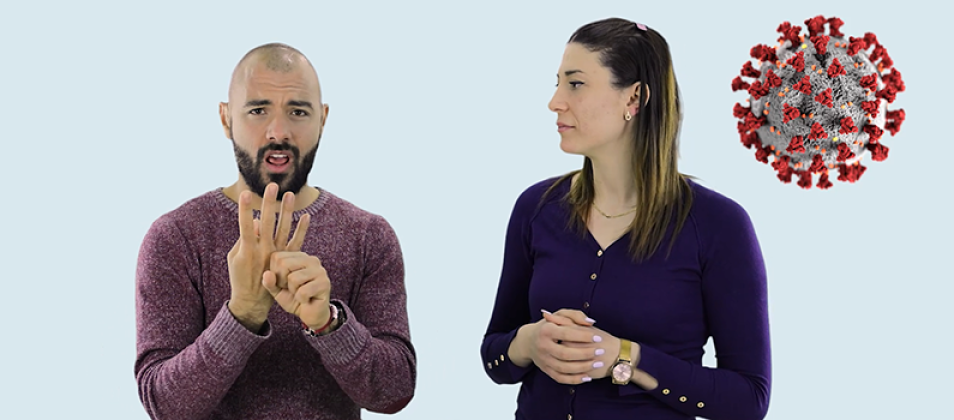 Using Tunisian Sign Language for COVID-19
For Deaf communities around the world, communication barriers present a profound challenge to accessing critical health and safety information regarding the novel coronavirus pandemic. The World Federation of the Deaf estimates that there are 70 million people with auditory disabilities worldwide who use more than 300 different sign languages. Deaf communities are further marginalized from public life because they do not have access to educational opportunities, which results in low literacy, and in the COVID-19 context, information on the pandemic is often not available in sign language. The increased use of protective face masks as a result of COVID-19 compounds these communication barriers because masks block visual cues –including facial expressions, lip reading and emotions – all of which are critical for Deaf and hard-of-hearing people to communicate.
"When the coronavirus started to spread… Deaf people didn't have much information about how dangerous the virus is. … I participated in this video to raise awareness of Deaf and hard-of-hearing persons about this virus before it heavily hit Tunisia. I advise every member of the Deaf community to stay home, be patient and follow the medical and health procedures."

– Rahma Jerbi, young Deaf Tunisian woman featured in IFES' sign language video
In Tunisia, in recognition of the compounded barriers Deaf communities face in accessing information, the International Foundation for Electoral Systems (IFES) developed a video in Tunisian Sign Language to share information about the pandemic. The video, which features Deaf Tunisians as actors, describes the risks of the virus and provides critical information on how Deaf people can protect themselves against COVID-19.



This was the first video produced in Tunisia by the Deaf community to raise awareness about COVID-19. The Ministry of Social Affairs posted the video to its Facebook page, where it has since received more than 30,000 views and 500 shares. Several national television channels are broadcasting the video each morning, and many Deaf organizations have shared it on their social media platforms. As a result of this initiative, national media outlets collaborated with disabled people's organizations and sign language interpreters to produce videos in Tunisian Sign Language to share information on COVID-19 with Deaf communities.



This video is also featured on Tunisia's electoral sign language lexicon, "My Sign, My Voice," mobile application and website, which IFES developed in partnership with disabled people's organizations with support from the United States Agency for International Development ahead of the 2019 elections. IFES' Electoral Sign Language Lexicon methodology, which was recognized by the Zero Project as an innovative practice in 2019, captures and shares critical electoral concepts that can be used by Deaf communities around the world to discuss elections and politics. The Tunisian Sign Language lexicon features photographic representation of electoral terms and videos with French and Arabic voiceovers with closed captioning on the smartphone app, which is available for Android and iOS.
Additional videos produced by IFES to share critical health and safety information regarding COVID-19 with the Tunisian Deaf community are forthcoming.