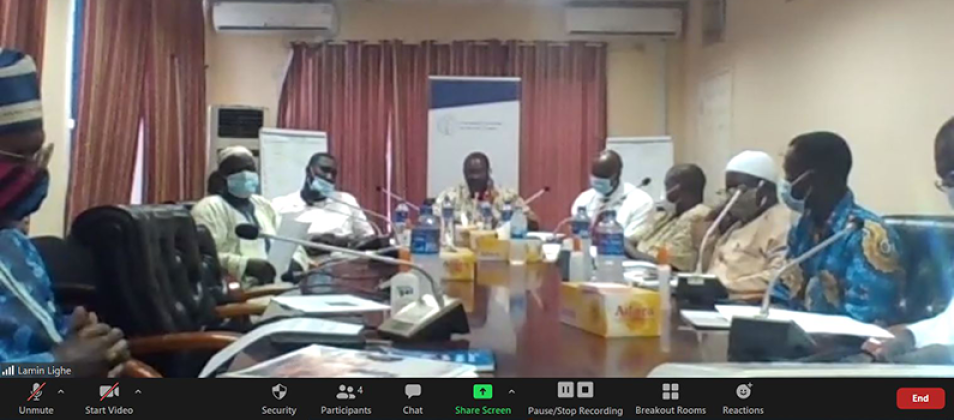 Virtual iEXCEL Training in The Gambia
by Marita Ivonne Jiménez
From July 27-30, the International Foundation for Electoral Systems (IFES) partnered with The Gambia's election management body – the Independent Electoral Commission (IEC) – to virtually deliver part one of IFES' Executive Curriculum in Electoral Leadership (iEXCEL) training for IEC commissioners and directors. At the end of the training a participant stated, "I am now able to distinguish the difference between electoral leadership and management, power and influence and am equipped with a better understanding of how to resolve a crisis."
The four-day intensive program was remotely facilitated by IFES' Electoral Leadership and Crisis Management Expert Juliette Schmidt, Regional Director for Africa Rushdi Nackerdien and iEXCEL curriculum developers IFES' Center for Applied Research and Learning Director Erica Shein and Senior Global Legal Advisor Katherine Ellena, with in-country support from Election Management Adviser in The Gambia Lamin Lighe. For the first time in iEXCEL's history, the curriculum was delivered virtually with each of the four trainers in remote locations utilizing Zoom to connect with participants in the same room in The Gambia. Lighe and all participants followed all government-mandated COVID-19 guidelines and wore personal protective equipment during the training. The IEC commissioners and some departmental directors attended the training to enhance their leadership and crisis communication skills ahead of the upcoming referendum and subsequent general elections. One of the participants highlighted the importance of this lesson, "I have finally understood that communicating appropriately is a powerful tool in crisis management."
"I have finally understood that communicating appropriately is a powerful tool in crisis management."  – iEXCEL training participant
iEXCEL is a scenario-based electoral leadership curriculum that develops the skills needed to strengthen institutional independence, deliver elections within the context of a crisis, resist the manipulation of elections by political actors and foster institutional resilience and capacity. The curriculum contains four evidence-based interactive modules. Part one included an introduction to iEXCEL, its course objectives and sessions on "Election Leadership and Management," "Electoral Management Body Independence," the "Six Pillars of Autonomy," "Strategic Approaches to a Crisis," "Crisis Management Decision-Making and Communication."
The training is part of IFES' "Gambia Governance Reform Activity" program funded by the United States Agency for International Development (USAID) through the Consortium for Elections and Political Process Strengthening (CEPPS). One of the program's objectives is to provide technical support on operational development by facilitating the prioritization of the electoral process through leadership and capacity-building trainings for IEC commissioners. The focus of IFES' support to the IEC is increasing its ability to promote inclusive democratic governance, electoral integrity and democracy in The Gambia.
IFES will continue to utilize innovative methods to support the IEC through activities like the virtual iEXCEL training and other capacity-building opportunities.
Established in 1995, CEPPS pools the expertise of three premier international organizations dedicated to democratic development: IFES, the International Republican Institute and the National Democratic Institute. CEPPS has a 25-year track record of collaboration and leadership in democracy, human rights and governance support, learning from experience, and adopting new approaches and tools based on the ever-evolving technological landscape.
The "Gambia Governance Reform Activity" is made possible by the generous support of the American people through USAID. The contents of this story are the responsibility of IFES and do not necessarily reflect the views of USAID or the United States Government.
Marita Ivonne Jiménez is a program coordinator for Africa at IFES.
Published on August 12, 2020.