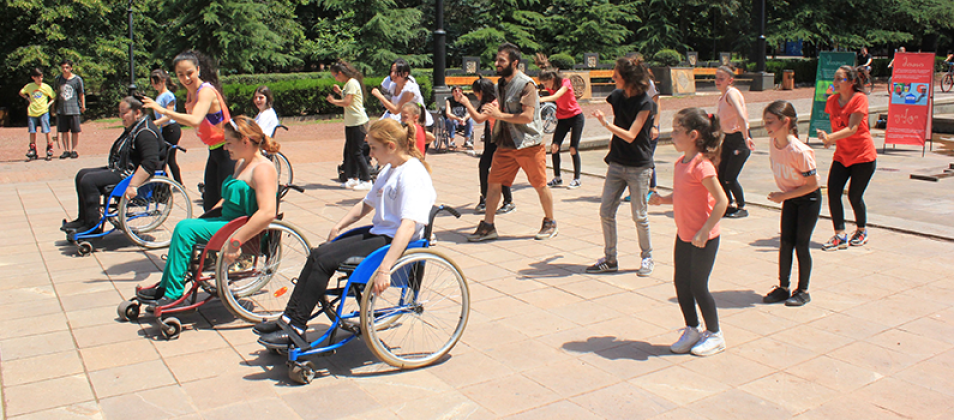 Youth with Disabilities Launch Awareness Campaign in Georgia
The Coalition for Independent Living (CIL) conducted disability rights awareness-raising activities with youth at local Georgian universities. With support from the International Foundation for Electoral Systems (IFES) and the United States Agency for International Development, CIL conducted seminars and an advocacy campaign in recognition of National Disability Rights Day, which took place on June 14, 2018.
IFES is supporting disabled people's organizations from five Eastern Partnership countries – Armenia, Azerbaijan, Georgia, Moldova and Ukraine – to implement advocacy projects on disability rights. In Georgia, part of this advocacy was one-day disability awareness-raising seminars with university students at seven universities on the importance of political participation and the inclusion of people with disabilities in improving democracy. The curriculum included topics such as the social model of disability, key principles of the United Nations Convention on the Rights of Persons with Disabilities, implications of stereotypes, rights-based terminology and the media. During the seminars, students created slogans about independent living and the rights of persons with disabilities in political and public life, which were then used on social media for the advocacy campaign. Messages are on CIL's Facebook page and include "Recognizing the Barriers, Change the Attitude" and "Youth for Equal Society and Democracy."
Practical classroom learning was complemented by an interactive awareness campaign, which included a flash mob of 20 dancers with and without disabilities in celebration of Georgia's National Disability Rights Day. The flash mob was followed by bocce ball games and simulations where students navigated barriers in wheelchairs. The day was widely covered by the media, and CIL produced two videos that included student interviews and can be viewed on ElectionAccess.org. Click here to view a photo gallery.