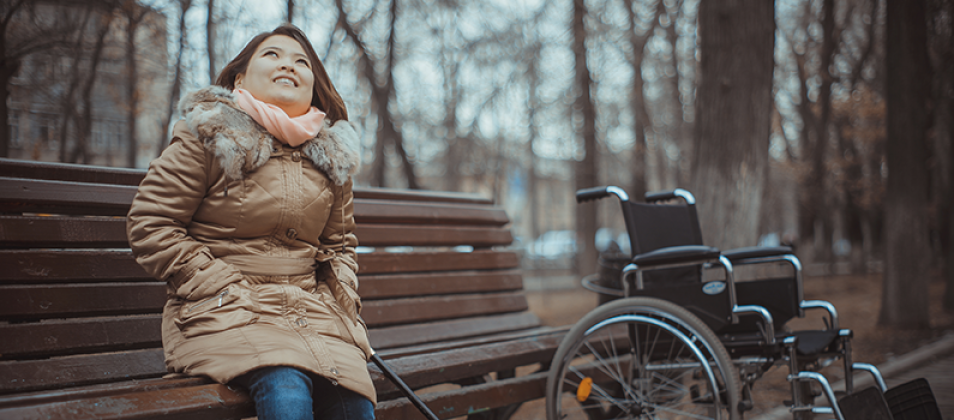 Breaking Barriers, Building Access: Creating a Culture of Inclusion in Kyrgyzstan
Aiperi, who stopped attending school when she was nine years old, faced attitudinal and physical barriers that discouraged her from continuing her education.
"I had realized that inaccessibility is a major barrier that prevents people with disabilities from actively participating in social and economic activities in Kyrgyzstan. I joined "Nazik Kyz" because I believe that together, us women with disabilities can contribute to building an inclusive environment."
In an effort to increase civic participation among marginalized groups in Kyrgyzstan, in February 2018, the International Foundation for Electoral Systems (IFES) organized a contest for persons with disabilities. The contest provided them with an opportunity to design a project or activity that will increase access to decision-making processes.
Aiperi, a participant from disabled people's organization Nazik Kyz ("Tender Girl"), has taken an active role in addressing the entrenched social divides and stereotypes that negatively impact the rights of Kyrgyz women with disabilities. Her prize-winning project, called "Jiger Kyzdar" or "Kind Girls" in Kyrgyz, awarded her a small grant to make the project a reality.
"I used to feel isolated and kind of clueless, but my participation in the contest turned my life around. You see, despite the fact that I could not read or write, and had to rely on a recorder or other people to help, I won. I had the best idea for a project to help people with disabilities... At that moment I promised myself to combat my own barriers and help people with disabilities, focusing on their inclusion in our society."
After the contest, Aiperi decided to return to her education and learn how to read and write.
Leading and Empowering Others
Aiperi exudes positive energy, which she uses to lead others. She often serves as a motivational speaker to empower her peers, and she is very engaged with other youth to help with community mobilization and advocacy.
Toward a Barrier-Free World
Bishkek is not an accessible city, so Aiperi usually needs to plan her travel several days in advance. Within the framework of her "Jiger Kyzdar" project, Aiperi travels across the city to carefully examine the accessibility of public places and buildings. She then uses this information to create an accessibility map for persons with disabilities. Aiperi also plans to use the information collected through her project to raise the awareness of accessibility with the government and public. Along with her Nazik Kyz colleagues, she plans to present the results and possible solutions to representatives of the Bishkek Mayor's Office.
"I realized that it is much more helpful to peacefully negotiate and cooperate with authorities than just criticizing them and doing nothing." 
"By seeing our work, I am sure that, voluntarily or not, people will ask themselves: 'Why are these girls with disabilities doing important things?' This will contribute to fighting stereotypes against women with disabilities and help improve public opinions about disabled access to public places."
Sensitizing the Public
Aiperi's story and initiative were noticed by a popular Kyrgyz news agency. Together, Aiperi and the news agency designed a social experiment in which she directly engages car owners who improperly park their cars on the sidewalk and in other ways that reduce the ability of persons with disabilities to travel throughout the city. Most often the experiment is a success, and the car owners call her. Aiperi then explains that there are no scratches on the car but that their actions have concrete consequences for persons with disabilities.

Toward a Bright Future
The experience Aiperi gleaned from her activism has renewed her self-confidence and empowered her to set goals in other areas of her life. Aiperi's commitment to supporting persons with disabilities goes beyond the issue of accessibility and civic participation. She hopes to earn her high school degree soon, after which she plans to go on to university to study psychology.
"I want to become a psychologist and assist other people with disabilities to overcome their internal and external barriers. This is my future, a future that is stable, where I can do anything and go anywhere I want."
Stories like Aiperi's underscore the importance of an inclusive approach to human rights. Her efforts are a testament to the impact that one individual can have on his or her community if given the opportunity. Aiperi's perseverance and leadership will continue to shape both the lives of other Bishkek citizens with disabilities and the city itself.
IFES' work in Kyrgyzstan is made possible with support from the United States Agency for International Development through the Consortium for Elections and Political Process Strengthening (CEPPS).
Established in 1995, CEPPS pools the expertise of three premier international organizations dedicated to democratic development: IFES, the International Republican Institute and the National Democratic Institute. CEPPS has a 20-year track record of collaboration and leadership in democracy, human rights and governance support, learning from experience, and adopting new approaches and tools based on the ever-evolving technological landscape.