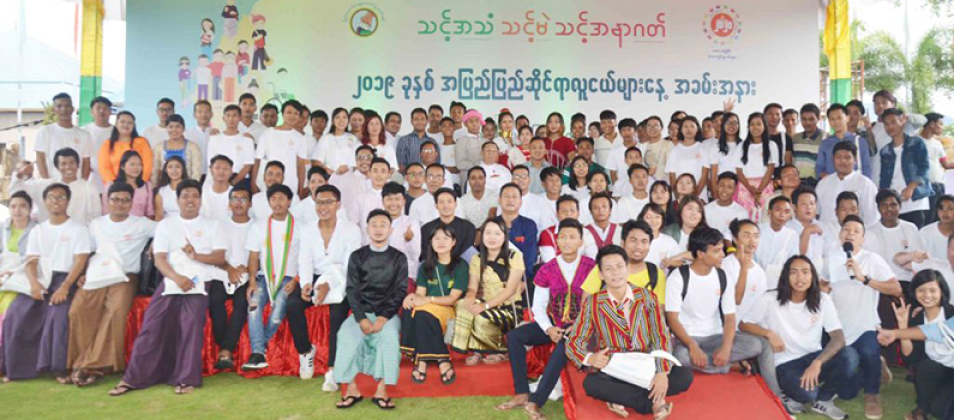 Celebrating International Youth Day 2019 in Myanmar
On a rainy day outside the Shwepyitha Hotel in Mandalay, Myanmar, 280 young people gathered to celebrate International Youth Day. The event, held on August 10, brought together youth from regional youth networks, members of youth organizations and alumni of past International Foundation for Electoral Systems (IFES) programs. IFES collaborated with local partners to bring together a diverse cross-section of participants, including young women, youth with disabilities, young ethnic minorities, youth residing in rural areas and LGBTQ youth. In line with this year's global theme of "Transforming Education," the event kicked off IFES' national civic and voter education program, which will engage voters from across Myanmar to take part in the electoral process ahead of the pivotal 2020 elections.
IFES organized a poster competition in which 17 youth groups from each of the country's 14 regions and states illustrated how to motivate first-time voters for the 2020 elections. On the day of the event, all attendees participated in a gallery walk to view the posters and vote for their favorites and were animatedly discussing each poster among themselves.
Several musical performances were conducted throughout the day. Local celebrity rap artist J-FIRE performed some of his most popular songs, energizing the crowd. Representatives from MYNFREL and MRYN each performed an original song with "Your Voice, Your Vote, Your Future" program alumni on empowering youth to vote that was written for the occasion. Thazin Thiri, a young woman with a disability, also performed an original song with an instrumental group.
Participants enjoyed the fun yet educational day of activities and appreciated the opportunity to engage with peers from parts of Myanmar they had never visited. Soe Wai Yan Kyaw, a regional network representative from Eastern Shan State, stated, "Having this kind of experience makes me more than happy. We should participate in the election, because [if] all of the youth community votes, [we] will decide the upcoming 2020 elections."
Approximately 5 million young people will be eligible to vote for the first time in Myanmar's 2020 elections. Despite being a significant percentage of the population, youth are extremely underrepresented in the country's political processes. Throughout the 2020 electoral process, IFES and local civil society organizations will continue to implement programming that will empower and educate young people to be more directly involved.
To learn more about IFES' work with youth in Myanmar and around the globe, follow @IFESYouth on Twitter and visit IFES' Youth Engagement page.
To learn more about IFES Myanmar's civic education program for first-time youth voters, visit the First Time Youth Voters 2020 Facebook page.