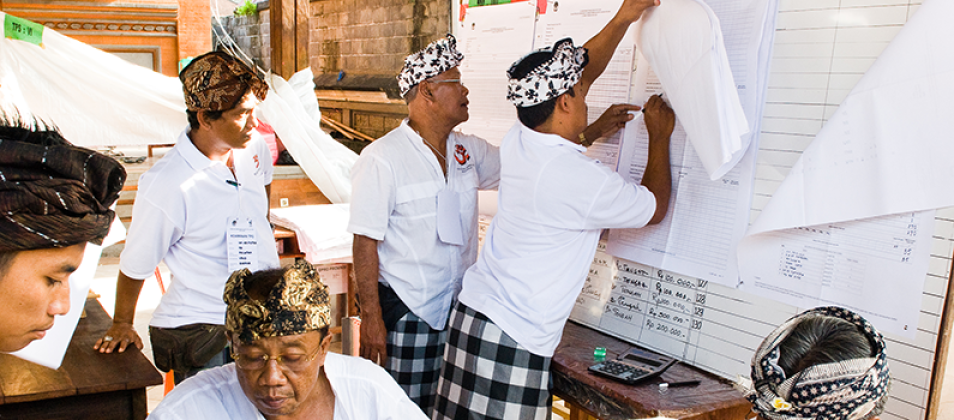 Countering Disinformation Ahead of Indonesia's Elections
On April 17, 2019, Indonesia is scheduled to hold its fifth democratic national election and its first simultaneous legislative and presidential elections. With more than 190 million registered voters eligible to vote at over 800,000 polling stations across the country of 17,500 islands, this will be world's largest single-day election.
Indonesia is the fourth most populous country in the world and the largest country in Southeast Asia, in terms of both geographic size and population. While it is the largest Muslim-majority country in the world, with 87 percent of population practicing Islam, Indonesia is also a diverse nation, with over 300 ethnic groups, 700 languages and six state-recognized religions: Islam, Protestantism, Catholicism, Hinduism, Buddhism and Confucianism.
Indonesia's official state philosophy, Pancasila, supports pluralism, diversity and tolerance. Pancasila, translated to "five principles," stands for the belief in one God; just and civilized humanity; the unity of Indonesia; democracy guided by the inner wisdom in the unanimity arising out of deliberations among representatives; and social justice for all Indonesians.
While Indonesian society is diverse and has a history of tolerance, ethnicity, religion, race and intergroup relations (SARA, Suku, Agama, Ras, dan Antar golongan) are politicized, especially in the lead-up to the elections. The increasing usage of social media platforms as news sources has escalated issues of both hate speech and disinformation. Indonesia, with 130 million internet users and 56 percent internet penetration, is experiencing a rise in fake news, or "hoaxes," surrounding elections. In January, for example, a hoax spread on social media saying that seven containers filled with millions of ballots cast for a presidential candidate arrived in Jakarta's port. In fact, these ballot boxes do not exist.
As disinformation attacks are designed to erode public trust in institutions and electoral processes, Indonesia's strong election management bodies (EMBs) are amplifying messages that protect the integrity of the electoral process. Indonesian civil society organizations are complementing and strengthening EMB efforts by banding together to identify hoaxes and politicized misinformation and provide voters with accurate, nonpartisan information.
The Indonesian Broadcasting Commission, the General Election Commission, the Election Supervisory Board and the Press Council of Indonesia signed a Memorandum of Understanding to establish a coordination team to ensure media neutrality during the campaign period. The new taskforce will oversee and monitor media outlets, candidates, political parties and campaigns in their dissemination of news, reports and campaign advertisements.
However, there are escalating concerns regarding the suppression of freedom of expression. Human rights groups, activists and civil society organizations have criticized the draconian Information and Electronic Transactions (ITE) Law, as it can easily be manipulated to silence opposing voices. In February 2019, the Indonesian Journalists Association, the Indonesian Television Journalists Association and the Press Council proposed a bill to increase controls over social media content with the goal of curbing the spread of fake news. If the bill becomes law, it would give legal control to social media platforms to censor online content, complementing the ITE law. The International Covenant on Civil and Political Rights, which Indonesia ratified in 2006, both protects freedom of expression (Article 19) and prohibits any "advocacy of national, racial or religious hatred that constitutes incitement to discrimination, hostility or violence" (Article 20). Therefore, it is crucial that EMB and civil society efforts to counter disinformation and hate speech also protect online freedom of expression. The values of pluralism, diversity and tolerance, enshrined in Pancasila, should guide efforts to debunk hoaxes, while embracing opposing points of view.
Next week, Indonesians will go to the polls to choose their new president as well as the new national and regional legislatures. Indonesia is viewed as a regional model of a successful long-term democratic transition. It is also a country at a crossroads. Growing conservatism, discrimination against minority populations and an increase in hate speech and disinformation are threatening this multiparty democratic society. While the election is likely to stir and activate identity politics, civil society and EMBs are creating positive counternarratives, sending the message that Indonesians are respectful and tolerant and must protect pluralism and the country's unity.