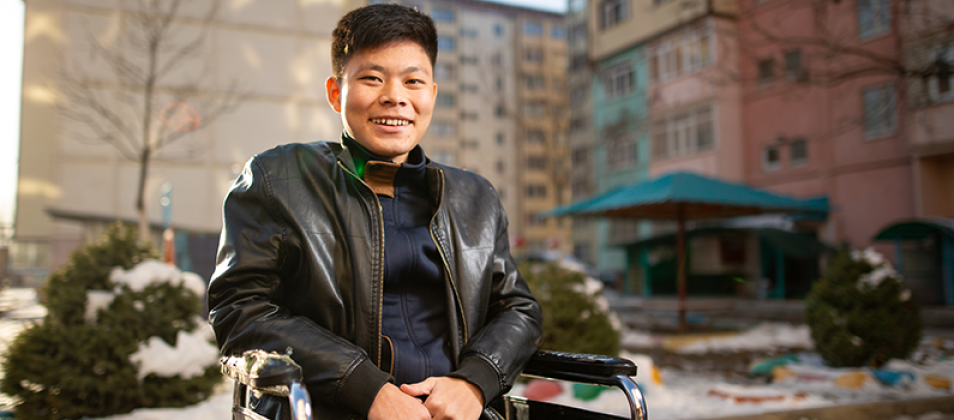 Democracy Camp Alumnus' Journey of Self-Discovery and Empowerment
Ilyas Alymbek Uulu, who is 16 and uses a wheelchair, is one of an estimated 30,000 youth with disabilities in Kyrgyzstan. While the above number is based on the number of children with disabilities registered with the Kyrgyz Ministry of Labor and Social Development who are receiving state benefits, the actual number is projected to be notably higher due to the country's entrenched societal stigma surrounding disability. To avoid the associated stigma, many parents refrain from applying for services that could offer support, and children with disabilities often end up completely marginalized from public life. Moreover, not only do youth with disabilities in Kyrgyzstan experience general disenfranchisement and isolation, they also lack access to basic services such as education, health care and social protection.
A resident of the country's capital, Bishkek, Ilyas himself has experienced discrimination, and it affected his personality and outlook on life. He said, "I used to be a very shy and isolated guy due to [discrimination experienced as a result of] my disability. My life felt painfully meaningless and boring to me. In most cases I just kept silent, was afraid to express my own opinion and tried to avoid being in public. However, one day my life was changed. I remember this fateful moment, when the International Foundation for Electoral Systems (IFES) invited me to play a central role in their public service video "Ramp Upgrade" along with famous youth of our country. At first, I could not believe it and wanted to reject this proposal. I lacked self-confidence and thought that I do not have the necessary package of professional skills to perform this task."
Without any acting experience but full of determination, Ilyas performed the leading role in the IFES-supported public service announcement "Ramp Upgrade," the purpose of which was to demonstrate the challenges that persons with disabilities face every day while accessing public places and decision-making processes in a lighthearted manner.
"Thanks to my mom's efforts, I took a chance and stepped outside of my comfort zone. In reality, it was a huge step into a new exciting life. Our little movie's crew and my co-stars, despite their popularity, treated and supported me very well. We quickly became friends and keep in touch to this day. The final video product was truly wonderful and was broadcast across our social networks and national television channels. Thanks to IFES, I myself felt like a celebrity and became much more self-confident."
Following this incredible experience, Ilyas was offered the opportunity to participate in IFES' annual democracy camps. During the 10-day camps, 60 young citizens learn about participatory democracy and active citizenship through interactive educational sessions on civic education, critical thinking, leadership, teamwork, media technologies, informational literacy and community engagement. This year, the camps included 12 children with disabilities from all regions of the country.
Reflecting on his experience, Ilyas said, "I accepted this offer without any doubts. My life and I along with it had completely changed after my participation in the camp. First of all, I acquired a lot of priceless knowledge about state structure, balance of powers, electoral systems, media literacy, importance of voting and other essential themes that were packaged for us in such simple and interesting ways. I began to embrace myself for who I really am. I have stopped being afraid to express my feelings and emotions. I realized that there are so many friendly and cheerful people who can support me anytime I ask. Now, I am confident that I will be very active and versatile. From this moment, I am not going to just waste my time. I have planned a concrete vision for achieving all of my dreams. I will be the person I have never been before. Moreover, at democracy camp I learned how to act from a distinguished actor, Ulan Omuraliev. After the camp my attitude toward my parents has changed for the better, and I started to appreciate them even more. I gained new friends in the camp and became more independent. I express my sincere gratitude to the entire IFES staff and team of camp trainers and volunteers who provided professional support to me in integration into the camp's 10-day curriculum."
From this point on, Ilyas is committed to continue enhancing his knowledge and skills. In addition to working as a freelance information technology specialist from home, Ilyas is completing a course on computer literacy and mobile telephone repair to receive a certificate and find a formal job. Ilyas is committed to achieving all his goals and contributing to the development of his community and country.
Ilyas' story is a true testament to the importance of providing equal access and inclusion to marginalized populations such as persons with disabilities. In this case, a little support can go a very long way, completely transforming an individual's life and their belief in themselves. IFES is dedicated to ensuring the equal rights and access of persons with disabilities in Kyrgyzstan and will continue implementing programming aimed toward breaking down social stigmas and raising awareness of this salient issue.