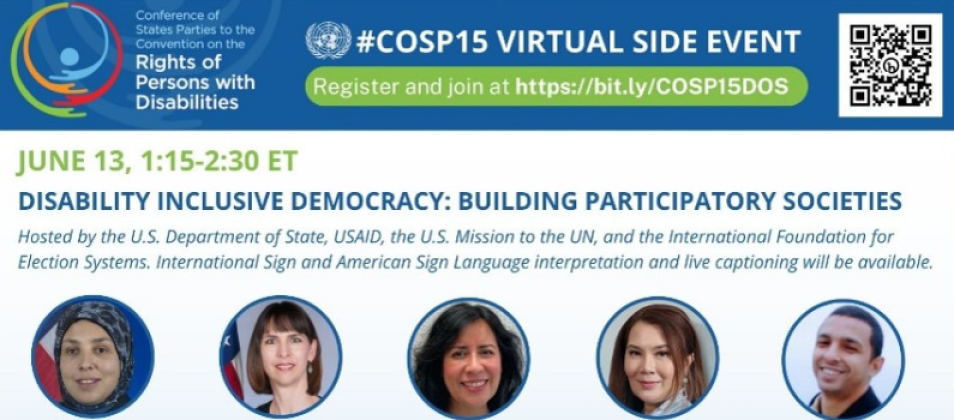 Disability-Inclusive Democracy: Building Participatory Societies
On June 13, the International Foundation for Electoral Systems (IFES) co-hosted a virtual side event at the Conference of States Parties (COSP) to the United Nations Convention on the Rights of Persons with Disabilities (CRPD). "Disability-Inclusive Democracy: Building Participatory Societies" was organized with the United States (U.S.) Department of State, the United States Agency for International Development (USAID) and the U.S. Mission to the United Nations.
Building on the 2021 Summit for Democracy, this event explored innovative approaches to and challenges for promoting disability-inclusive democracy globally. Panelists included Lisa Peterson, Acting Assistant Secretary, U.S. Department of State Bureau of Democracy, Human Rights and Labor; Liselotte Correa, Head of Gender and Non-Discrimination Unit at Mexico's Instituto Nacional Electoral; Ras Adiba, Senator, Upper House of Parliament, Malaysia; Lyazzat Kaltayeva, Member of Parliament from Kazakhstan; and Mushegh Hovsepyan, President of Disability Rights Agenda, Armenia. The event was moderated by U.S. Special Advisor on International Disability Rights Sara Minkara.
Panelists discussed priority issues for persons with disabilities and their representative organizations related to voting, elections and civic engagement, as well as their recommendations for disability-inclusive democracies to feed into commitments states could make at the next Summit for Democracy in 2023. A summary of recommendations is provided below.
Recommendations for Election Management Bodies:
Codify disability rights, such as by the creation of disability inclusion policies and appointing focal points on disability rights.
Identify and respond to impacts of electoral violence, particularly on Indigenous persons with disabilities and women with disabilities.
Promote an enabling environment for political participation by showing persons with disabilities taking part in political life alongside their peers and making information available in accessible formats such as audio, braille, easy-to-read and large print, sign language and wordless formats.
Recommendations for organizations of persons with disabilities (OPDs):
Capitalize on the Summit for Democracy's Disability Inclusive Democracy Year of Action in 2022 to raise awareness and push for change. Track progress toward government commitments made at the first Summit for Democracy.
Leverage elections to increase the visibility of disability rights. During elections, political parties often pay more attention to citizen demands.
Partner with anti-corruption organizations to build inclusive societies resistant to authoritarianism. Corruption efforts have long impacted service provision and keep persons with disabilities out of politics.
Empower persons with psychosocial disabilities, who have been historically marginalized, to advocate for political rights.
Engage with media to build capacity on rights-based reporting techniques and language.
Recommendations for legislatures and political parties:
Align electoral legal frameworks to the CRPD, including removing restrictions that impact the participation of persons with intellectual and psychosocial disabilities.
Create leadership opportunities for persons with disabilities, which could include hiring persons with disabilities as poll workers or election observers, creating an enabling environment for candidates with disabilities and inviting OPDs to participate in broader civil society coalitions on public policy reform.
Watch the event!
Published July 26, 2022.