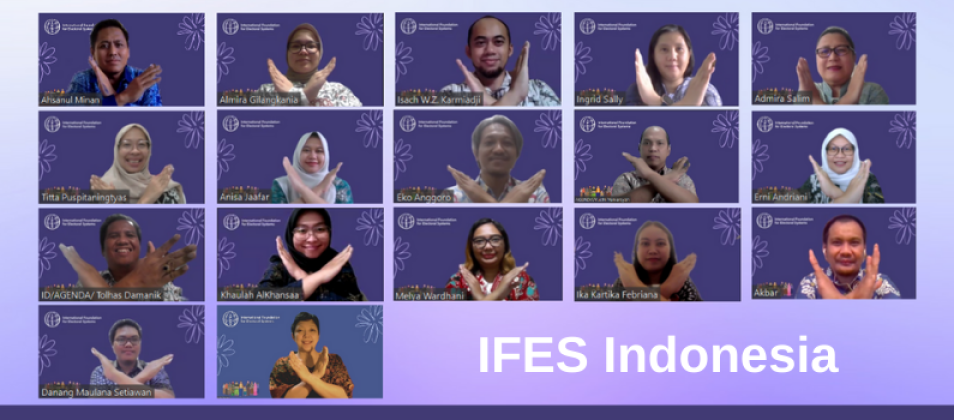 IFES Celebrates International Women's Day 2022
The first International Women's Day was observed in 1911, three years after 15,000 women marched through New York City calling for voting rights and other demands.
On International Women's Day (March 8) and every day, the International Foundation for Electoral Systems (IFES) celebrates and supports gender equality for a more democratic, peaceful and prosperous world.
For more than three decades, the IFES has supported equal rights, participation and justice for everyone in political and civic life. We work to ensure our programming benefits a diversity of women, keeping in mind that race, gender identity, ethnicity, age, disability status, sexual orientation and other factors can contribute to additional marginalization. We support current and future women leaders, encourage and assist male champions of women's rights and address barriers to women's political participation. IFES is proud to support our partners around the world who are working tirelessly to shift attitudes and practices that perpetuate inequality and discrimination against women in public and private life.
In commemoration of International Women's Day, we invite you to learn more about how IFES and our partners support people worldwide to:
Support the Women, Peace and Security Agenda
Address Gender-based Violence in Digital Spaces
Exercise Their Political Rights and Increase Women's Access to Justice in Fragile Contexts
Provide Robust Gender Analysis to Support Innovative and Inclusive Programming
To celebrate #InternationalWomensDay, IFES joins the global #BreakTheBias campaign to call out bias, question stereotypes and help forge an inclusive world. Throughout the month of March, @IFES1987 will feature people who support gender quality and women's equal and meaningful participation in democratic life via Twitter and Facebook.
Learn more about IFES' gender equality programming and follow @IFES1987 and @IFESGender on Twitter.