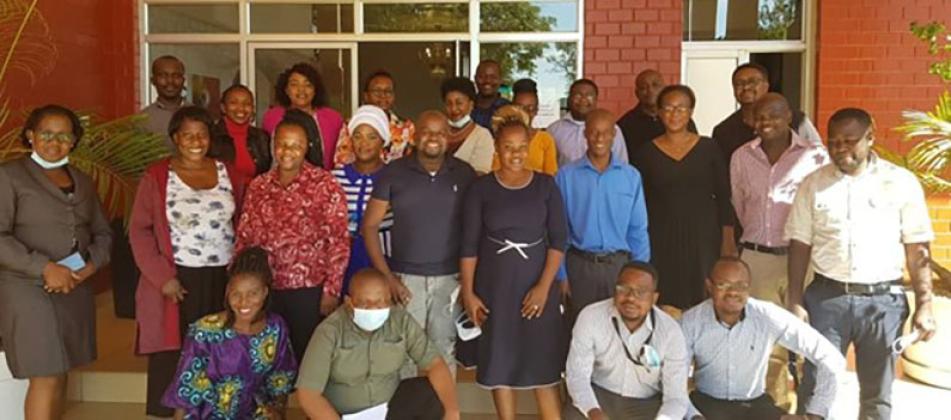 IFES Supports Electoral Commission of Zambia to Deliver a Trusted Election
In the summer of 2021, many observers doubted that Zambia's presidential and parliamentary elections would go forward on Aug. 12. A national economic crisis, widespread political violence and the most polarizing campaign season in the history of modern Zambia brought the country to "the brink of a human rights crisis." Yet Zambia came back from the brink in large part due to the commendable work of the Electoral Commission of Zambia (ECZ). Despite political pressure and the bitterly polarized political environment, the ECZ delivered a peaceful election, managed record levels of voter turn-out and ushered in an orderly transition of power.
The secret to their success? An impressive level of operational readiness and their commitment to transparency on and after election day – however, this success didn't happen overnight.
Crucial to the ECZ's success was the Political Participation and Leadership Activity, funded by the United States Agency for International Development (USAID). Through this initiative, the ECZ welcomed the International Foundation for Electoral Systems (IFES) as a partner via the Consortium for Elections and Political Process Strengthening (CEPPS).
IFES started its support to the ECZ with an early needs assessment, which showed that Provincial Election Officers (PEOs) and District Elections Officers (DEOs) needed better training and support to deal with crises and electoral conflict. The PEOs and the DEOs are local government employees loaned to the Electoral Commission to manage and conduct elections. They play a key role in the electoral process, including in preventing and managing electoral conflict. However, in 2021, the majority of DEOs were new and had never worked a general election before, and the majority had not been fully trained on electoral processes and crisis management.
To meet this need, IFES developed and delivered nationwide trainings to all PEOs and DEOs on conflict mitigation, electoral leadership and crisis communication.
These trainings were extremely successful. In a post-election survey of PEOs and DEOs, 85 percent said they encountered security risks or incidents during the 2021 elections. One DEO observed that political actors "were targeting DEOs in one way or another to intimidate [and] extract information" ahead of election day. However, all respondents noted that they felt either very (83 percent) or somewhat (17 percent) prepared to serve in their role. Almost 90 percent agreed that IFES training equipped them to engage and communicate with electoral stakeholders – whether political parties, observers or voters – in a way that could mitigate conflict in an efficient and effective manner. Clear and transparent communication is key to fostering trust in the electoral process, while operational readiness is critical to "build democracies that deliver for all." Thanks to the ECZ partnership with IFES, the PEOs and DEOs were able to do their part on both fronts.
In addition, IFES supported the rollout of the ECZ's Electoral Support Centers (ESC). These coordination hubs were established at the national and provincial level to resolve logistical and security issues on Election Day for the country's 12,000 polling stations. In collaboration with the ECZ, IFES developed and printed the ESC training handbook and introduced it to 74 ESC master trainers. These master trainers then trained 2,624 district, constituency and ward-level ESC officers.
The ESC immediately proved their value. The district, constituency and ward-level ESC officers provided essential communications and status updates to their counterparts at the national level throughout Election Day. They also worked to immediately resolve operational hurdles as they arose at polling stations. One ESC officer shared how dried-up ink pads almost stopped voting at several stations – without the ink, poll workers could not certify ballots. However, ESC staff put their crisis and operational training to work and quickly resolved the situation, sourcing fresh ink pads and allowing the election to move forward.
ESCs also acted as sources for clear and reliable information to political parties, observers and voters. Official sources of reliable information not only support public trust in electoral outcomes, but also halt the advance of disinformation and fake news.
As part of a post-election review, nearly all ESC officers considered the IFES training to have been effective in preparing them to work at the ESC.
Despite fears of a democratic decline preceding the general elections, the largely peaceful August elections were followed by an orderly transition of power from the Lungo administration to the incoming Hichilema administration. A variety of factors played a part in these achievements, yet the efforts made by ECZ and IFES were crucial to a well-run Election Day and to the eventual peaceful transfer of power. The strides that the ECZ made to bolster its capacity and proactively mitigate risks to the elections through local training and ESC expansion all represent important steps toward fostering public perception of the ECZ as an independent, reliable institution. IFES is proud of our partnership with the ECZ. Together, we build democracies that deliver for all.
Published on December 6, 2021.