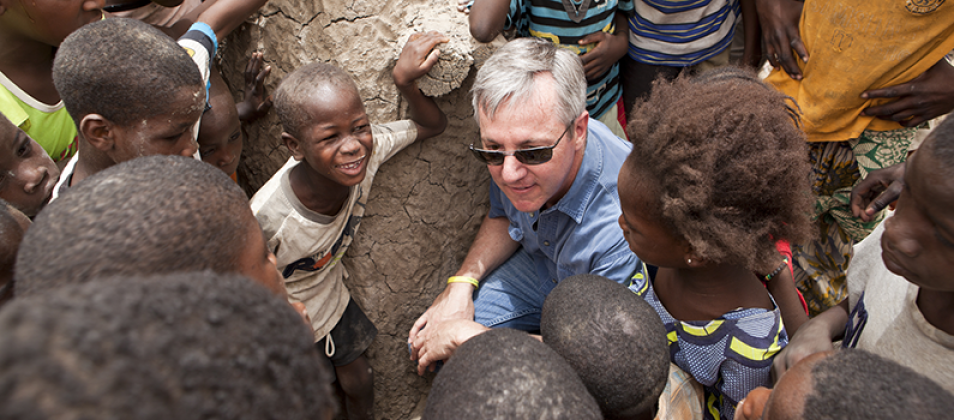 IFES Welcomes Anthony Banbury as New President and CEO
The International Foundation for Electoral Systems (IFES) welcomes former Assistant Secretary-General of the United Nations (UN) Anthony (Tony) Banbury as its new President and CEO. Banbury brings 30 years of experience in public service to IFES, with previous leadership roles in diplomacy, crisis management and humanitarian assistance.
"After a 30-year career working in peace operations, crisis response and national security for the UN and the U.S. government, I am honored to lead one of the premier organizations in the world in the cause of democracy and human rights," said Banbury. "There has never been a more critical and exciting period to be engaged in IFES' mission of making every voice heard and every vote count."
Banbury served as UN Assistant Secretary-General for Field Support and oversaw UN peace assistance operations around the world. In this capacity he managed operational support for 36 UN peacekeeping and political missions around the world with a combined budget of more than $9 billion and more than 170,000 deployed personnel. He developed and implemented a new strategic plan and polices as part of a major organizational transformation.
During Banbury's tenure as Assistant Secretary-General, UN Secretary-General Ban Ki-moon tasked him with various special assignments, including leading the UN's response to the Ebola crisis, negotiating the establishment of the Syrian chemical weapons mission, and overseeing operational response to the Haiti earthquake.
"Banbury will be a dynamic, successful new leader for IFES at this critical moment for the global democracy movement. His career of commitment to global public institutions and human rights, as well as his exceptional achievements in public management, are the right skills for IFES," said IFES Chairman Ambassador Ken Blackwell. "I thank former President and CEO Bill Sweeney for his service and strong leadership at IFES. He moved the organization forward by diversifying the donor portfolio, strengthening our brand, and solidifying the organization's leadership in the areas of election administration, disability rights, gender equality, and electoral integrity. I am confident that Banbury will continue to move the organization forward and carry on its mission as the new President and CEO."
"We conducted a very thorough executive search that reached out to leaders around the globe. It was an exhaustive process with many truly outstanding candidates," said Board Director Peter McPherson, who was a member of the selection committee. "Banbury's candidacy rose to the top for not only his commitment to democracy building, but his track record for successful negotiation in very tough, politically charged environments. His reputation is all about working extremely well in a bipartisan way, moving the needle and simply getting things done."
Prior to his position with the UN in New York, Banbury led Asia operations for the UN World Food Programme and worked in a number of peacekeeping missions and field operations. He also served in the U.S. government in the Office of the Secretary of Defense and in the National Security Council under former U.S. Presidents Bill Clinton and George W. Bush. Banbury holds a master's degree in law and diplomacy from the Fletcher School of Law and Diplomacy at Tufts University, a graduate degree from the Institut Universitaire de Hautes Études Internationales at the University of Geneva, and a bachelor's degree in political science from Tufts University.
The photo license can be found here.