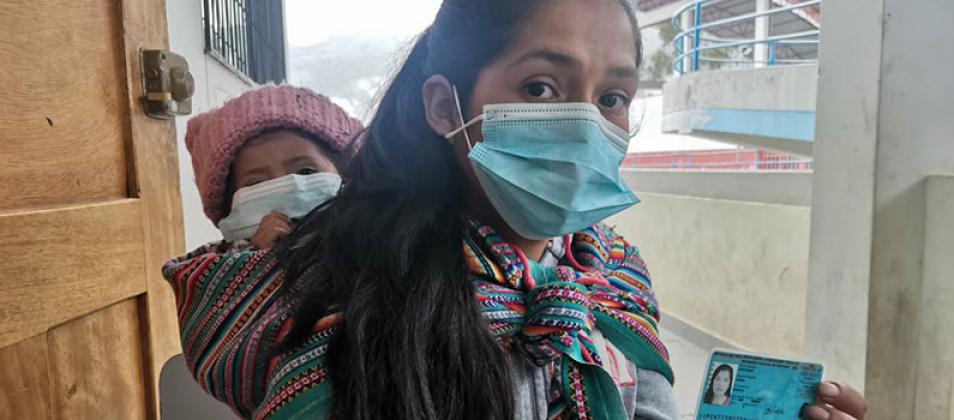 Indigenous Youth Use Political Power for Social Change
Indigenous Youth Use Political Power for Social Change was published by Bond on Aug. 25, 2021.
Indigenous leaders have met crises, including climate change and the Covid-19 pandemic, with innovative approaches.
Yet Indigenous Peoples – about 5 percent of the world's population – continue to face fundamental challenges to meaningful participation and inclusion in decision-making processes.
To address these challenges, this year's International Day of the World's Indigenous Peoples called for a new social contract to address inequality. Achieving this goal is only possible when Indigenous Peoples have the opportunity to participate in decisions that impact their communities.
In recognition of International Day of the World Indigenous Peoples and International Youth Day, the International Foundation for Electoral Systems (IFES) hosted a discussion on "Promoting the Political Rights of Indigenous Youth" with Indigenous advocates from Guatemala, Libya and Nepal.
The advocates emphasised the critical role of young Indigenous people in decision-making processes, addressing disinformation and climate change, which disproportionately impacts Indigenous Peoples. Indigenous youth, in particular, are confronted by social norms that prohibit their participation alongside older leaders. However, Indigenous youth contribute not only to protecting elders' wisdom and traditional knowledge but bring new ideas and approaches.
Mitigating barriers to meaningful participation
The right of Indigenous Peoples to participate in political life, if they want to, is protected under the United Nations (UN) Declaration on the Rights of Indigenous Peoples (UNDRIP) (Article 18) and ILO Convention 169 (Article 6). The UN Convention on the Rights of the Child promote the rights of Indigenous children and youth. Yet, Indigenous Peoples face barriers to inclusion in political processes and free, prior and informed consent in development.
Rupika Budha Shrestha, a young Newar woman attending the National Law College in Nepal, member of the Association of Youth Organizations Nepal (AYON), explained that high rates of unemployment and low income generation all impact access to decision-making: "Because of the [family structure], …in terms of the rights and political participations, [Indigenous youth] are told to follow rather than [act] independently."
Indigenous populations also experience targeted discrimination in the form of hate speech, as well as misinformation, particularly when advocating for land rights. Shrestha, who has helped lead training on combatting misinformation, has educated her family and peers about this threat. She recommends verifying information and reporting misinformation from political parties or media outlets to authorities as key tactics for ensuring information is factual, especially it pertains to Indigenous People.
María Floridalma López Atz, a young Mayan Kaqchikel woman from the Council of the Kaqchikel People and member of the Platform of Indigenous Women in Guatemala, noted that stereotypes persist around age and participation, including the assumption that young people are uninterested in politics or at risk of corruption. López Atz, who participated as an election observer before she was old enough to vote, noted that becoming an observer not only empowered her to participate in political life but benefitted the observation mission, as Indigenous voters felt comfortable sharing their voting experience with her.
According to Huda Badroush Dahan, an Amazingh woman with a disability, President of La Tai'asoo for Persons with Disabilities and Founder of Libya's Network for Democracy Development and alumna of IFES' Power to Persuade public policy advocacy training, highlighted monitoring elections and using candidate debates "to make sure [candidates' views] are exposed in front of the public" as a way to combat corruption.
"We are trying to show people that climate change is real and that it is happening, so we should prepare for it. Indigenous young people with disabilities collaborated with other Amazingh communities in the mountains who are not as effected by rising sea levels but do have other issues, so we are coordinating and sharing information as one Indigenous group." – Huda Badroush Dahan, an Amazingh woman with a disability in Libya
Indigenous youth are also active in political life to respond to crises, such as climate change. As López Atz explained: "I live in a community where I can see green landscapes, but there are communities nearby where we can see the difference in deforestation and people have lost the right to their land or companies have gone in without consent.
"As youth, we have joined in collective actions to protest mega companies that want to develop and fight for environment with politicians. We have forbidden the use of plastics in my community so when we go shop for tortillas, we have to bring our own bag. These are small actions but when we all do it, we help our community. This is part of the process, everything we do a like a little grain of sand to help combat this great threat to the entire world."
In Libya, Badroush Dahan, who is from a coastal community on the Mediterranean Sea, and a group of young Indigenous people with disabilities, raised awareness of climate change's impacts with Amazingh communities in the mountains who are not yet experiencing the impacts of rising sea levels. Sharing information and coordinating among Indigenous communities bolsters political power.
"We begin teaching young people so when they come of age, they have a broader view of what it is they have to do and what their responsibilities are. We have to bet on Indigenous youth, so we have equality of knowledge within the political system. …Since they are young, they should learn how to use their civil rights, voters, and other responsibilities." - María Floridalma López Atz, a young Mayan Kaqchikel woman
Badroush Dahan, López Atz and Shrestha emphasised access to education as a critical barrier to break down for inclusive participation of Indigenous youth and recommended sharing rights-based information with younger generations to build knowledge of their democratic roles and responsibilities. As part of her Power to Persuade project, Badroush Dahan led meetings with young Indigenous people with disabilities on the voting process, including finding accessible polling stations. Creating safe spaces for collective voices is an essential element for inclusion.
Recommendations for meaningful inclusion of Indigenous youth
Ensure that educational programming targeting Indigenous youth, especially in rural or remote areas, includes civic education. Curricula should emphasise democratic roles and responsibilities, as well as how to communicate with government stakeholders and other decision-makers to inform policy decisions.
Provide leadership training and skills building opportunities for Indigenous youth and facilitate opportunities for intergenerational learning alongside traditional and older leaders to build relationships and shift social norms.
Tailor information on political parties' structures and positions to Indigenous youth and encourage them to get involved in formal political participation, if they so choose.
Prepare questions related to Indigenous Peoples, including Indigenous persons with disabilities and Indigenous women, to ask during political debates to increase visibility of people with intersectional identities.
Ensure that young Indigenous persons have a role both in Indigenous Peoples Organisations and in youth-led organisations, including mainstreaming their rights in strategic planning and goal setting.
Conduct anti-hate speech campaigns and anti-misinformation and disinformation campaigns to combat discrimination targeting Indigenous communities.
Organise feedback sessions with Indigenous Peoples, including young people, women and persons with disabilities, to ensure free, prior and informed consent on all projects that impact them.
Published on February 9, 2022.