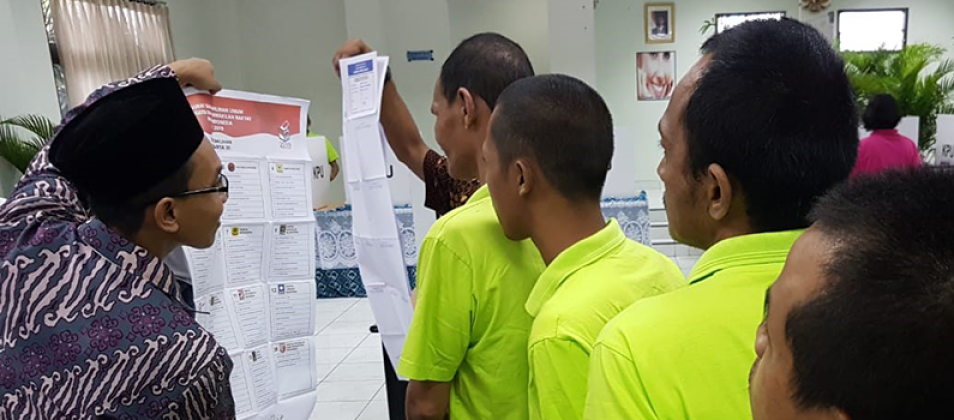 Indonesia Holds World's Largest Single-Day Election
On Wednesday, April 17, 2019, Indonesia held the largest single-day election in the world. For the first time since Indonesia's transition to democracy, more than 192 million registered voters had an opportunity to select their new president and legislature at the same time. In the past, these two elections were held three months apart.
In a complex logistical undertaking, the General Election Commission of Indonesia (KPU) reported that most polling stations were run well, with some delay in parts of Papua province due to the late arrival of elections materials. These elections will be held as soon as possible, starting with elections in Jayapura scheduled for April 18.
With an average of 300 voters per polling station, voting closed at 1:00 p.m. Counting subsequently began at each polling station and, since each voter was issued five ballots, is projected to continue late into the night. Once the polling station results have been announced, a copy of the results will be posted at each station and another copy carried forward to the subdistrict level, where the first level of manual tabulation will take place. The electoral law stipulates that the formal vote tabulation process must be conducted manually and flow through various administrative levels, ending at the national level and with official results announced by May 22.
As in past elections, local polling and media organizations have collected quick counts. Two hours after polling stations closed, the quick counts showed the incumbent Joko Widodo and his running mate Ma'ruf Amin as leading the race with 53-56 percent of the vote and Prabowo Subianto and Sandiaga Uno coming in at 44-47 percent.
To conduct a quick count, polling organizations must be registered with KPU, which does not evaluate their quality. Rather, members of the Indonesian Association for Public Opinion Surveys (Persepsi) are responsible for regulating quick-count member organizations. After the 2014 presidential election, Persepsi was concerned about deviations from professional standards among its members conducting quick counts and asked them to submit data on their sampling techniques. As a result, it was established that seven firms that declared Jokowi to be the winner had used scientific samples. Two organizations, Jaringan Survei Indonesia and Puskpatis, declined to submit data on their sampling methodology to Persepsi's ethics council and were expelled from the organization. Despite potential issues of disreputable polling or unsubstantiated data, quick counts remain a useful tool.
The KPU announced that the initial estimated domestic turnout was 77.5 percent, while overseas turnout was 65 percent. Both of the initial figures are an increase from 2014, when the domestic voting turnout was 70 percent and overseas was 22 percent.
As in the 2014 election, KPU aims to post the result tabulation form from each polling station (C1) to its website, enabling independent tabulation and results verification. An independent group of volunteers, developers and civil society members will be tabulating results in parallel from the available forms and make them available on Kawal Pemilu. In 2014, with a thin margin in the presidential election, this crowdsourced result served an important role in upholding the integrity of the election as it verified the official result.