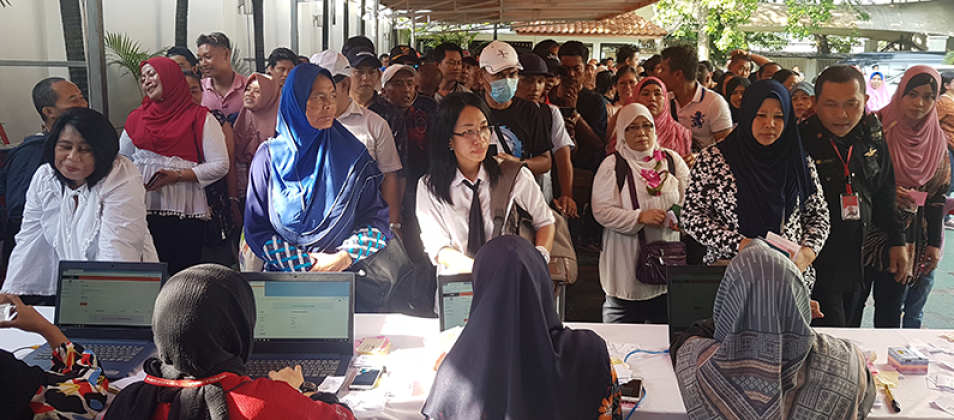 Photo Gallery: Indonesia Hosts 2019 Election Visit Program
On April 17, 2019, Indonesia held the world's largest single-day election, electing its next president and legislature. To showcase Election Day proceedings and enable members of the local and international community to observe the polling process, the General Election Commission (KPU) hosted the 2019 Election Visit Program (EVP). Participants included representatives from regional and international election management bodies (EMB), government ministries and agencies, international nongovernmental organizations and universities. Over the course of the three-day program, the KPU hosted 197 participants representing 40 countries, including International Foundation for Electoral Systems (IFES) President and CEO Anthony Banbury and Board Chairman Ambassador J. Kenneth Blackwell.
The EVP schedule included presentations from the Election Commission of Malaysia on identity politics and election conflict; the Association for Elections and Democracy (Perludem) on women's participation in elections; and the Association of World Election Bodies on campaign finance in Asian countries. In his presentation on best practices for cybersecurity in elections, Banbury stressed that cybersecurity must be a fundamental part of digitizing elements of election administration, not only to protect the integrity of the process and results, but also to protect private voter and institutional information. Even when cybersecurity is currently perceived as adequate, rapid technological innovation means that EMBs should focus on potential vulnerabilities in the next election rather than simply those detected in the last one. However, it is equally important to protect transparency in the electoral context, a challenge unique to EMBs. Elections rely on public trust, and EMBs must act transparently to ensure election results are verifiable and ultimately accepted.
On Election Day, EVP participants visited a wide variety of polling stations across Jakarta, including one in a prison, another in a psychiatric hospital and a few in densely populated areas. The EVP closed with a press conference and a discussion, where participants shared experiences from the polling station visits. A representative from the Election Commission of Malaysia congratulated the KPU on executing such a complex logistical feat. In his closing remarks, KPU Chairman Arief Budiman thanked visitors for participating in this show of democracy and expressed hope that the experience offered lessons for their electoral contexts. He also presented certificates of appreciation to representatives of the international community who supported the event.
A photo gallery of the EVP activities can be found here or by clicking on the image below.
A counting official displays a copy of the ballot to the public during the vote counting process at a polling station in Jakarta.