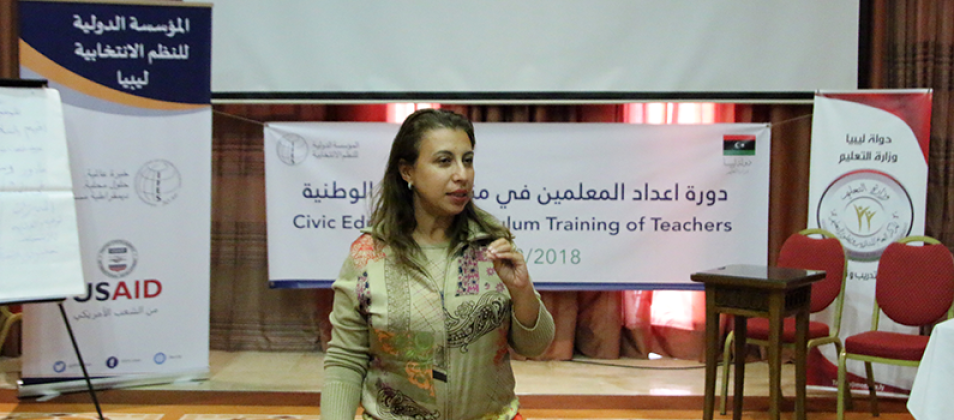 Libyan Teachers Participate in Civic Education Curriculum Training
In partnership with the Libyan Ministry of Education (MoE) and with support from the United States Agency for International Development, the International Foundation for Electoral Systems (IFES) conducted a training in early December 2018 for more than 120 educators from across Libya in preparation for the nationwide roll out of a new civic education curriculum for grades four through nine. The training familiarized teachers with the new curriculum developed by IFES and introduced new and interactive teaching methodologies. Participating teachers were selected through a process that included an application, interview and a written and oral exam conducted by the MoE. The teachers will carry out cascade trainings for colleagues in their municipalities, which are expected to reach a total of 1,100 teachers.
During the first week, workshop facilitators guided participants through various activities and discussions emphasizing skill-based learning and interactive and engaging practices. Sessions were lively, consisting of games and active exercises all designed to improve learning and actively engage students in the content matter. The second week focused on the implementation of these new learning styles and training other teachers to do the same. Participants prepared lesson plans on the new curriculum and provided each other with feedback.
The overarching aim of IFES' collaboration with the MoE is to teach new generations of Libyans the importance of political participation and civic awareness and to facilitate the transfer of civic education material from schools to households across Libya. The MoE has also established a committee to oversee its implementation and rollout during the next academic year.
IFES has been working in Libya since 2012 and works closely with the High National Elections Commission, Central Committee for Municipal Council Elections, MoE, civil society organizations and other stakeholders to conduct voter outreach and engagement and provide technical support on elections procedures. To learn more about IFES' programming in Libya, please visit this page.