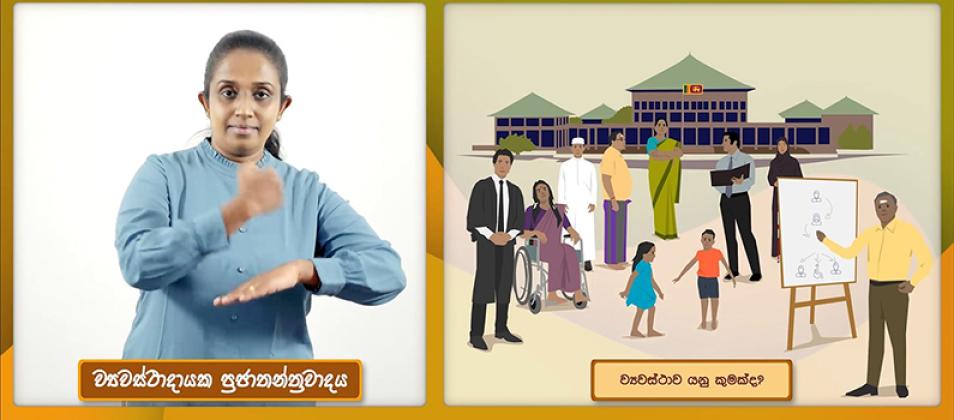 Making Electoral Processes in Sri Lanka More Inclusive
It has been five years since Sri Lanka ratified the United Nations Convention on the Rights of Persons with Disabilities (CRPD), which enshrines the rights of people with disabilities and commits countries to recognizing and guaranteeing these rights. However, Sri Lankans with disabilities still face numerous challenges in accessing their rights to participate in public life. The International Foundation for Electoral Systems (IFES) works closely with disabled persons organizations (DPOs) in Sri Lanka to push for the implementation of the CRPD principles and support advocates to build a country where all persons with disabilities can exercise their right to participate in political and public life on an equal basis with others.
During a roundtable on "Disability Inclusive Elections in Sri Lanka" in 2017, IFES partnered with MyRight Sri Lanka, Christian Blind Mission Sri Lanka, the Center for Monitoring Election Violence and Peoples' Action for Free and Fair Elections to establish the Disability Inclusive Elections in Sri Lanka – Technical Working Group (DIESL-TWG). The working group is a consortium of national cross-disability representative DPOs and, throughout Sri Lanka's recent electoral cycles, it has worked closely with civil society and the Election Commission of Sri Lanka (ECSL) to expand electoral access for persons with disabilities.
Strengthening Collection of Disaggregated Data
In April and May 2018, ECSL and DIESL-TWG discussed the need for disaggregated data on the accessibility requirements of voters across the island. They partnered to develop an Accessibility Data Collection Form, based on the Washington Group Short Set of Questions and internationally accepted principles enshrined in the CRPD. Following a pilot in four districts, the Accessibility Data Collection Form was distributed islandwide during the 2019 enumeration process.
Complementing disaggregated data collection, DIESL-TWG supported ECSL in conducting accessibility audits of 68 polling stations to ensure access for voters with disabilities. Based on these recommendations arising from the audit, in July 2020, the assistant commissioner for elections in consultation with the working group developed a tactile ballot guide for voters who are blind or have low vision.
"This (inclusion) audit opened our eyes to the realities of accessibility barriers encountered by persons with disabilities. I think all government ministries need to come together to create better access for persons with disabilities."
– Sammani, Kegalle District Office
Engaging Disabled Persons Organizations to Lead Voter Education and Advocacy
During the parliamentary elections in 2020, the Consumer Action Network Mental Health Lanka (CAN MH) – a group member – initiated a national campaign to promote the participation of voters with psychosocial and intellectual disabilities. Together with IFES, CAN MH consulted with ECSL to design content to address issues of social stigma, discrimination and use of derogatory language against this target group. As first steps, ECSL asked all political parties and media stations to refrain from using such derogatory language and the ECSL chairman made a public statement confirming the rights of Sri Lankans with psychosocial and intellectual disabilities to vote.
CAN MH also conducted voter education campaigns about the importance of universal suffrage. These campaigns reached over 10,000 voters in 213 mental health clinics islandwide.
Integrating Disability Rights Language in the Constitution
In 2020, DIESL-TWG members joined other civil society organizations in submitting recommendations on disability, youth and women's rights to the Expert Committee charged with drafting Sri Lanka's new constitution. While hundreds of organizations provided constitutional recommendations, DIESL-TWG was one of a few invited to present its recommendations, providing an opportunity to highlight the importance of disability-inclusive language.
Complementing this effort, IFES developed a booklet on Constitutional Democracy that can be used in ECSL's and civil society organizations' civic and voter education programs. In partnership with DIESL-TWG member Sri Lanka Central Federation of the Deaf, this easy-to-read, pictorial booklet was converted to a sign language video with audio descriptions in Sinhala and Tamil and shared on Facebook. This booklet is now an important resource for the Deaf community, who often face marginalization due to a lack of information in accessible formats.
Institutionalizing a Focus on Disability Rights in Election Administration
As Sri Lanka looks to hold provincial council elections in 2021, DIESL-TWG is collaborating with ECSL to identify and develop an overall disability inclusion strategy for the political and electoral inclusion of persons with disabilities. Working group members and ECSL have identified the need to strengthen national, cross-disability representation of people with disabilities throughout the electoral process and establish subcommittees to work on key areas for electoral inclusion.
Amid the COVID-19 pandemic and subsequent restrictions on in-person activities, DIESL-TWG has embraced digital tools for advocacy and education to continue to fulfill its role as a key advisor to the ECSL, election monitoring organizations and other electoral stakeholders, expanding the network of institutions and advocates working to enhance inclusive electoral and political processes.
Published on June 3, 2021.