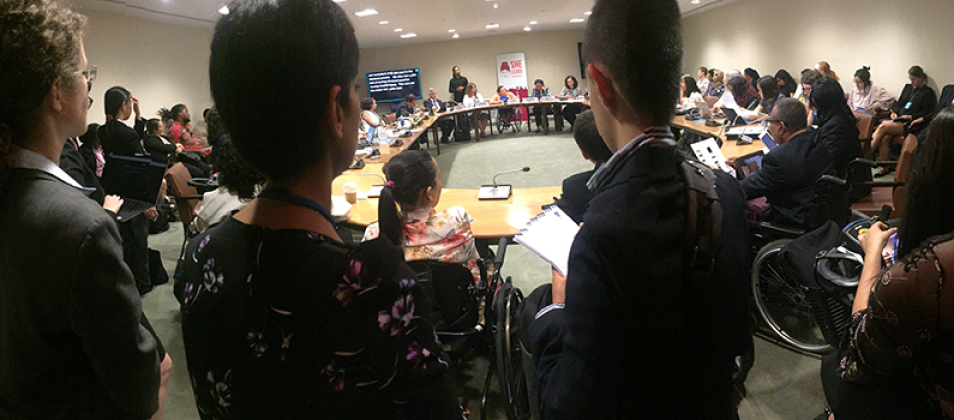 From Prey Veng Province to the Big Apple
by Chris Deal*
On June 9 at 4:35 p.m., Chanthy Hoy landed at John F. Kennedy International Airport, collected her bags and set out for New York City. As her ride to the hotel pulled into traffic, she began nervously looking out the window as ever-larger buildings appeared on the horizon, but her apprehension quickly turned into excitement as she began documenting the occasion on her smartphone.
This was her first flight and, having only received a passport a week prior, her first time outside Cambodia. Chanthy is a woman with a disability from rural Prey Veng province in Cambodia, and she was about to speak at the United Nations.
Chanthy's trip was intended to dispel stereotypes about capacity, encourage other women with disabilities to seek out opportunities to advance their causes and highlight a program that has helped her in her journey: the International Foundation for Electoral Systems' (IFES) "She Leads" program.
Over her first plate of Italian pasta, Chanthy explained that, "In the past, women with disabilities in Cambodia were discriminated against by their communities and families, who kept them inside the house." She lamented that often companies simply refuse to employ persons with disabilities, incorrectly assuming they are unintelligent. While the climate for persons with disabilities has improved somewhat in Cambodia — in 2018, the Cambodian government set a target of at least 2 percent government employees being persons with disabilities — there still remains a pressing need to demonstrate the potential of women with disabilities to succeed not only as employees but as decision-makers and leaders. "This is why Cambodia needs programs like 'She Leads,'" said Chanthy, "to build the confidence of women to understand that they can succeed."
IFES' "She Leads" program focuses on building skills of rural and marginalized women seeking to become more actively involved in their communities and civic life. To date, the program has trained over 3,000 women in five countries in Southeast Asia and continues to grow. Programs are tailored to each country's culture and context and reflect lessons learned from "She Leads" alumnae who continue to advance women's leadership and participation. "She Leads Cambodia" works in four different areas: women and girls' access to education, environmental issues, addiction and abuse awareness-raising, and disability rights.
"We try to build the confidence of young women with disabilities and help them to understand they can do more with their lives and achieve leadership roles," explained Chanthy. "In other programs, we teach people about dangers that destroy opportunities for making a better life, like alcohol and drugs."
When asked what sorts of benefits she personally gained from participating in "She Leads," Chanthy's face lit up: "I learned about the rights and responsibilities of citizens and the government, about gender equality and women's participation. I learned how to build rapport with government stakeholders, network with civil society, and persuade others to support rights. And I improved my public speaking and negotiating skills."
Chanthy, who is employed by the Department of Social Affairs, Veterans and Youth Rehabilitation in Prey Veng Province, has put what she has learned into action and has steadily advanced in her career as a result, while continuing to volunteer to help women and youth in her community.
"Would you like to see my daughters? I have 10," said Chanthy, reaching to answer a ringing phone in her purse. While it's 9 p.m. in New York City, it's 8 a.m. in Prey Veng, and ten young women, all too old to be Chanthy's daughters, mustered for breakfast and a concerned video call to their volunteer English teacher.
"Be safe," one student yelled in the background, before another warned, "Wear a coat!"
Putting her phone away, Chanthy laughed and explained that her family was very proud of her, as she is the only member of several siblings to attend college and have a good job in public administration. Furthermore, they are incredibly impressed at the fact that she is giving a speech, in English, in front of the United Nations. When pondering what makes her able to do such things despite societal obstacles, she points to one thing: confidence.
Days ahead of her speech, Chanthy practiced what she would say, where she would stand and when she would change slides. There were edits to initial drafts and drills to correct pronunciation, but there were no immediate betrayals of doubt and she remained brave.
On June 11 at 3 p.m., three days after her first flight and a week after getting a passport, Chanthy spoke on a side panel at the United Nations Conference of States Parties (COSP) to the Convention on the Rights of Persons with Disabilities (CRPD). COSP, an annual meeting to discuss implementation of the CRPD, includes representatives of disabled people's organizations (DPOs) and government officials from around the world. Chanthy's speech reached DPO participants and officials from Africa, the Americas and Europe.
"'She Leads Cambodia' has made a real difference in my life and the lives of the other women in the program. I would encourage the international community to further support this program so that more women can move from the margins of society to active participation in civic life."
Serving as both champion and role model, Chanthy spoke of the potential of women with disabilities to achieve and thrive in positions of leadership and how it is incumbent upon the international community to continue to support programs like "She Leads" that instill a sense of self-worth and confidence in young women.
"She Leads" was developed through the generous support of the United States Agency for International Development (USAID), the United Kingdom's Department for International Development, Australia's Department for Foreign Affairs and Trade and Switzerland's Agency for Development and Cooperation. In Cambodia, "She Leads" has been funded by USAID through the Consortium for Elections and Political Process Strengthening (CEPPS). Katie Ryan is the lead author of the program with contributions from Sarah Bibler, Vasu Mohan, Maura Scully and Catherine Barnes. Special recognition goes to VBNK, Cambodian Disabled People's Organization, Open Institute (Cambodia), Puskapol (Indonesia) and Yaung Chi Thit (Myanmar) for their contributions as IFES' local "She Leads" partners.
Established in 1995, CEPPS pools the expertise of three premier international organizations dedicated to democratic development: IFES, the International Republican Institute and the National Democratic Institute. CEPPS has a 20-year track record of collaboration and leadership in democracy, human rights and governance support, learning from experience, and adopting new approaches and tools based on the ever-evolving technological landscape.
*Chris Deal is a program associate for Asia-Pacific at IFES.