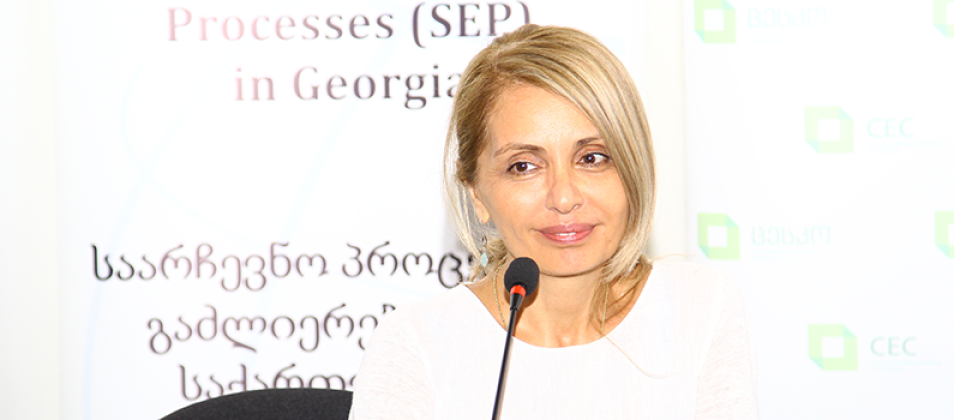 Women of IFES: Q&A with Keti Maisuradze
The International Foundation for Electoral Systems (IFES) is at the forefront of innovative and inclusive work to provide citizens around the world with the fundamental human right to have a say in how they are governed. IFES' leadership in the field is comprised of a cadre of women professionals with firsthand experience administering elections in every region of the world. This Q&A is part of the "Women of IFES" series, featuring stories throughout the month of March on the contributions of female IFES staff around the world and marking both Women's History Month in the United States and International Women's Day on March 8.
IFES Chief of Party for Georgia Keti Maisuradze is a technical expert in electoral systems and processes, overseeing project implementation, operational and financial management, and the grants management process. She holds a master's degree from the Georgian Technical University and is currently a Ph.D. candidate at the Georgian Institute of Public Affairs. She is fluent in English, Georgian and Russian, and is a fully-accredited Building Resources in Democracy, Governance and Elections workshop facilitator. Here, Maisuradze reflects on her first assignment with IFES, discusses democratic development in Georgia and offers advice for women working in democracy, rights and governance.
What drew you to IFES and the field of democracy, rights and governance?
Since 1988, fighting for independence of my country motivated me to become an active citizen in striving for the first true Georgian democracy. There are many ways to take part in democracy building and a lot has happened in my career since I found the area of my biggest inspiration – free and fair elections [and] open and accountable government. I joined the IFES team in 2003 to work on computerized voter list projects and [have been] election-addicted ever since.
How have you supported IFES' efforts to advance good governance and democratic rights?
For the last 15 years I have been taking active part in supporting the development of democratic elections and political processes in Georgia and improved electoral legislation and election administration. This became possible due to IFES' technical assistance and efforts over these years.
[I am proud to have been part of] IFES' initiatives with persons with disabilities and ethnic minorities, its university-level civic education course and increased transparency and women's political engagement.
How is IFES is well-positioned to overcome challenges in promoting democracy and political participation?
Today, Georgia moves from a period of intensive, competitive political activity to one of political consolidation, reflection and looking ahead to the business of governing in a parliamentary system. Within this context IFES embarks on projects applying lessons learned from more than a decade of working in country and with local partners representing the Government of Georgia, nongovernmental organizations, deputies in Parliament, political parties, universities, voter registration authorities, ethnic minority associations, disabled people's organizations and teacher and student groups.
IFES is unique with its neutral mandate that focuses around electoral reform without any political affiliation or preferences. Years of technical expertise and advice, backed up with impartiality and [a goal of perfecting the] electoral environment and democracy, makes IFES a key actor to promote and ensure political participation.
What has been one of your proudest accomplishments in your work with IFES?
My first assignment was the most significant and unforgettable – the computerized voter list project in Georgia. I am very proud that the current voter list, to this day, has a small part of my work and enthusiasm.
What advice do you have for other women working in the field of democracy, rights and governance?
To be competitive in any field, women should gain as much professional competence as possible. Endless development of professional skills and courage in facing new challenges is a "must" for women's active participation in modern political and social life.