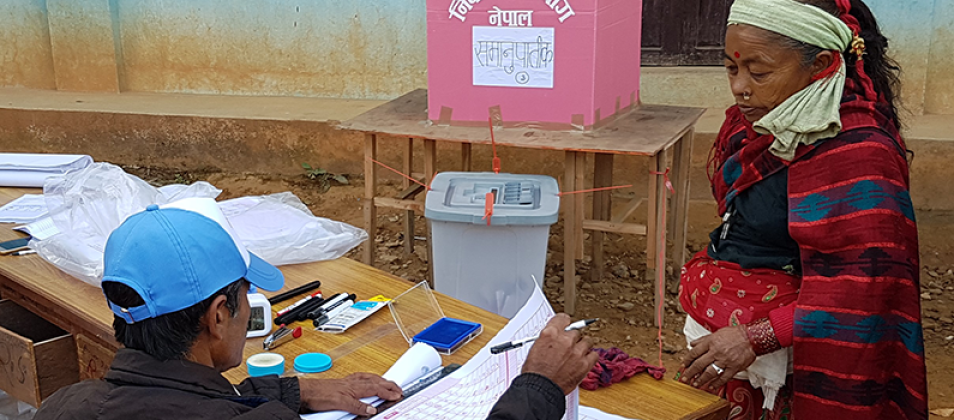 A Year of Elections in Nepal: Implementing a Federal and Inclusive Constitution
In 2017, record numbers of Nepali voters turned out to vote in local, provincial and national level elections to elect 35,000 Local Council representatives, including mayors and deputy mayors, 550 Provincial Assembly representatives, and 275 House of Representatives members. The elections concluded a turbulent decade which saw the end of a 10-year civil war, the abolition of the monarchy that had ruled the country for 250 years, and the promulgation of Nepal's first fully inclusive Constitution. As envisioned by the 2015 Constitution, these elections completed Nepal's transition from highly centralized monarchy to a federal republic with powers devolved from the center to newly established provincial and local governments.
Each electoral event presented unique logistical, legal and political challenges. Local level elections were the first in almost two decades and had to be conducted in three phases due to localized protests and related security challenges. Even more pressing was the challenge of educating voters to elect seven representatives through a single ballot, made more difficult by Nepal's geographic and climatic diversity. The ballots were as large as 51cm x 70cm with a maximum of 476 symbols for the respective candidates. Even though most voters were voting in local elections for the first time, turnout was close to 75 percent across the 753 local units of the country.
[caption caption="Voters line up in separate male and female lines along a steep hillside in Dhadhing district" align="right"]
[/caption]
The mixed electoral system and inclusion quotas unique to Nepal's Provincial Assemblies and House of Representatives required complicated ballots and an extensive voter education campaign. Sixty per cent of parliamentarians were directly elected to represent 165 national and 330 provincial constituencies; while 40 percent of the members of provincial and federal parliaments were elected by proportional representation from closed party lists. Candidates on the list had to identify as one of seven inclusion groups identified in the constitution, in addition to 50 percent women and 2 percent persons with disabilities. A last-minute order by the Supreme Court forced the Election Commission, Nepal (ECN) to redesign and print separate ballots for first past the post candidates for each election, while a combined ballot was used for proportional representation candidates. Once more, the ECN faced a difficult challenge of designing, printing and delivering nearly 53 million ballots, while educating voters on the new mixed electoral system. Furthermore, the coming winter meant that the election had to be conducted in two phases, with voters in the mountains voting first, followed three weeks later by voters in the hills and plains regions. Nevertheless, voters again turned out in high numbers to vote for their new provincial and national level legislatures.
In addition to the three direct elections conducted between May and December of 2017, in early 2018 the ECN organized indirect elections through electoral colleges for the National Assembly (upper house of the federal legislature), the president and the vice president. For a new democracy, the largely peaceful completion of these elections represents a historic achievement of which Nepalis are justly proud.
[caption caption="Voter shows her voter ID card and inked finger indicating she has voted in the local election" align="right"]
[/caption]
As a long-time partner of the ECN, the International Foundation for Electoral Systems (IFES) was well positioned to support the development of the legal framework which ensured inclusion of high numbers of women, ethnic and minority groups into all three levels of government. IFES' support was instrumental in implementing the Single Transferable Voting system used to elect the National Assembly and ensuring quotas for women and disadvantaged communities were applied over the two houses of Parliament, despite having their elections on different days. Women now hold 41 percent of the elected positions in local councils and ward committees, many of whom were first-time candidates. Among the ward committees, 48 percent of the elected women belong to the traditionally disadvantaged Dalit community. Similarly, women make up 34 percent of the provincial assemblies and 33.5 percent of the federal Parliament – the highest rate of elected women parliamentarians in South East Asia.
In addition to legal support, IFES also supported the ECN to train voter educators, polling and administrative staff for these elections. IFES' local civil society partners conducted over 93,466 community level voter education events for these elections. Each activity was tailored to reach one of Nepal's diverse communities with material produced in eight different regional languages. IFES' partners developed voter education songs using traditional folk melodies for Nepal's mountain regions, mobilized large audiences throughout the Terai for street dramas about Election Day and created several videos that went viral on social media to engage Nepal's youth in urban areas. IFES and its local partners directly educated over 569,000 voters, while the ECN social media campaign supported by IFES resulted in close to one million views of IFES produced voter education videos.
An ECN voter education video developed with IFES' support