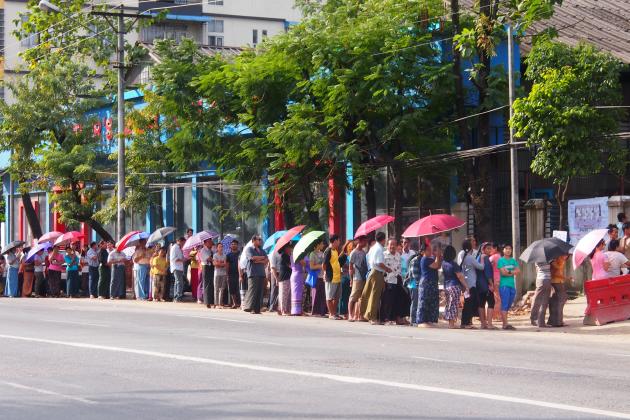 IFES Myanmar Post-Election Activities
Following the historic 2015 elections in Myanmar, the International Foundation for Electoral Systems (IFES) published five reports that provide important data on the accomplishments of the 2015 elections and outline recommendations for the 2020 electoral cycle. These documents are a result of continued collaboration between IFES, the Union Election Commission (UEC), civil society organizations, political parties, voters, domestic and international observers and implementers. Over the coming months, the data and recommendations from these reports will guide IFES' support for the UEC and civil society organizations to advance legal and regulatory reform and support initiatives for strategic planning, civic education and gender and disability inclusion.
Post-Election Report
The Post-Election Report, jointly published by the UEC and IFES, includes cross-sectoral stakeholder input and makes key recommendations to improve electoral administration during the 2020 electoral cycle.
National Election Survey
The National Election Survey from IFES' pre-election and post-election surveys evaluated voter's impressions, attitudes and the impact of voter education for the 2015 elections.
General Elections Facts and Figures
IFES' infographics depict important information about the 2015 elections in Myanmar and highlight IFES support provided to key stakeholders during the electoral process.
Election Maps
The Election Maps, published jointly by IFES and the Myanmar Information Management Unit, represent geographic data from the 2015 elections including, electoral constituencies, election results, voter trends, candidates per constituency and areas where elections were cancelled.
IFES Support to Myanmar Elections 2013-2016
This report highlights achievements made by IFES and its Myanmar partners during the 2015 electoral cycle.