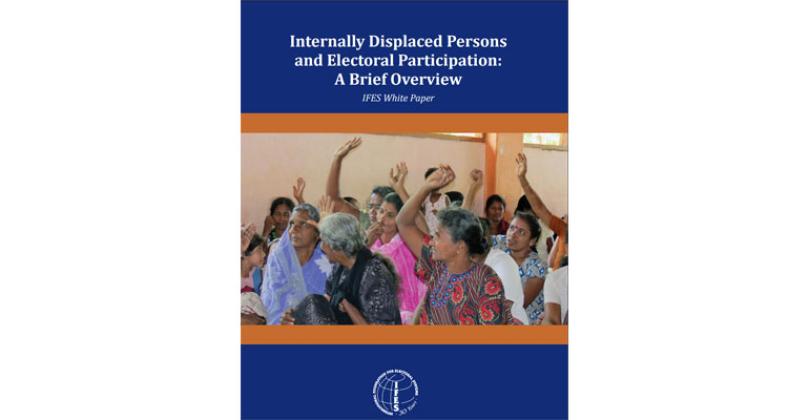 Internally Displaced Persons and Electoral Participation: A Brief Overview
Electoral participation by internally displaced persons (IDPs) is a challenging undertaking, both politically and technically, but one that is becoming increasingly relevant as current estimates indicate over 40 million IDPs worldwide. Electoral participation of IDPs is an important step in promoting engagement and reintegration of this marginalized group and can act as a means of reconciliation in divided societies. However, realization of electoral rights of displaced voters involves both political and practical challenges.
National and international laws that guarantee and promote an equal opportunity to vote and be elected, apply equally to IDPs as citizens of the state. However, given the operational and political complexities, the onus is on states to take special measures to enable IDPs electoral participation in principle and practice. While there is a lack of data available on this issue, it appears that IDPs are generally under-participating in elections due to political exclusion and practical barriers.
The issue of electoral participation of IDPs requires significant and sustained attention as displacement is a growing concern for many countries around the world. In many countries, large numbers of IDPs continue to live in displacement for decades. Thus, it may be argued, that the insufficient provision of IDP enfranchisement risks state failure to uphold citizen rights, furthers IDP marginalization, reduces government accountability, and decreases the chance of long-lasting and durable solutions for IDP settlement.
In an effort to better understand and address the barriers facing IDP's electoral participation, the International Foundation for Electoral Systems (IFES) has developed "Internally Displaced Persons and Electoral Participation: A Brief Overview." The white paper seeks to outline international laws and standards relating to IDP participation, as well as operational practices and challenges surrounding IDP participation such as issues of election representation, electoral integrity, residency and documentation requirements, and security issues. It also highlights the development of laws, operational plans and procedures for IDP participation and the role of domestic and international stakeholders in advocating and promoting IDP electoral rights. The white paper presents 17 recommendations for improving IDP electoral participation including that:
Decisions on provisions for IDP participation are worked out well in advance of an election or referendum, with time allowed for consideration of the typically sensitive and complex political, legal and technical matters. Time is allowed for operational implementation;
Cross-party consensus based on parliamentary agreement is sought, with provisions for IDP electoral participation secured in law and/or political agreement where possible;
The legislature and the election management body consults with groups broadly representative of IDPs, as well as other stakeholders, and actively involves them in developing legislation, regulations, policies and practical implementation;
Research and data on IDP numbers and electoral participation are recorded and made publicly and promptly available in order to identify any problems and good practices;
Special measures are undertaken as required to facilitate equality of opportunity and representation. Special measures may include different residency requirements, alternative documentation provisions, additional opportunities for registration, absentee voting, availability of materials in additional languages, etc.; and,
IDPs are individually given the choice of whether to vote for constituencies of origin, or current constituencies, without any consequence for their IDP status or access to humanitarian assistance.
IFES, often in collaboration with local partners, seeks to work on supporting the implementation of these recommendations to further IDP's electoral participation worldwide.
This white paper represents the culmination of intensive research, which is intended to further develop IDP electoral rights. IFES intends to utilize this information moving forward for implementation in its programming and to serve IDP populations globally by brining international attention to this important issue, as well as by providing best strategies and approaches applicable in specific countries' context.