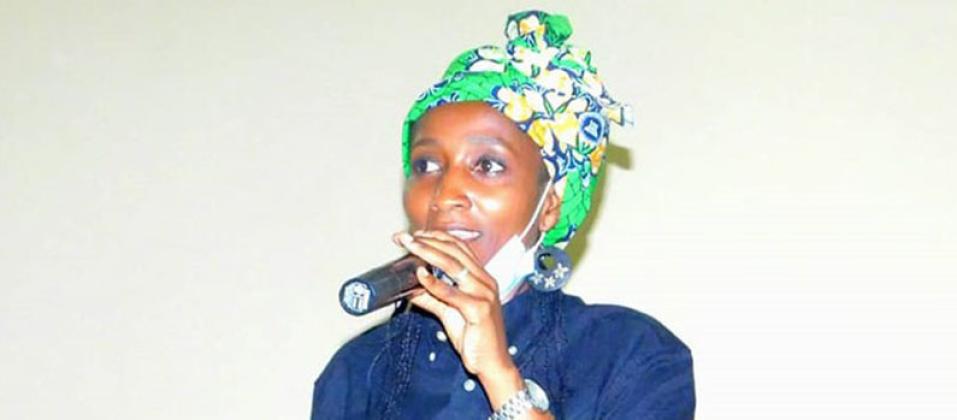 News and Updates
Interview/Speech/Testimony
Evelyn Mulemangabo N'Enbintu Speaks on IFES Study on EMB Practices in Africa
Faites défiler vers le bas pour lire en français.
A new study from the International Foundation for Electoral Systems (IFES) focuses on the different practices that electoral management bodies (EMBs) have implemented on the African continent to include traditionally underrepresented voters, such as women and persons with disabilities. The study, available in French, provides several examples of tools used by EMBs in Africa, analyzing initiatives by the Nigerian, Liberian and Congolese EMBs as cases studies. IFES spoke with Madame Evelyn Mulemangabo N'Enbintu about her thoughts on the study. Madame Mulemangabo N'Enbintu is a lawyer by trade, the President of the non-profit Woman, Election and Development and the National Coordinator of the Network Dynamics of Women (DRF-P) that operates in 26 provinces of the Democratic Republic of Congo (DRC).
What are your impressions of the comparative study?
Our impressions were very good and workshop participants were predominately women. Participants also requested that IFES continues to disseminate this study which they found relevant to majority of stakeholders, especially civil society organizations (CSOs) defending women's rights in the DRC.
Do you think this study can be useful to your community?
This study is very useful for our community because for a long time our fight has been for equality, for opportunities for and inclusion of all categories of the population in the management of public affairs. Our country is in a crucial period because by 2023 we will be organizing the elections; the legal arsenal for the elections is being reformed and we hope the participation of all, not only as a voter and candidate but also as a member of the Independent National Electoral Commission (CENI), will be considered.
The comparative study from IFES provides a very enriching tool to get started in the inclusive electoral process for historically under-represented groups. This study contains strategies already successful elsewhere in other African countries such as quota legislative measures for successful EMB facilitators in Rwanda and Zimbabwe, gender policy in Liberia and Nigeria, and more that can serve as evidence for advocacy.
We ask IFES not to limit itself only to the province of Kinshasa but to go as far as the other provinces so that we, the actors of civil society, can take ownership of the work and reassure us to reach as many actors as possible because inclusive elections are everyone's business for peace and stability. Now we have a document that can help us lead advocacy for the inclusion of people who are often unrepresented in the electoral process.
What is the impact of this study on your community in the short, medium and long term?
In the short term, the issue of mobilizing actors and stakeholders in elections for the participation of all social categories in the electoral process must focus on women and people living with disabilities.
In the medium term, with the advocacy carried out with the CENI, we can set up an exchange framework focusing on this inclusive work made by IFES. In addition, the Constitution already provides equality of opportunity, so we can aim to apply the experience of other African countries to the DRC context with a gender barometer system in the electoral process.
The long-term impact would be to effectively set up a CENI with a gender focal point who will serve to answer all questions related to this issue, for an inclusive CENI, and for equitable participation of all categories of the population.
How do you plan to use this study to have concrete results?
First, we will sensitize local leaders on the proper use of this study, and organize focus groups and inclusion focal points in territories and cities for advocacy according to the proposed strategies listed in the study. We also plan to organize a CSO workshop to develop a brief for CSOs defending the rights of women and people not represented in the DRC for their inclusion in the electoral and EMB processes.
Une nouvelle étude de la Fondation internationale pour les systèmes électoraux (IFES) se concentre sur les différentes pratiques mises en œuvre par les OGE sur le continent africain pour inclure les électeurs traditionnellement sous-représentés, tels que les femmes et les personnes handicapées. L'étude, disponible en français, fournit plusieurs exemples d'outils utilisés par les OGE en Afrique, en analysant les initiatives des OGE nigérians, libériens et congolais comme études de cas. L'IFES s'est entretenu avec Madame Evelyn Mulemangabo N'Enbintu sur ses réflexions concernant cette étude. Madame Mulemangabo N'Enbintu est juriste de formation, présidente de l'ASBL Femme, élection et développement et coordinatrice nationale du réseau Dynamique des femmes (DRF-P) qui opère dans 26 provinces de la République démocratique du Congo (RDC).
Quel sont vos impressions sur l'étude comparative?
R/ nos impressions étaient très bonnes. Il y avait de l'intérêt que les femmes de la ville provinces de Kinshasa ont manifesté au regard de cette ouvrage. La preuve en est que pendant l'Atelier, nous avions constaté que nous avions reçu plus des leaders femmes que prévu par rapport à l'effectif. Il y avait d'autre demande à la participation à l'Atelier que nous n'avions pas pu répondre positivement étant donné le contexte de la covid 19 que nous traversons dans la ville Province de Kinshasa. Aussi, y a-t-il eu des demandes des participantes à continuer à disséminer cet ouvrage qu'elles ont trouvés intéressante sur une grande partie des acteurs et OSC de Défense de Droit de la Femme en RDC.
Pensez vous que cette étude peu elle être utile à votre communauté ?
R/ Cette étude est très utile pour notre communauté puisque depuis longtemps notre lutte consiste à une égalité de chance et inclusion de toute les catégories de la population à la gestion de la chose publique. Aussi, sommes nous dans une période cruciale dans notre pays car d'ici 2023 nous allons organiser les élections ; l'arsenal juridiques sur les élections est entrain d'être reformé et espérons la participation de tous non seulement comme électrice et candidate mais aussi membre de la CENI sera prise en compte.
Ce qui fait qu'avec cet ouvrage que nous a publié IFES, nous avons un outil tres enrichissant pour bien se lancer dans processus électoral inclusif pour les groupes historiquement sous représentés. Cet ouvrage renferme les stratégies déjà réussi ailleurs dans d'autres pays Africains tel que les mesures législatives de quota pour les animateurs d'OGE réussies au Rwanda et Zimbabwe, la politique Genre au Liberia et Nigeria etc. qui pourront nous servir de plaidoyer.
Nous demanderons à IFES de ne pas se limiter que dans la ville province de Kinshasa mais d'aller jusqu'en province pour que nous les acteurs de la société civile puissions nous approprier de l'Ouvrage et nous rassurer d'atteindre le maximum des acteurs car les élections inclusives sont une affaire de TOUS pour la paix et la stabilité. Cette fois ci nous avons un document qui peut nous aider à mener le plaidoyer pour la prise en compte des personnes souvent non représentées dans le processus électoral.
Quel est impact de cette étude sur votre communauté a court, moyen et long terme
R/
À court terme, la question de la mobilisation des acteurs et parties prenantes aux élections pour de la participation de toutes les couches sociales au processus électoral doit être palpable avec comme focus les femmes et personne vivant avec handicaps.
A moyen terme avec le plaidoyer mené auprès de la CENI, nous pouvons mettre en place un cadre d'échange se focalisant sur cette Ouvrage inclusive fait par IFES. Coller d'une manière adaptée l'expérience des autres pays africain en RDC avec un système de baromètre GENRE dans le processus électoral car déjà la constitution de notre pays consacre cette égalité de chance.
A long terme, avec cet ouvrage, mettre en place effectivement une CENI avec un point focal GENRE qui servira de toutes les questions liées à cette problématique et cela pour une CENI inclusive et une participation équitable de toutes les catégories de la population.
Comment pensez-vous utiliser cette étude pour avoir des résultats concerts
R/
Sensibiliser d'abord les leaders locaux sur le bon usage de cet Ouvrage
Organiser les focus groupe et les point focaux élections et inclusion Genre dans les territoires et villes pour le plaidoyer selon les propositions de stratégies énumérés dans l'Ouvrage pendant un délai.
Se référant à l'Ouvrage ; évaluée avant les élections pour connaitre les ou la stratégie la ou les plus accueillie (s) et efficace(s), par rapport aux réalités politico administrative de notre pays.
Organise un atelier des OSC pour ressortir un cahier des Charge des OSC de défense de droit de femme et personnes non représentées en RDC pour leurs inclusions dans les processus électoral et OGE.
Published on October 12, 2021.