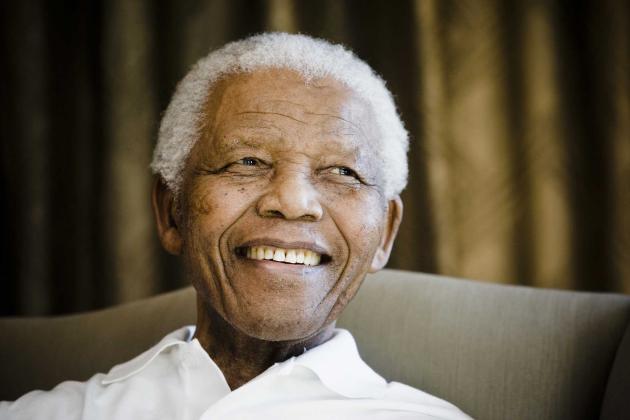 Honoring the Legacy of Nelson Mandela
In July 2009, the United Nations General Assembly unanimously decided that each year July 18 would be celebrated as Nelson Mandela International Day, commemorating the lifetime of service anti-apartheid advocate and former President of South Africa Mandela gave to South Africa and the world. In honor of Mandela's 67 years of public service, the UN-designated holiday encourages people to give 67 minutes of service, with the goal of bringing about enduring, positive change in our local communities through collective action.
To celebrate Mandela Day, the International Foundation for Electoral Systems (IFES) launched a book drive to collect 414 books for the students of Turner Elementary School, located in Southeast Washington, D.C. Eric Christopher, an instructional coach at Turner Elementary, came to IFES to speak with staff about Turner and its student body, highlighting the major educational gains the students have made in reading since they opened their doors three years ago and how IFES' book donations will further support these gains.  
Mandela's legacy as an outspoken and indefiatable advocate for democracy, freedom and equality has been an inspiration to the democracy and governance community and IFES' work to give a voice to every vote. Upon his passing in 2013, IFES President and CEO Bill Sweeney noted: "Mandela's leadership focused on the collective. In his talks, negotiations and goal for a democratic nation he saw democracy as a collective triumph achieved through a collective leadership. IFES' experience echoes those thoughts. Democracy is not attained by the acts or desires of one person. It takes a system based on equality, a leadership based on humility and a citizenry based on active participation."
President Nelson Mandela casting his vote in the black township of Oshlange, near Durban, in the first all-race elections.
Mandela Day and his legacy are meaningful for everyone who works at IFES, particularly for those who were part of the historic 1994 South African election, the country's first all-race elections, which led to Mandela becoming the first black president of South Africa. Read about their stories below.

IFES Africa Regional Director Rushdi Nackerdien
As an election professional from South Africa, can you discuss Nelson Mandela's legacy and how he inspires the work of the democracy community?
Voting in the first all-race elections in 1994 was a privilege few thought would ever take place. For millions, this represents decades of struggle for equality and this hard-won right is to be treasured. In a constitutional court judgement in South Africa on the rights of voters abroad, the courts emphasized the critical nature of these alienable and universal rights, and that they were always to underpin decisions to enfranchise voters. Mandela's legacy lies exactly in this focus on the principle of enfranchising rather than limiting the rights of voters. With many years of voters' rights being denied or suppressed, election professionals should never forget that their work is to enable and go the extra mile, not use administrative reasons to deny voting rights.
In a turbulent period for global democracy, what lessons can we take from Mandela's life and struggle for democracy in his own country?
Very few people ever believed that the end of apartheid would come in South Africa. Yet, in Mandela's life one finds hope and resilience, and the sense that change can be made real. Though times were tough, suffering many years of imprisonment, he held to the democratic principles and values of equality and freedom for all, and these are an endearing message to all of us. In doing so, he refused to be consumed by bitterness, anger or greed, but instead chose to rise above it, ensuring that the rights of all citizens are upheld, regardless of race, gender, or political persuasion. His life and perseverance showed a moral fortitude that serves as an example of what is possible when you are anchored. Through his life, we have come to realize that the impossible can be made possible.
Mandela once said that the participation of "ordinary men and men … in every decision about the future is the only guarantee of true democracy and freedom." How does the work that IFES and its global partners do help to achieve that goal?
Participation, for some, means only going to vote on election day, a "once-off" every few years. For Mandela, it meant living with integrity, the alignment of your thoughts, words and actions. His belief in equality lay at the heart of the battle against segregation, against apartheid, against the view that one group is better or superior than another. At its essence, it means equality not only of the vote, but living your life in a way that enriches the lives of others. This means a constant engagement with your community, ensuring that we live a life in service of all those around us. IFES and its global partners, whether local or international, give expression to this ideal of participation, not only through the ballot, but through constant service to democratic values, human dignity and freedom for all.

IFES Libya Chief of Party Mike Yard
"My first assignment with IFES was clearly the most memorable. I arrived in Johannesburg, South Africa on Easter Sunday with three weeks to go before South Africa's historic 1994 general election. There were six of us thrown together on an ad hoc team to create databases for ballot production, polling stations, results tabulation and seat allocation. Immediately after my arrival, I called for more help and IFES sent a friend and former employee of mine, Mario Tejada, to assist with creation of the systems. We worked 18-20 hour days with no thought of weekends and eventually began to ignore the bomb threats that occasionally caused most departments to empty the building we worked in. The threats were not negligible as the headquarters of the African National Congress, only a few blocks away, were blown up by a car bomb, killing nine and injuring 100, just two days before the election. The same evening some pipe bombs were discovered in the Holiday Inn where many international workers and reporters were staying. But we didn't have time for evacuations!
In late March, days before our arrival, 20,000 Zulus marched through Johannesburg to bring attention to the Inkatha Freedom Party's (IFP) boycott of the election and were fired on by snipers leaving 19 dead. On April 16, eight days before the election, IFP planned to march again, and we were advised to stay away from the office, but following that advice was not an option. Fortunately, this march was much smaller and was peaceful. Six days before the election, IFP leader Mangosuthu Buthelezi agreed to participate in the election and almost everybody in the Independent Electoral Commission joined together to stick labels onto the ballots with the name of the new presidential candidate. Finally, on April 27 all of the work came to fruition with millions of black South Africans voting for the first time in their lives. The number was unanticipated, and an additional 9.3 million ballots had to be printed and distributed to support the second day of voting.
The election days were peaceful, and the count and tabulation began. Things were hectic but the systems were all performing well and the information and communications technology team was finally able to relax. Most of the team was at home sleeping on the morning of May 3 when one of our software developers, Neil Cawse, discovered that the vote count jumped suddenly by more than six million votes. Hackers had found their way into the vote counting system and planted votes, increasing the vote count of three parties by almost a third. Our investigation determined that someone had installed a modem in a closet on the floor above us, so the hackers could have been located anywhere in the world but they clearly had someone inside cooperating. We had to shut down the system and bring in external auditors to complete the vote tabulation. I still have a copy of the newspaper with big bold headlines reading 'Big Freeze in Big Count.'
In spite of all the chaos around that election, people were dancing in the streets when Nelson Mandela was sworn in as President. South Africa would never be the same again. Neither would I; I've been working in elections ever since."
For more on IFES and Mike Yard's role in the 1994 election, see chapter 14 of Birth: The Conspriacy to Stop the '94 Elections.

2011 Charles T. Manatt Democracy Awardee Judge Johann Kriegler
Each year, IFES honors one Democrat, one Republican and a member of the international community with its Charles T. Manatt Democracy Award. IFES presents the awards to three individuals who embody the character and spirit of former U.S. Ambassador and IFES Board of Directors Chairman Charles T. Manatt. In 2011, South African Judge Johann Kriegler received the Democracy Award. Judge Kriegler is a former Constitutional Court judge and was chair of the Independent Electoral Commission of South Africa during South Africa's historic 1994 election.
Judge Kriegler was named the chair of the newly formed election commission in 1993, with the challenging task of organizing South Africa's first non-racial election. IFES worked closely with Judge Kriegler and the new commission to open lines of communication to address high levels of fear of political violence and civil unrest.
Watch the below video of Judge Kriegler's Democracy Award acceptance speech: